Over 200,000 People Have Recovered From Coronavirus Around the World, According to Johns Hopkins University
More than 200,000 people have recovered from a new coronavirus that causes COVID-19, a metric that officials have urged the public to consider.
Cases rose to 952,171 on Thursday, and the United States remains the epicenter of the outbreak with 216,722 cases, according to a tracker maintained by Johns Hopkins University. The virus has claimed the lives of 48,320 people and as the death toll rises, so does the public level of fear and panic.
The big picture of the situation is now "painfully clear," according to New York Governor Andrew Cuomo. However, he also reiterated that many people who contract the virus will recover. About 80 percent of those who test positive won't require medical intervention and even those who enter the hospital can return home. As of Wednesday, 6,101 people in New York had been discharged from the hospital.
"You don't often focus on this line when we have these conversations," Cuomo said during a Monday press briefing. "But people go into the hospital and people leave the hospital, and that is important to remember."
In the U.S., 8,672 people have already recovered, according to the tracker. In China, 76,571 people reportedly have recovered from the virus so far. With 82,431 cases, that gives China a recovery rate of about 93 percent.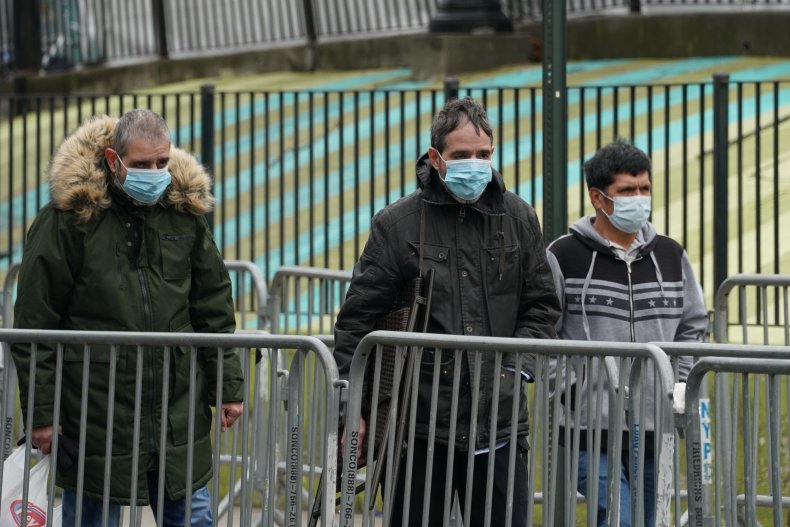 Spain and Italy, where officials have implemented national lockdowns, have seen 26,743 and 16,847 recoveries, respectively. Italy was hit hardest of any European country and on Sunday, Italian Prime Minister Giuseppe Conte told El Pais, an Italian newspaper, that the country is in the most "acute" phase.
"Experts are still cautious, but it is reasonable to think that we are near the peak," Conte explained.
For most people, symptoms of the virus will be mild and could resemble a cold or flu. But, not everyone will be as lucky and the healthy people complying with social distancing guidelines is necessary to save the lives of those in more vulnerable populations. Those who develop severe disease and need to be hospitalized may require the use of a ventilator.
COVID-19 patients who need ventilators use them for 14-21 days, about seven times the normal time for a non-COVID-19 patient. New York has had patients on ventilators for up to 30 days, and the longer a person needs the device, the less likely they are to come off it, according to Cuomo.
Dr. Anthony Fauci, director of the National Institute of Allergy and Infectious Diseases, estimated that deaths in the U.S. could range from 100,000 and 200,000 people. Dr. Deborah Birx, a member of the Coronavirus Task Force, supported the 100,000 number but added that without the current mitigation measures that death toll could have been as much as 2.2 million.
Cuomo is spearheading response efforts in New York, where the largest outbreak in the U.S. is occurring. As of Thursday, there had been more than 2,200 deaths in the Empire State, a number that is already "staggering," Cuomo said. A "human life is a human life," he added, saying that the goal is to do everything you can to save every life possible.
The line of those who are being discharged from the hospital is going up, according to the governor. On average, 435 people have been discharged from New York hospitals daily between March 18 and Tuesday. On Tuesday, 1,167 people were discharged, the most of any day since March 18.
"This is beyond best efforts. This is beyond, "I'm working very hard." We have to get this done," Cuomo said of the response effort. "We have to succeed. We have to find a way. We have to make it happen, because too much is at stake."