We Have No Idea What the Recovery Rate for Coronavirus Is Yet
The COVID-19 pandemic has thrown up countless questions—including what the chances are a person who catches the new coronavirus will recover after falling ill.
Since people in the central Chinese city of Wuhan were sickened by a mysterious new coronavirus in late 2019, more than 1.3 million people have been diagnosed with COVID-19, according to Johns Hopkins University. Of those, 74,856 people have died, and over 285,000 are confirmed to have recovered. As shown in the Statista graphic below, the virus has spread to almost every country and territory in the world.
However, experts stressed to Newsweek that it is important to remember these figures only account for people who have been diagnosed with COVID-19—and far from every infected person has been tested.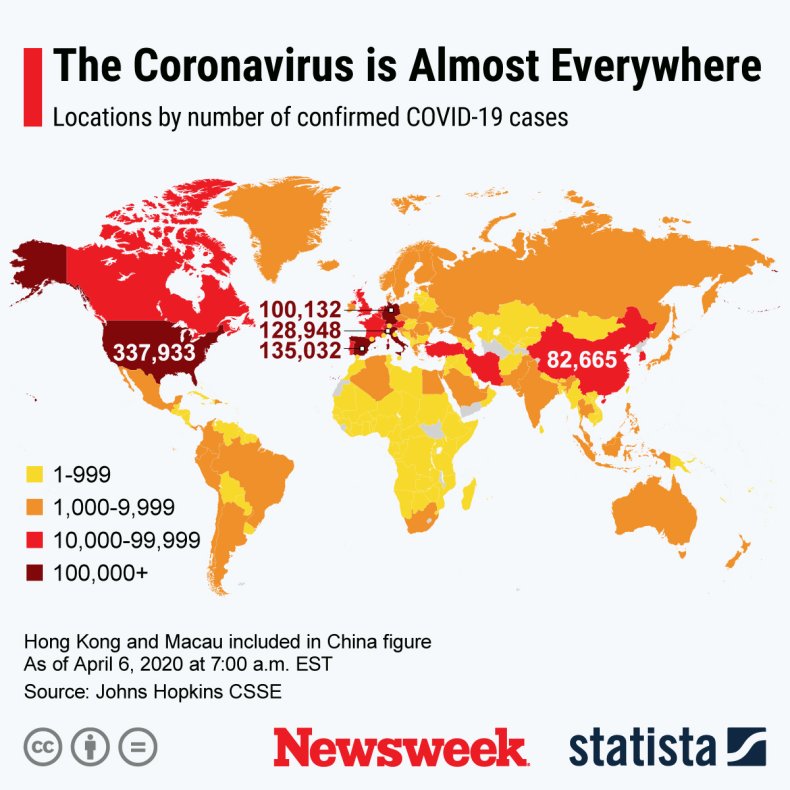 Dr. Mike Tildesley, associate professor in the Department of Life Sciences at the University of Warwick, told Newsweek the recovery rate is estimated to be around 80 percent, or that for every four people confirmed to have recovered one person will have died.
"However, these figures should be taken with extreme caution," Tildesley stressed, as "only a fraction of individuals are tested for infection."
He explained: "It is still unknown how many people will have had mild infection or no symptoms at all and have recovered. If this number is large, then that means that the recovery rate will be significantly higher than 80 percent."
That is why recovery rates are in general higher in countries where more people are tested as it is more likely that mild cases are being detected, Tildesley said.
Andrew Preston, reader in microbial pathogenesis at the University of Bath, used the example of a country like the U.S. to explain why it is currently difficult to calculate the recovery rate of COVID-19. There, only a portion of those thought to be sick are being tested, so data on asymptomatic cases would not be factored in to calculations.
Dr. Anthony Fauci, director of the National Institute of Allergy and Infectious Diseases and member of the White House coronavirus task force, gave an estimate of 25 to 50 percent of people showing no symptoms of COVID-19 virus infection. Fauci stressed the figure was an estimate, and said experts disagree on the figure, saying: "That is an estimate, I don't have any scientific data yet to say that... Right now we're just guessing."
The U.K., where Preston is based, is only counting people who have been discharged from hospital, so the figures only take in to account COVID-19 patients sick enough to be hospitalized.
What's more, as the recoveries of only serious patients are being tracked in some countries, the recovery rate will change according to how well health care systems are coping, including access to equipment such as ventilators and health care workers.
Apps such as a symptom tracker launched by the U.K.'s Kings College London, where users log whether or not they have COVID-19 symptoms and if they have been tested for it, may help to shed light on the number of mild cases and in turn the true recovery rate. The app also recently launched in the U.S., a professor at the institution told Newsweek last week.
"But, again, it's very difficult to tell how representative those using the app are," said Preston. Users may be younger, and thus more likely to have be asymptomatic or have mild COVID-19. The region where a person lives can affect the data, and the relying on people to accurately report their symptoms could present biases.
Tildesley predicts that as more people are tested, "provided that the capacity of health services are not exceeded as we approach the peak of the outbreak, it is likely that recovery rates will be seen to increase."
Such variables also explain why the death rate, or case fatality rate, differs from country to country when it may in fact be "very similar," Preston explained.
"If country A records only symptomatic, hospital cases of which 10 percent die, then it will appear that the fatality rate is 10 percent. If country B is testing all cases, and so records ten times as many total cases as country A, then with exactly the same number of deaths, their apparent fatality rate will be only 1 percent," he said.
Currently, the case fatality rate for COVID-19 is around 5.6 percent but "this takes into account currently infected cases and we don't yet know whether these individuals will die or recover from the disease," said Tildesley.
Centers for Disease Control and Prevention Advice on Using Face Coverings to Slow Spread of COVID-19
CDC recommends wearing a cloth face covering in public where social distancing measures are difficult to maintain.
A simple cloth face covering can help slow the spread of the virus by those infected and by those who do not exhibit symptoms.
Cloth face coverings can be fashioned from household items. Guides are offered by the CDC. (https://www.cdc.gov/coronavirus/2019-ncov/prevent-getting-sick/diy-cloth-face-coverings.html)
Cloth face coverings should be washed regularly. A washing machine will suffice.
Practice safe removal of face coverings by not touching eyes, nose, and mouth, and wash hands immediately after removing the covering.
World Health Organization advice for avoiding spread of coronavirus disease (COVID-19)
Hygiene advice
Clean hands frequently with soap and water, or alcohol-based hand rub.
Wash hands after coughing or sneezing; when caring for the sick; before, during and after food preparation; before eating; after using the toilet; when hands are visibly dirty; and after handling animals or waste.
Maintain at least 1 meter (3 feet) distance from anyone who is coughing or sneezing.
Avoid touching your hands, nose and mouth. Do not spit in public.
Cover your mouth and nose with a tissue or bent elbow when coughing or sneezing. Discard the tissue immediately and clean your hands.
Medical advice
Avoid close contact with others if you have any symptoms.
Stay at home if you feel unwell, even with mild symptoms such as headache and runny nose, to avoid potential spread of the disease to medical facilities and other people.
If you develop serious symptoms (fever, cough, difficulty breathing) seek medical care early and contact local health authorities in advance.
Note any recent contact with others and travel details to provide to authorities who can trace and prevent spread of the disease.
Stay up to date on COVID-19 developments issued by health authorities and follow their guidance.
Mask and glove usage
Healthy individuals only need to wear a mask if taking care of a sick person.
Wear a mask if you are coughing or sneezing.
Masks are effective when used in combination with frequent hand cleaning.
Do not touch the mask while wearing it. Clean hands if you touch the mask.
Learn how to properly put on, remove and dispose of masks. Clean hands after disposing of the mask.
Do not reuse single-use masks.
Regularly washing bare hands is more effective against catching COVID-19 than wearing rubber gloves.
The COVID-19 virus can still be picked up on rubber gloves and transmitted by touching your face.