Immigration advocates have launched a new coronavirus relief fund to provide financial support to workers who have been "shut out of" the government's recent stimulus package.
Kickstarted by Faith in Action, a national community organizing network, as part of the organization's LA RED campaign, the new effort will see money raised and distributed to immigrants making up part of the U.S.'s "essential workforce."
Those workers, Faith in Action said, are being left with no choice but to work amid the pandemic, since they cannot receive government support due to rules preventing some immigrant workers from benefiting from the Coronavirus Aid, Relief, and Economic Security (CARES) Act.
Under the $2.2 trillion economic relief bill, which was passed in March, immigrants who have a social security number are eligible for relief funds, but many other non-citizens and undocumented immigrants are not.
Immigration advocates have condemned the decision, with Richard Morales, the policy and program director for Faith in Action's LA RED Campaign, saying in a statement: "Excluding immigrants from financial support forces people to work, putting them directly in the path of the virus."
"Asking people to choose between their health and putting food on their tables is not a real choice," Morales said. "Instead of ensuring that members of all communities in this country had the support and protection they need from the virus, Congress went out of its way to exclude immigrants from receiving a stimulus check, making a clear choice about who is disposable."
Donations raised by the new relief fund will be distributed across pre-established funds set up across the Faith in Action network, including in California, Arizona, Nevada, Minnesota, Maryland, Virginia and the District of Columbia, with additional accounts to be set up in other states in the coming days.
The money will then be distributed to workers who make up part of the "essential workforce" amid the coronavirus pandemic, including healthcare workers, farmworkers, grocery clerks and workers at dairy and meatpacking plants.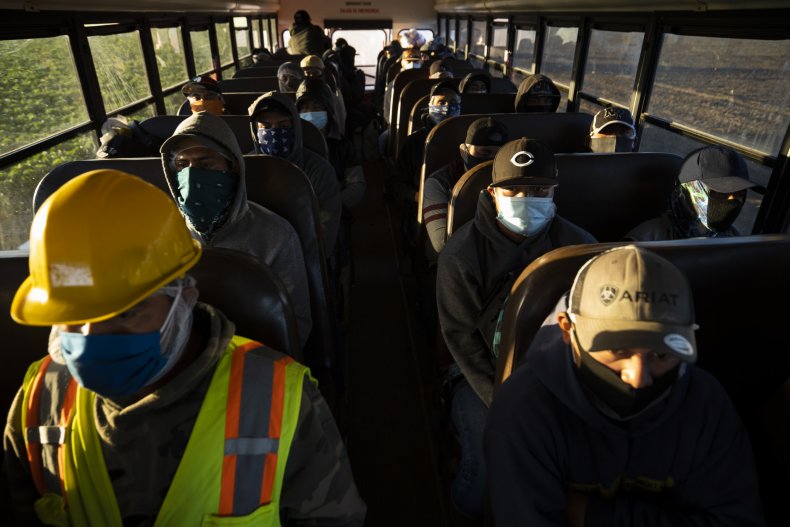 "Many of the folks that have been affected by the current situation find themselves with no job or working fewer hours–this creates anxiety and uncertainty," said Pastor Leo Castro, a clergy member with Nevada ACTIONN, in a statement shared by Faith in Action.
"When the income decreases, something at home has to go and many times what goes is food or medicine," Castro said. "I don't see fear among the people, instead I see concern regarding provision. It is critical that those of us who can donate do, so that we can continue to provide the urgent support immigrants need so that nobody is deciding between food and medicine."