The Complicated Business of Closing Schools Because of Coronavirus
The outbreak of the new coronavirus in America is raising questions about whether it's time to close schools, but shuttering educational institutions is far more complicated and potentially problematic than simply canceling in-person classes.
The virus has forced more than 290 million students out of the classroom, according to the United Nations, and as cases rise in the U.S., schools have started to close. When most schools in America discover students and faculty may have been exposed, they've opted to close for a day so the building can be disinfected, but at least one district, Northshore in Washington state, closed on Thursday for up to 14 days.
Experts believe the risk of developing serious disease from the virus increases with age, and the threat to people under 18 is low, according to the WHO-China Joint Mission, a team of global experts convened by that country and the World Health Organization. But children aren't the only ones in schools. Michelle Reid, superintendent of the Northshore School District, noted in a letter to families that more than 500 staff members are over 60, a demographic in Washington that's been advised to stay home and avoid large gatherings as much as possible.
Having large groups of people in one area is known to foster the spread of the virus, and officials have advised people to stay three feet away from someone who appears sick. Closing schools could help limit human interactions, thereby, in theory at least, reducing the number of people who could be exposed. It may sound like an obvious solution, but it comes with its own set of complications.
In an age where nearly 50 percent of families have two working parents, according to the Bureau of Labor Statistics, closing schools could leave people scrambling to find child care. For some families, that responsibility could fall on a grandparent or an older caregiver, potentially exposing them to the virus, Michael Osterholm, director of the Center for Infectious Disease Research and Policy at the University of Minnesota told Reuters.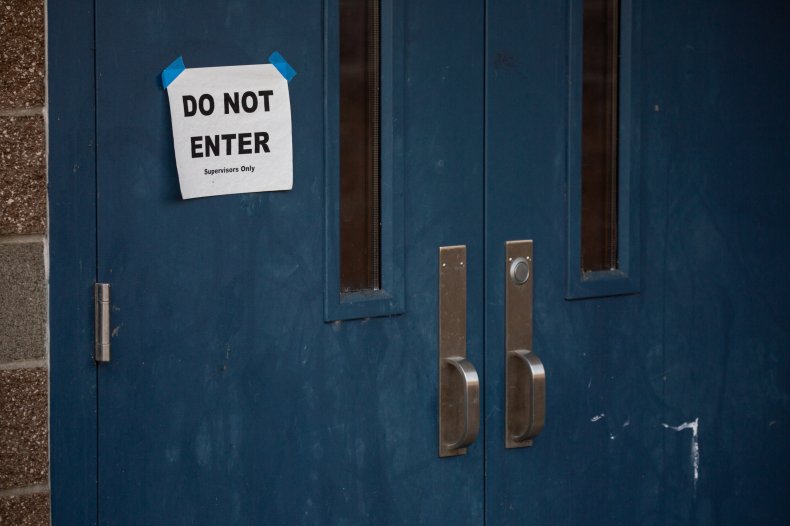 As of Friday, 14 people in the U.S. have died of the virus, and only one fatal case—a woman in California—occurred outside of Washington. Of those people, at least seven were over 70.
"For the most part, the people who get in trouble and ultimately, tragically would die from this are people who are elderly and/or have underlying conditions," Anthony Fauci, director of the National Institute of Allergy and Infectious Diseases, said during a press conference. "However, every once in a while you're going to see a one-off. You're going to see a 25-year-old person, who looks otherwise well, that's going to get seriously ill."
Closing schools during a health crisis isn't a novel measure, according to the U.N., but a prolonged disruption of classes could "threaten the right to education" for students around the world.
Reid stressed in her message that education was a top priority for the district, so while students won't be in classrooms they will still have class. Until school reopens, students will be taught through online platforms. Those who didn't have access to a computer can borrow one from the school, as well as a hot spot if internet connectivity is a problem.
"We are taking this strategic approach not because we think, by doing so, we will stop an epidemic; we are simply trying to do our part to slow the spread of COVID-19," Reid said.
Another matter the district has to consider is student meals. More than 11 million children in the U.S. live in food-insecure homes, meaning there's not enough food for every family member to lead a healthy life. Millions of those children rely on school for regular meals, according to No Kid Hungry, a campaign to end childhood hunger, and when school is closed in the summer, six out of seven hungry kids don't get the meals they need.
Reid said officials were establishing a plan to provide students with meals. The Northshore district told Newsweek more details on how it will ensure that students have meals during the closure should be available "very soon."
In King County, where Northshore is located, the public health department recommended that districts remain open, and schools in at least four states have closed for only a short period so the building could be disinfected. But some say it's time to seriously consider following Northshore's lead.
"Communities in the United States must shut down schools before, not after, the outbreak becomes widespread here," Dr. Howard Markel, director of the Center for the History of Medicine at the University of Michigan, wrote in a New York Times op-ed.
Markel said that communities without cases of COVID-19 have no reason to close schools. At this point, he encouraged policymakers to approach the situation with a "better safe than sorry" attitude. If a community sees cases of COVID-19, "be ready to make the tough call of shutting the schools down."
"After all, it's easy to reopen schools if the news is good," Markel wrote.