Parents in U.K. Left with One Laptop for Four Children
Families struggling with access to the internet and computers for their children to complete school work during lockdown say the government should do more to help.
In some cases, families were left with a single computer or laptop among four children, as schools closed their doors after a nationwide lockdown came into force on March 23 in a bid to stop the spread of COVID-19.
Charities had previously warned of a stark digital divide emerging in the U.K., with 1.9 million homes said to be without internet access and millions more dependent on pay-as-you-go services to make phone calls, according to the Good Things Foundation.
A study by the social mobility charity the Sutton Trust found that 42 percent of teachers in private schools thought all of their students would have adequate access to an electronic device for learning, compared to 9 percent in the most well-off state schools and only 2 percent in the poorest state schools,leaving the most disadvantaged children behind.*
In Nottingham Academy in central England, where 30 percent of children are on free school meals, parents described the difficulty of trying to split one computer between children as schools shut and pupils were given work to complete online.
Stacey who has three children at the academy's primary school site described the early weeks as "really, really hard" with efforts to equally share the computer between her three children taking up a lot of time.
"We had a desktop PC at home. It's not the newest it's just one that I've had since university, so it's quite old anyway," she says.
Stacey left university in 2006.
"My fear was because I knew all the work was online, how do I make sure all three children are having equal access to that one PC, so that they can all access the work together, even in those first few weeks it caused a lot of problems for us if I'm honest."
"Trying to split the time fairly and equally, the older child wanted it first, we tried to come up with some sort of a timetable where we could do the schoolwork, but we found it was taking all day, because I couldn't share it equally with three of the same time, it did take up a big chunk of our day.
"There was quite a lot of stress on myself as well as the children, those early days were really, really hard we had to work a way of trying to get into some sort of routine."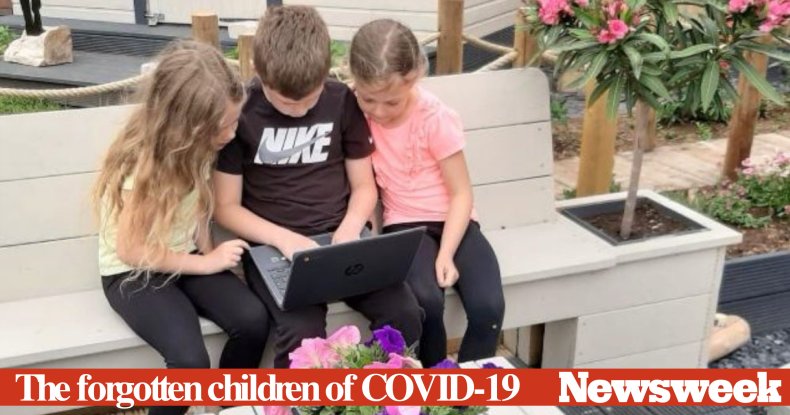 Stacey said the family also struggled with access to the internet which she described as very slow.
Jason who has three daughters in the primary school of Nottingham Academy, as well as a daughter in year 10 at the academy's secondary school, said that up until last week, his children had to rely on an old PC that all four girls had to share between them.
He said it had been a particularly worrying time for his eldest daughter.
"It's been a stressful time with her GCSEs coming up, not knowing if she can go back to school, a whole host of worries for her."
Last week, the family's computer failed altogether, leaving Jason fearing for his children's education.
"Thank god for this new notebook we've received, it [the computer] had a catastrophic failure and the hard drive died, so we were then down to nothing.
"Out of the blue the school contacted us and said 'you've qualified for a notebook', which has been an absolute lifesaver for us."
The notebook Jason is referring to and which his family was given came about as a result of a partnership between Nottingham Academy and Capital One, which has donated 500 Chromebooks to school children in Nottingham and London, including a WiFi dongle, three months free data, pencil cases and notebooks.
This has come nearly 100 days after lockdown began in the U.K.
Stacey says that the kits have been invaluable in providing them with "everything they need to do their school work."
Jason also acknowledged that if it wasn't for the family receiving their Chromebook last week, his daughter and other children would have struggled.
However, he called on the government to do more to support schools and said more support should've been given from the beginning.
He said: "The help should've been from the government right from the beginning, if they're going to encourage remote learning, then they needed to help facilitate that, by the loan or even a temporary loan to schools of equipment, they could've outsourced temp loans of laptops, iPads etc, that could've been distributed to the school and at the end of lockdown returned."
Steve Jones, principal at the primary school, says the strategy from government to support disadvantaged children in schools like his own could be much better.
He said: "We've been operating in a landscape where finance has been very tight, during the period prior to lockdown, but some of the strategic thinking behind trying to support our children, making education inclusive in this period hasn't been particularly cohesive."
Steve says it's not just about ensuring access to devices but making sure that children had reliable access to them.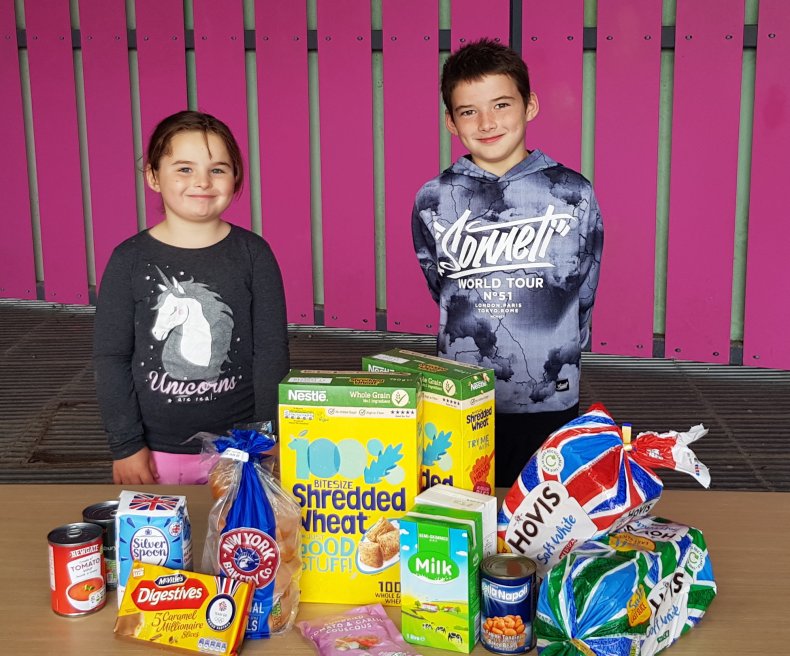 "Many families have had to share devices. That's obviously tricky if you've got two or three children sharing one device throughout the day, that makes the task of home learning even more tricky," he said.
Steve says as soon as news of the lockdown broke, the school had tried to loan as many of its limited supply of laptops to families as it could.
"In terms of the inequalities and access to digital resources, it was something we were aware of on lockdown and we did make a decision we were going to loan laptops from the school, we don't have an abundance of laptops anyway, but we did loan laptops and other things as well to our parents, because we didn't want our children to be penalized by the fact that they didn't have these resources at home.
"We've also tried to create a culture where children have access to musical instruments, because music is a really important part of our curriculum, we loaned musical instruments to our children at home without which wouldn't have had that opportunity."
Teachers at Nottingham Academy were asked to contact families and children throughout the lockdown, with the school continuing to provide paper-based learning to families so they can still access work.
Staff have also been sourcing, collecting and delivering food to families.
"We are a community-based school and we believe in the concept of community and doing the right thing for our community and our community have been amazing, they have donated a huge number of food and non-food items, such as soap, toothpaste and sanitary towels."
In March, staff decided to donate 1 percent of their salary into a fund, that would be used to acquire food and some luxury items, given how close Easter was, and are now working with the Trussell Trust, a charity trying to end hunger, and a local foodbank, Hope, as well as with the Salvation Army which dropped off food parcels to the school to be distributed to the community.
Although some of the most vulnerable families at Nottingham Academy may have benefited from the partnership between Capital One, others have not been so lucky.
Steve acknowledges that, while he is grateful to Capital One for the device help and wider career assistance, there are still families in other parts of the country as well as his own school who are struggling.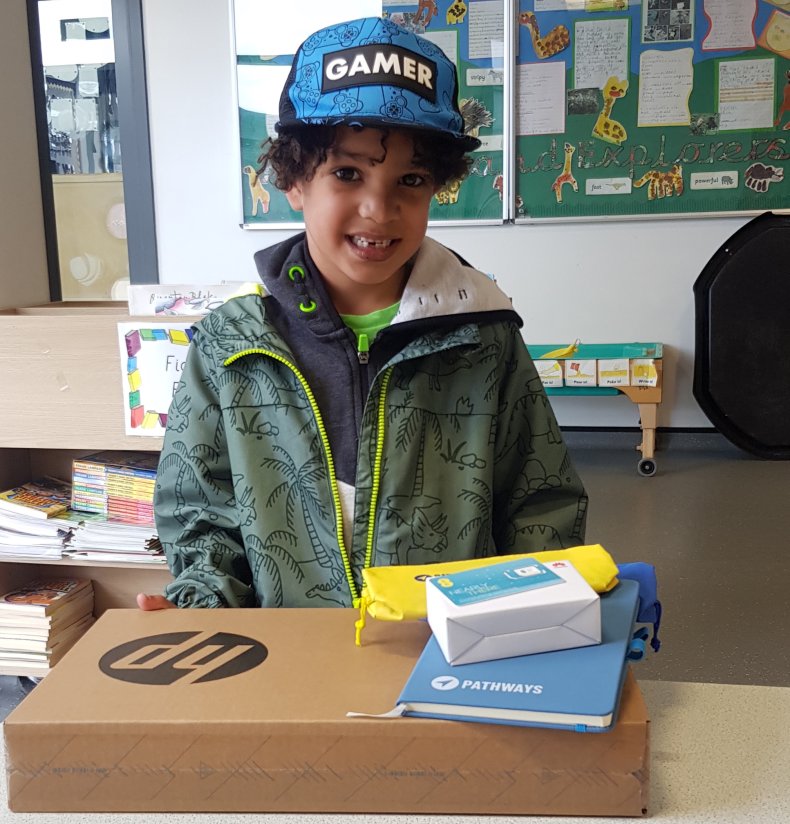 "Schools work very closely with their communities and build up very strong relationships with their communities," he said.
"We care about people in our communities and naturally, we would've liked to have had more resources to spread among our community.
"Obviously there is a limited number of resources but we are aware that there are some families that still have some issues, we are doing everything we can from a school perspective supporting learning from home."
Capital One said it is delighted it has been able to help schools such as Nottingham Academy.
Lucy Hagues, chief executive officer, Capital One UK, said: "Our school partners told us some of their young people needed access to technology and WiFi so they could keep up with their schoolwork. We were delighted to be able to help, so that those young people get the best possible opportunities to succeed in their education during these times."
Meanwhile, the Sutton Trust is calling on the government to make further progress to help the most disadvantaged children with the digital divide.
Founder and Chairman Sir Peter Lampl said: "It's important to realise that the playing field isn't level for children who are learning from home. Although the government has been making major steps to address the digital divide, it's crucial that we continue making progress so as to prevent disadvantaged children from falling further behind.
The Department for Education said it had provided £100 million to support children to learn at home, including providing devices for eligible children that need them.
A spokesperson for the department said: "We know being in school is vital for children's education and wellbeing, which is why we are working towards all children returning to the classroom from September.
"The government has been clear in its commitment no child should fall behind as a result of coronavirus, which is why we have provided over £100 million to support children to learn at home, including providing devices for eligible children that need them.
"We have also launched £1 billion COVID catchup fund to directly tackle the impact of lost teaching time as a result of the pandemic, which headteachers and school leaders have the flexibility to decide how to spend in the best interests of their students."
*Sudy methodology
Data from the Sutton Trust was based on the Teacher Tapp survey of teachers in England, which comprised a total of 6,500 teachers who were asked questions to find out how much schools are supporting their pupils, along with 1,508 parents surveyed by Public First to explore learning in the home.