The 'Second Wave' Is Still to Come and the U.S. Has No Specific Plan to Deal With It
The U.S. is the world's worst-affected country in terms of COVID-19 cases, having recently surpassed the five million milestone. However, the number of new cases across the country appears to be plateauing—albeit at around 50,000 per day—after rising exponentially since the first was confirmed in the country in January.
Since the start of the pandemic, politicians and public health experts have talked about "waves" of the virus. The "first wave" was considered to be the rise in cases that took place in countries across the world as governments worked to limit the spread and get the virus under control. At the same time, authorities were warning of the risk of a "second wave," where countries and areas that had seen cases fall started to see them rise once more. This has happened in a number of countries in Europe and Asia.
At the start of July, top infectious disease expert and coronavirus task force member Dr. Anthony Fauci said the U.S. was still "knee-deep" in the first wave of the pandemic. In spring, there had been talk of a second wave hitting the U.S. in the fall—discussions based on the assumption the country would have had the virus under control before then. Speaking with Howard Bauchner, editor of the Journal of the American Medical Association, at the start of August, Fauci said the U.S. could be in a "really bad situation" if it could not get cases down to around 10,000 per day by fall.
The geographical size of the U.S. makes it unlike many other countries when it comes to handling the pandemic. States have been given a level of autonomy to introduce mandates and measures to limit spread. Spikes in some states have coincided with huge falls in COVID-19 cases in others. This makes the idea of "waves" of the virus more complicated. And if the country fails to get daily case numbers below the tens of thousands, it may be difficult to consider the virus under control.
Nevertheless, the concern of a huge uptick in cases in September has been raised. As the weather gets colder, social distancing will become more difficult because people will need to spend more time indoors, potentially leading to increased transmission. Viruses generally are also more stable in the cold, with U.K. government scientists finding the optimum temperature for the novel coronavirus was around 4 C. Another problem in fall and winter is the drop in ultraviolet light from the sun—something known to kill the virus.
Along with these new challenges, fall also marks the start of flu season. Over 2019/2020, the CDC estimates between 410,000 and 740,000 were hospitalized with influenza, and between 24,000 and 62,000 people died. While some of the measures in place to limit the spread of COVID-19—like face masks and social distancing—may help dampen the 2020/2021 season, there is a risk hospitals will become overwhelmed with the number of people needing care.
In addition, because flu and COVID-19 share several key symptoms, the testing system—which is already showing signs of breaking down—may be unable to cope with the vast numbers who will need to be screened for the virus. If everyone who has the flu also needs a coronavirus test and vice versa, the strain on resources would be significant.
"I think it's inevitable that there will be more cases in the fall. Especially in cooler areas," Ashish Jha, director of the Harvard Global Health Institute, told Newsweek. "Largely because one of the things that have become clear about this virus is that it transmits really efficiently when large numbers of people are gathered indoors. Come November it'll be hard and more and more people will spend time indoors and we'll start seeing more cases. I think the question is will that be around the same time as the flu season and what is the state of the country going to be in terms of preparedness?"
Amesh Adalja, senior scholar at the Johns Hopkins University Center for Health Security, is not optimistic. Talking about the potential of a second wave, he said the virus has never really been under control. "I think we're kind of in for a continuously burning fire that flares," he told Newsweek, adding there is still a great deal of community transmission and that the virus "could spiral out of control at any given time."
If the flu season is not limited significantly through coronavirus-based restrictions, then you have two viruses competing for the same hospital beds. Testing, he said, will be a big issue.
"If they're using a polymerase chain reaction test to diagnose both there will be a problem because many of those tests will be using the same reagent supply [the compounds used in the tests]," he said. "Reagent supply has been one of the biggest problems with testing since the beginning of the pandemic so I do think that will be a major challenge. Hopefully they'll come up with a solution where you can test for both [COVID-19 and flu] with the same test. There are some companies that are working on that and have emergency use authorization but the question is are they being purchased by hospitals?"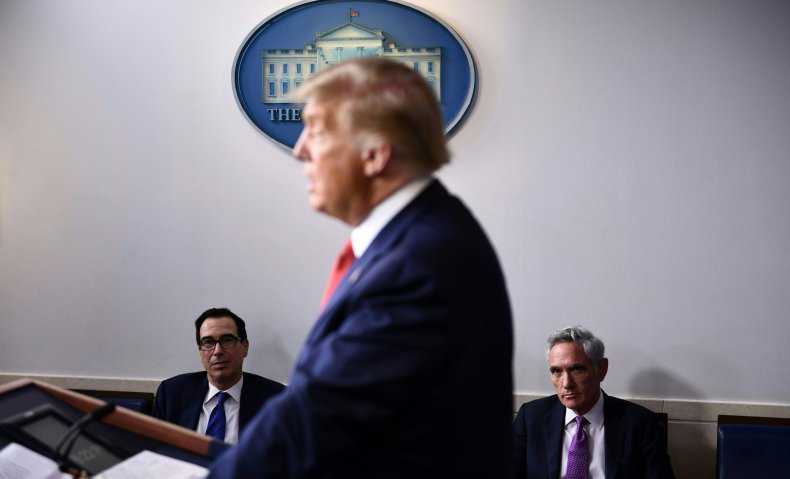 Adalja says there is no evidence the government is preparing a response to meet these season-specific challenges when it comes to COVID-19. He said that while there may be people within certain parts of the government working on a plan for another severe outbreak, "are those plans going to be executed and is there political will to execute those plans?"
"Pandemic planning is something that has been ongoing for two decades," he said. "But just because we have plans in place doesn't mean they're going to be implemented, as we've seen throughout this pandemic. I see no evidence that the federal government is going to change its response on the White House level in terms of how it's handling this. So I do think it will continue to be a patchwork, haphazard plan that is much more reactive than actually proactive."
Jeff Schlegelmilch, director of the National Center for Disaster Preparedness at Columbia University's Earth Institute, said the trouble the nation is having suppressing the virus is "a little absurd." He believes a second wave response will look much like the first wave, "because essentially we have the same tools we had in that first wave."
Schlegelmich told Newsweek it is unclear if a second wave would be worse than the first as there are still many unknowns, including whether immunity to the virus lasts. However, he said everyone should be planning for subsequent waves, with a view that those waves could be worse if we become complacent. He said he hopes a second wave plan would be a "more organized version" of that taken in the first wave, and that a more centralized approach would help states cope.
"A centralized approach would be extraordinarily helpful in the sense that it would provide consistent messaging based on the latest evidence," he said. "The coordination of supplies such as ventilators, masks, and other personal protective equipment for front line responders would also better serve them rather than have states compete with each other for scarce resources. But there also needs to be some degree of flexibility for state and local governments to make decisions based on local conditions. For example, some areas may need more aggressive measures, others may not."
David Vlahov, Professor of Nursing at the Yale School of Nursing and Professor of Epidemiology-Microbial Diseases at Yale School of Public Health, says that to limit a worst-case scenario for a second wave, politics must be put aside. "There...needs to be a centralized approach in giving clear and consistent messaging from trusted experts and in providing logistical expertise to assure development and distribution of supplies, whether they be masks, ventilators or other supports," he told Newsweek.
In June, White House trade adviser Peter Navarro told CNN the government was preparing for a second wave by "filling the stockpile" and that "we are doing everything we can beneath the surface, working as hard as we possibly can." Further details on what was being stockpiled and what preparations were being made were not given.
Days earlier, Vice President Mike Pence said talk of a second wave was the media "sounding the alarm bells" and that the U.S. was well on its way to having a vaccine by the fall. The millions of doses needed to carry out a mass vaccination campaign across the country are unlikely to be ready this year, however, with Fauci recently saying it would likely be rolled out to the public over 2021.
Details on the government's plans for a second wave have not been released. The White House, U.S. Centers for Disease Control and Prevention (CDC) and the U.S. Department of Health and Human Services (HHS) have been contacted for comment.
Jha says he is optimistic about a second wave in terms of the country's testing system. He believes there will be "dramatic improvements" in the months ahead, "not because of anything the federal government does, but because of what states do." He pointed to a new initiative where seven states are working together to shorten the time between testing and people getting their results. "[It] essentially says we're not waiting for the federal government anymore."
Tricia Wachtendorf, director of the Disaster Research Center at the University of Delaware, told Newsweek that during disasters, the public tend to be forgiving of officials, believing them to be doing the best they can under the circumstances: "That doesn't mean that they are entirely forgiving of failure, but there's some degree of empathy with those dealing with sudden and unexpected challenges.
"The second time it happens? Not so much," she said, referring to a second wave.
Wachtendorf says having a decentralized approach to COVID-19 is important, so people within localities are able to provide the resources required. "That said, a protracted response, like we are experiencing with COVID, allows for greater coordinated decision-making. That should be taken advantage of."
She said setting minimum requirements that states need to follow for national effectiveness, while allowing them to implement more stringent protocols, would help provide a system that can respond to changing circumstances, rather than ad hoc strategies.
"We are not even getting consistent information coming from a national level," she said. "It's difficult to operate effectively in a decentralized way if people don't have the information they need and are not operating on a shared vision."