Sex Workers Say Online Market Is Saturated With Performers, Fans Are Canceling Subscriptions During Coronavirus Pandemic
The sex industry's reliance on physical human contact makes it particularly vulnerable to the economic damage wreaked by the coronavirus pandemic, and while there is a large online market, for many sex workers going digital is not a viable means of making enough money to live.
Even before the outbreak, the sex industry was full of people marginalized because of their gender, disability, or they struggled to find gainful employment elsewhere. Now, sex workers across all the industry's sectors are facing a new set of obstacles to earning a living amid the lockdowns.
Adult film production has shut down, leaving stars and technical staff without work. Client-facing sex workers such as escorts cannot both earn money and adhere to social distancing rules designed to protect public health.
And if you're an established online performer you face losing customers or receiving less money from fans with their own financial struggles as the global economy enters a deep recession. For those without an existing online profile, the market is packed and tough to break into.
On top of all this, American sex workers are shut out of their government's system to help small businesses whose incomes are drastically affected by the coronavirus pandemic.
The application for the federal Small Business Association's Economic Injury Disaster Program stipulates that anyone who presents "live performances of a prurient sexual nature" or derives their income from "the sale of products or services, or the presentation of any depictions or displays, of a prurient sexual nature," is ineligible for its support.
For many, their best option is to move solely to online sex work, uploading videos to paid-for subscription accounts on sites such as OnlyFans and ManyVids, otherwise known as camming. But this is not a simple solution.
"The market was already very saturated pre-COVID-19," Reya Sunshine, a stripper who is now solely working online, told Newsweek. "It will be rough for strippers or escorts who move online and haven't yet built an online audience. It takes time."
Shelby Paris, an experienced sex worker who said she is losing thousands of dollars a month because online work is now her only source of income, said the move to digital is harder than people imagine, especially for those attempting it for the first time.
"From personal experience, I feel like a lot of newer models will flood the cam rooms, but they'll realize it is super hard and not follow through with getting on," Paris told Newsweek. "It is hard to cam and I give the all full-time camgirl major props for hustling and continuing to get on every single day."
Henna is a trans sex worker previously employed in the windows of an Amsterdam brothel in the Dutch city's famous Red Light District. She had to stop working on March 12, one day after the World Health Organization declared the coronavirus outbreak a pandemic.
She attempted to move into escorting but struggled as there were not many clients around and she didn't feel safe with the ones still willing to meet her.
There were the usual health risks and now coronavirus, too. But the outbreak also changed how Henna and others are treated by potential clients: "People were also acting really stupidly towards us, protecting their faces with hands when looking at us etc, like we had the plague or something."
In the first two weeks of not working, Henna lost around €1,000 ($1,090) of income and thought she would not make any more money for the rest of that month.
Her situation cannot be easily remedied by moving online, an entirely new area of work for which she lacks experience, equipment, and a fanbase
"First of all, it requires a completely it's own kind of skill set. I don't have the needed equipment nor the skill, even when I'm very good with computers and photographing," Henna told Newsweek.
"Those sex workers who do online sex work and are successful have worked hard and long to be successful. Me or anyone else starting online sex work now cannot really expect to get instant results from it.
"Also, imagine every stripper and full-service sex worker turning to online work? You don't think it crashes the market?"
Even if the brothels and windows reopen to the public, she said things may never be the same for the Dutch sex industry: "Tourists were a major part of our clients. Will we actually ever again see the amount of tourists here that was before?"
"The uncertainty is the worst part," Henna added. "This is like watching a horror movie in extreme slow motion. You just want to skip to the end to see who survives."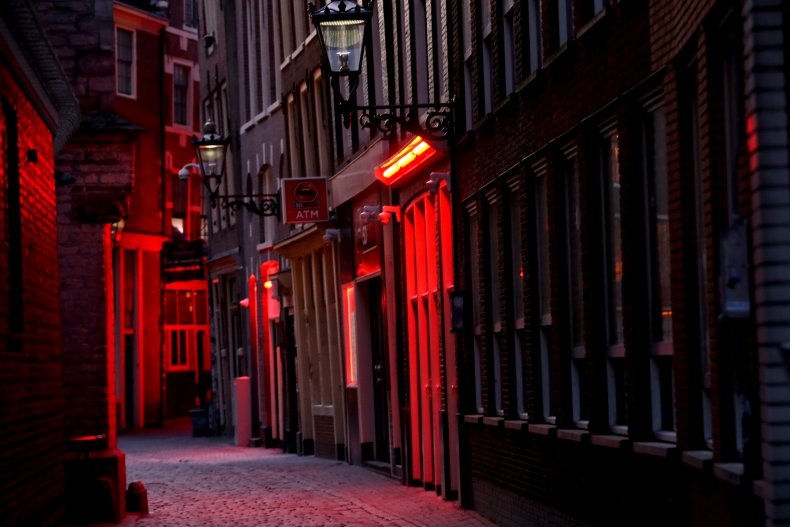 For those already in the online world, some financial relief has arrived from leaders in the adult entertainment industry.
In March, the website PornHub announced it is donating $10,000 to the Free Speech Coalition (FSC) Emergency Fund as well as $25,000 to the Sex Workers Outreach Project to support relief funds for sex workers affected by the coronavirus.
PornHub also announced changes to its conditions so models uploading content to the site receive 100 percent of their video sales after the processing fee throughout April. Online platforms usually take a large cut of the performer's earnings; around 30 to 50 percent.
Codi, an adult film star forced to move entirely into online sex work, started a campaign urging porn sites to increase what they pay to sex workers struggling amid the current health crisis.
No longer able to film porn shoots, Codi is losing around 10 to 20 percent of her income. But she is one of the industry's lucky ones, able to continue working online.
"I can do most of my job from home by myself, but that is not the case for many of the people using online paysites like PornHub," she told Newsweek.
"A lot of people working on these sites are earning a supplemental income while also working a vanilla job, or have a partner working a vanilla job, and because so many people are being laid off, they now have to rely entirely on online sex work for the first time."
Codi said it is naive to think inexperienced or new sex workers can make a lot of money quickly online.
"Contrary to popular belief, it is not easy to instantly make money selling nude pictures or video," she said. "For most sites, the highest earners get the most publicity and the lowest earners are the hardest to find, making it difficult to break into a space where you make enough money to live on."
For Reya Sunshine, the switch to all online work has been relatively smooth as she has been doing it for a number of years. Her exposure as a stripper also helped her gain a huge online following, including more than 118,000 Twitter followers and thousands of paid subscribers on OnlyFans.
Despite this, Sunshine estimates she is losing up to one-third of her income every month now she is no longer working at closed-down strip clubs or attending events.
Even after the dangers of the virus were known in the U.S., clubs were still hoping to host events and shows in the upcoming weeks, something Reya knew would be impossible to achieve.
"And even if the clubs are open, is it really the most responsible thing for me to be encouraging people to come out for my shows? I'm also responsible for marketing and bringing people to my shows, so I have a push/pull between what's 'good for business' and what's the right thing to do as a human," she said.
"I'm hoping I won't have to be the one to put my foot down and look like a party pooper if a club reopens and wants me to headline when it's not the best idea for humanity as a whole."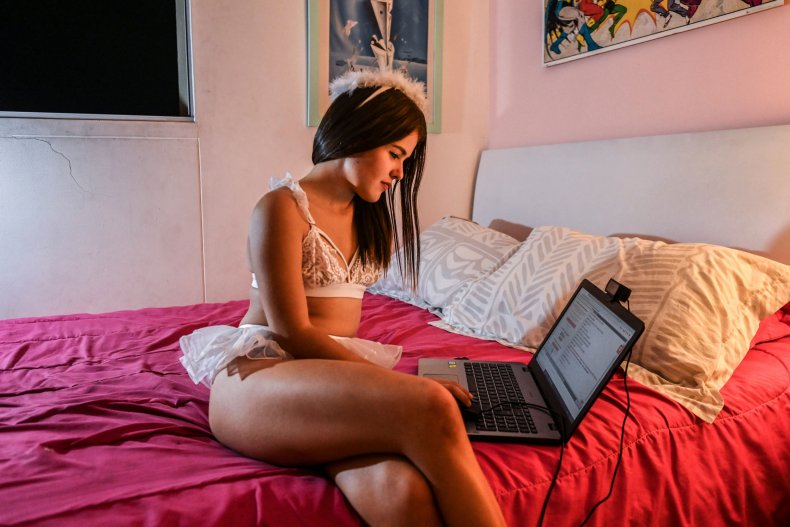 Bonnie Good is an online sex worker who said the pandemic has not really affected the majority of her business. She performs her videos either by herself or with her husband, which she is able to do from their home under lockdown.
However, some of her paying fans with their own work and financial struggles are deciding they can no longer justify paying for adult content.
"We have had several of our bigger customers tell us straight up they won't be spending any money with us anymore," Good said. "They fear this will go on for years, they are deleting all their accounts."
Good is losing around $50 a day just from those who have "went out of their way" to tell her that they won't be using their services anymore.
"I think we are all feeling the strain," she told Newsweek. "There is this underlying stress of 'what if it does go to s**t' that is making a lot of us just work 24/7 to save what we can in case this leads to a serious economic disaster.
"We don't have a sob story but we are definitely worried for our fellow models who may be taking these changes harder, women with kids especially."
Arielle Aquinas, a Las Vegas-based adult film actress, is now relying on paid subscriptions from her OnlyFans as her income because all porn productions have been put on hold.
"So in the mainstream world it would be like going from having a weekly check to relying on a job that just offered commission or tips," Aquinas said.
Unlike others, Aquinas said she has not witnessed a decline in payments for her online videos, attributing the rise in sales to there being more people "sitting at home all day, needing something to occupy themselves" while not at work.
"And with OnlyFans or Sext Panther they get to chat with me throughout the day which combats loneliness. But of course, like all sales jobs, it's not guaranteed."
Arielle has also had no luck in finding work outside the sex industry amid the outbreak: "I was about to be interviewed for a mainstream marketing job, but the company is shut down now and I doubt they'll be hiring if they reopen."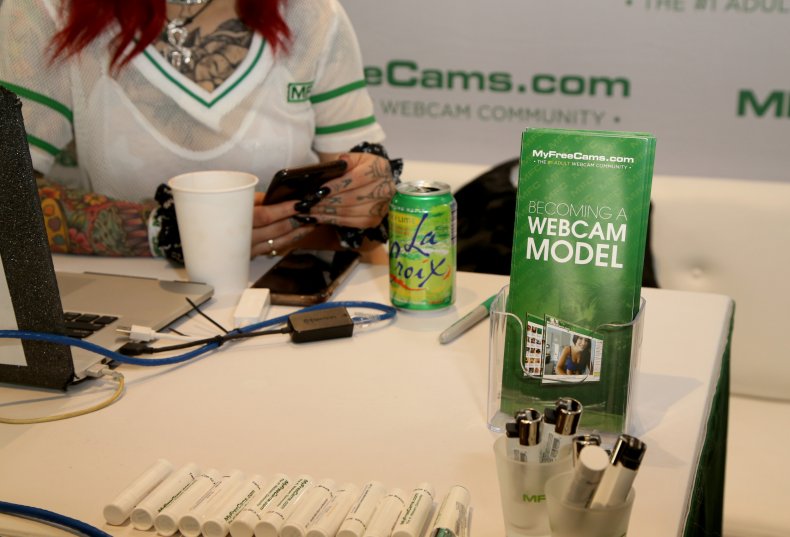 Miles Long, a veteran adult film actor and producer with more than 400 titles to his name, said heterosexual male performers face an even greater challenge in adapting to the sudden change and establishing themselves online, though some have built income streams from subscription platforms.
"While it's not impossible for a newer male performer to achieve this, just like anything else, it requires perseverance, work ethic, and a drive to excel in order to build a name and a fan base that will help you generate long term revenue, so this will be a long term growth area, not a short term gain one," Long told Newsweek.
Despite currently losing around two-thirds of his income, Long said he is taking from the outbreak and the performers who are still working.
"There is a larger segment of the population that will be surfing the internet looking at adult content. This gives us all an opportunity to help the public not only pass the time and be happy, but also help us survive as well during this difficult time," he said.
"As you can see I am a glass half full person, not a glass half empty one."
Some of the names used in this report are the individuals' performer names.
The graphic below, provided by Statista, illustrates the number of confirmed COVID-19 cases as of April 15.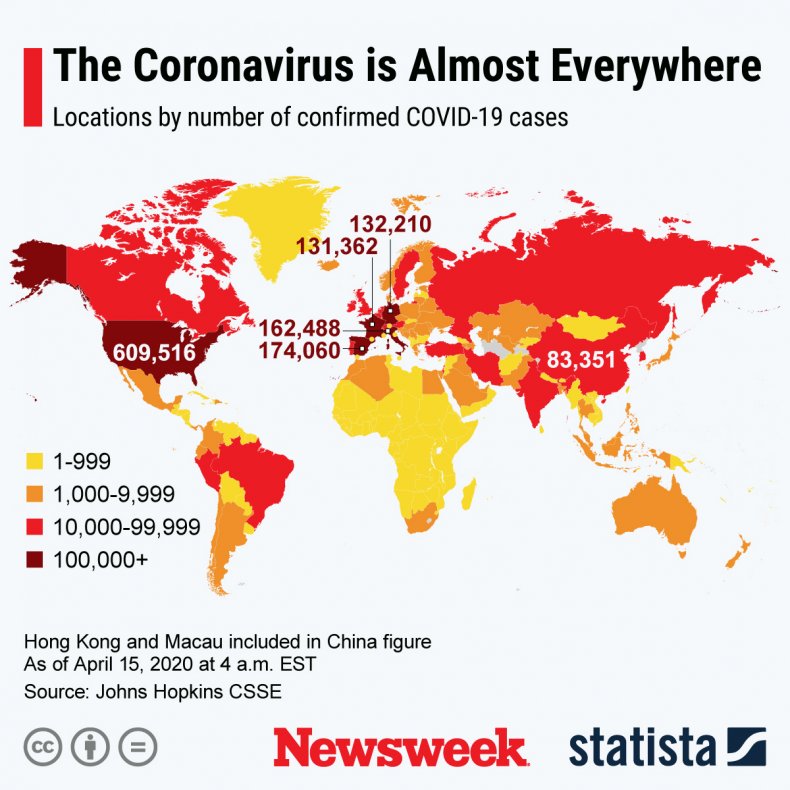 Centers for Disease Control and Prevention Advice on Using Face Coverings to Slow Spread of COVID-19
CDC recommends wearing a cloth face covering in public where social distancing measures are difficult to maintain.
A simple cloth face covering can help slow the spread of the virus by those infected and by those who do not exhibit symptoms.
Cloth face coverings can be fashioned from household items. Guides are offered by the CDC. (https://www.cdc.gov/coronavirus/2019-ncov/prevent-getting-sick/diy-cloth-face-coverings.html)
Cloth face coverings should be washed regularly. A washing machine will suffice.
Practice safe removal of face coverings by not touching eyes, nose, and mouth, and wash hands immediately after removing the covering.
World Health Organization advice for avoiding spread of coronavirus disease (COVID-19)
Hygiene advice
Clean hands frequently with soap and water, or alcohol-based hand rub.
Wash hands after coughing or sneezing; when caring for the sick; before, during and after food preparation; before eating; after using the toilet; when hands are visibly dirty; and after handling animals or waste.
Maintain at least 1 meter (3 feet) distance from anyone who is coughing or sneezing.
Avoid touching your hands, nose and mouth. Do not spit in public.
Cover your mouth and nose with a tissue or bent elbow when coughing or sneezing. Discard the tissue immediately and clean your hands.
Medical advice
Avoid close contact with others if you have any symptoms.
Stay at home if you feel unwell, even with mild symptoms such as headache and runny nose, to avoid potential spread of the disease to medical facilities and other people.
If you develop serious symptoms (fever, cough, difficulty breathing) seek medical care early and contact local health authorities in advance.
Note any recent contact with others and travel details to provide to authorities who can trace and prevent spread of the disease.
Stay up to date on COVID-19 developments issued by health authorities and follow their guidance.
Mask and glove usage
Healthy individuals only need to wear a mask if taking care of a sick person.
Wear a mask if you are coughing or sneezing.
Masks are effective when used in combination with frequent hand cleaning.
Do not touch the mask while wearing it. Clean hands if you touch the mask.
Learn how to properly put on, remove and dispose of masks. Clean hands after disposing of the mask.
Do not reuse single-use masks.
Regularly washing bare hands is more effective against catching COVID-19 than wearing rubber gloves.
The COVID-19 virus can still be picked up on rubber gloves and transmitted by touching your face.