Dating Experts Advise How Couples Can Keep the Spark Going During Coronavirus Social Distancing and Home Isolation
With the United States confirmed as the country with the highest number of coronavirus (COVID-19) cases in the world, surpassing China, self-isolation is becoming the norm for many Americans. For those who are separated by distance, especially people in romantic long-distance relationships, not being able to see those they care might cause some anxiety.
According to a survey conducted by KIIROO and SWNS, one in seven relationships in the U.S. are long-distance. Respondents to their study believed that living at least 132 miles away was considered long distance. Today this could be only a couple of miles during home isolation.
The challenges that impacted couples included a lack of physical intimacy (66 percent). To help those couples who have found themselves unable to be physically with their partners, Newsweek has asked dating experts how Americans can keep the spark alive in their long-distance relationships.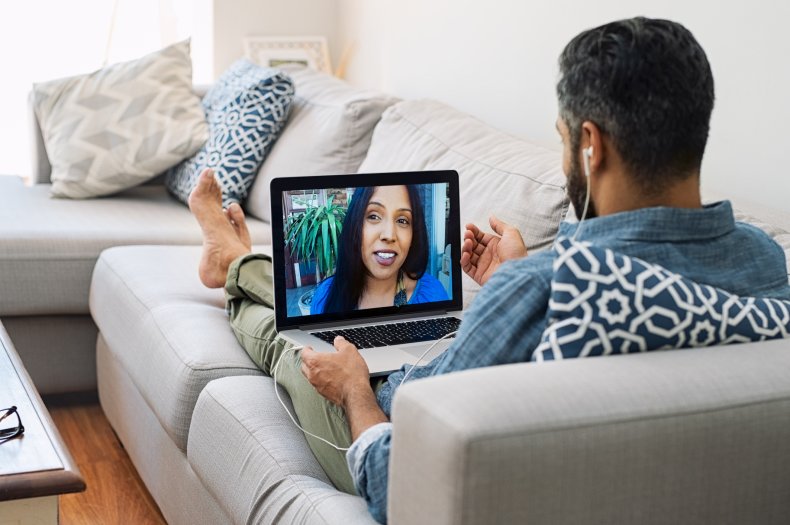 Top Tips for Couples in Long Distance Relationships During COVID-19 Pandemic
There are currently 85,996 confirmed coronavirus cases in the U.S. according to Johns Hopkins University, as shown in the graphic below created by Statista. Of these, 1,300 cases have resulted in death, while 753 cases have recovered.
Guidelines from the World Health Organization (WHO) advise that in order to protect themselves, people should maintain at least a 1 meter (3 feet) distance between anyone who is coughing or sneezing. This is known as social distancing. This is because when someone coughs or sneezes they spray small liquid droplets from their nose or mouth, which may contain the virus. If too close, people can breathe in the droplets, including the COVID-19 virus if the person coughing has the disease.
For anyone that displays mild symptoms such as a headache and a slight runny nose, WHO advises that they should isolate themselves for 14 days. This is because avoiding contact with others will allow medical facilities to operate more effectively and help protect you and others from possible COVID-19 and other viruses.
Now people are being confined to their homes, Hilda Burke, a psychotherapist, couples counselor and author of The Phone Addiction Workbook, believes that now is a good time for people to revisit the methods used by their ancestors. "Letters are greatly underrated and a wonderful way to foster intimacy, no matter how close or far from each other you are," she told Newsweek. "Surprise your partner with an unexpected letter or card."
She also says that movie dates are a great way to make things feel "a little more normal" with several different ways to hook up for a date. "My friend who lives on a different continent to her partner uses a combination of Dropbox and FaceTime, but there is a new app called Gaze which makes long distance movie dates even easier," she explains.
Other ways for couples to do this include Netflix Party, which is available on desktops and Google Chrome, Zoom, and Discord.
Dating expert and writer Andy Jones empathizes with couples going through separation.
"The nightmare of being long distance is that — unlike when you have regular shared experiences — you lose the common wavelength you'd have normally and so the first moments of those much longed-for calls where you do catch up are spent 'settling in' again," he told Newsweek. "In fact, the worst part of long-distance is that half the time you only remember the funny tale or cute story you wanted to share after you've ended the call."
His advice? Make notes. "Scribble or pin stick all the things that made you laugh, cry, get annoyed — any must-see shows or clips — so you can chat about them when you do catch up. This is especially good if you are in another time zone and so texting things 'as they happen' usually means a grumpy woken up partner."
Jones also believes that while many consider romance to be spontaneous, couples need to get organized with their romance if they're apart. "This sounds unsexy, but —for long-distance couples — it's good to be organized when it comes to romance.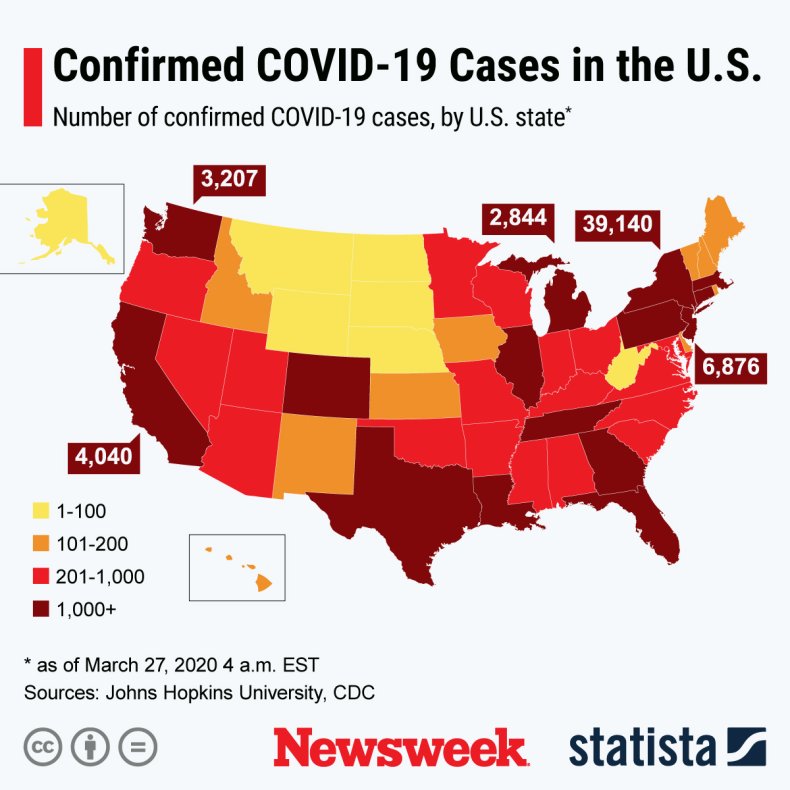 "Sex would naturally be spontaneous and romantic at home, but, now you're apart, it's all off. Video chats at the moment might be one of you feeling playful and sexy and the other desperate to get a personal catastrophe off their chest," he said. "Why not schedule one night in advance for a romantic date video chat? You both promise to not mention any personal dramas and get dressed up for dinner, agree to let your hair down, and see what happens."
Being open and honest is also helpful for long-distance relationships, especially during difficult times.
"During what for many is quite an intense time, it's important to keep communication channels open with your partner and to be as honest and open with your feelings as possible," dating and relationship coach Sami Wunder told Newsweek. "It's ok to feel scared or anxious but it's much better to communicate that to your partner rather than pretending things are okay."
Burke also suggested talking to your partner about how you are feeling and offering support in return.
"Remember the trying situation you're both in," Burke said. "This period has been described as being like war so cut yourself and your partner some slack. It's natural to feel frustrated that you cannot be with your loved one at such an anxious time but try to keep in mind that it's not their fault.
"You're feeling irritated at the distance between you and sometimes there is a risk of taking that out on them. When you feel like this, take a breath — in fact, take several and notice how you're projecting your feelings of frustration onto them and blaming them unfairly."
Self-isolation might also help couples feeling the anxiety associated with COVID-19 and any negative emotions associated with not seeing their partner.
"Whilst it's important to stay connected while you're physically apart, it's also a good opportunity to take some time for yourself," Wunder said. "Schedule in some "me" time and be sure to focus on your own self-care.
"Make time to enjoy activities that lift you up — listen to some music, do some exercise, take a bath. It's okay and perfectly normal to miss your partner, but if you can focus on activities that light you up and also make time to connect with family and friends it will stop you from becoming overly focussed on missing your partner."
How to Plan Your COVID-19 Outbreak Video Date
If you're looking for inspiration for your video calls with your partner, Gillian Myhill co-founder of BARE Dating and relationship expert, shared her tips with Newsweek to make long-distance calls a lot more passionate.
Prepare yourself for your video calls
"Yes, you are going to be seen, so choose your outfit," Myhill said. "This will help you get in the mood for what is to come and maintaining effort in any relationship is incredibly important. Freshen up, pamper yourself, do your hair and your makeup and wear your sexy underwear in case things escalate. Lighting can make us all look gorgeous so play around with what you have available. This will differ greatly depending on the purpose of the video date."
Set the scene
"Make sure you are in the right environment for the situation — for a first date, a candlelit image of you lying on a bed in your best Agent Provocateur knickers might be a bit much," Myhill said. "It is always best to create a clear, clean environment."
Be creative
"Writing about a fantasy you both want to play out while on camera together could be a lot of fun," Myhill said. "The planning will get you both excited too. There is also a great range of sex toys that can be controlled remotely via WiFi. One of the companies dedicated to long-distance sex I've found is Lovense Toys. Planning your reunion after all this is over in detail can be a lot of fun too—perhaps you can meet halfway or in a boutique hotel bar? The possibilities are endless."
World Health Organization advice for avoiding spread of coronavirus disease (COVID-19)
Hygiene advice
Clean hands frequently with soap and water, or alcohol-based hand rub.
Wash hands after coughing or sneezing; when caring for the sick; before, during and after food preparation; before eating; after using the toilet; when hands are visibly dirty; and after handling animals or waste.
Maintain at least 1 meter (3 feet) distance from anyone who is coughing or sneezing.
Avoid touching your hands, nose and mouth. Do not spit in public.
Cover your mouth and nose with a tissue or bent elbow when coughing or sneezing. Discard the tissue immediately and clean your hands.
Medical advice
Avoid close contact with others if you have any symptoms.
Stay at home if you feel unwell, even with mild symptoms such as headache and runny nose, to avoid potential spread of the disease to medical facilities and other people.
If you develop serious symptoms (fever, cough, difficulty breathing) seek medical care early and contact local health authorities in advance.
Note any recent contact with others and travel details to provide to authorities who can trace and prevent spread of the disease.
Stay up to date on COVID-19 developments issued by health authorities and follow their guidance.
Mask and glove usage
Healthy individuals only need to wear a mask if taking care of a sick person.
Wear a mask if you are coughing or sneezing.
Masks are effective when used in combination with frequent hand cleaning.
Do not touch the mask while wearing it. Clean hands if you touch the mask.
Learn how to properly put on, remove and dispose of masks. Clean hands after disposing of the mask.
Do not reuse single-use masks.
Regularly washing bare hands is more effective against catching COVID-19 than wearing rubber gloves.
The COVID-19 virus can still be picked up on rubber gloves and transmitted by touching your face.