South Asians Most Likely to Die in Hospital from COVID-19
People from South Asian backgrounds are the only group more likely to die from COVID-19 after they've been admitted to hospital, according to new research.
The study, which is based on data from four in 10 of all hospital patients with COVID-19, showed that those from South Asian backgrounds were 20 percent more likely to die from the virus than white people. Other ethnic minority groups did not have a higher death rate after they had been admitted to hospital.
The research, which involved public health bodies, universities and 260 hospitals and has been published in the medical journal Lancet, states: "South Asians are at greater risk of dying, due at least in part to a higher prevalence of pre-existing diabetes."
Out of every 1,000 white people who are admitted to hospital for COVID-19, 290 die, while for South Asians the figure stands at 350 out of every 1,000.
Prof Ewen Harrison, from the University of Edinburgh, told the BBC: "South Asians are definitely more likely to die from COVID-19 in hospital, but we don't see a strong effect in the black group."
The South Asian population in hospital is also 12 years younger on average and tend "not to have dementia, obesity or lung disease, but very high levels of diabetes."
Type 1 or type 2 diabetes was prevalent in around 40 percent of South Asian patients in hospital, compared with 25 percent of white groups.
Researchers behind the report also say that ethnic minority communities may be at greater risk from the virus due to socioeconomic conditions that "increase risks of transmission and vulnerability, such as overcrowded housing, employment in essential frontline occupations, poverty, healthcare seeking behaviours, and reliance on public transport.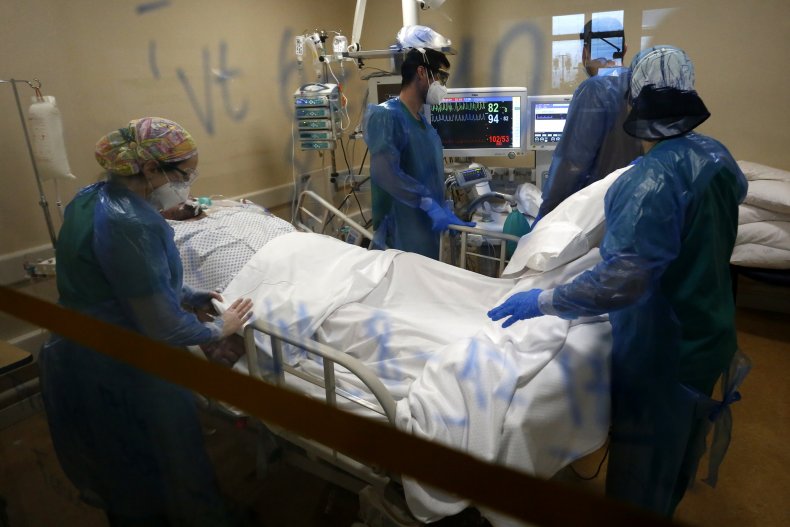 NHS doctor Dr. Mohammed Abbas Khaki said diabetes reduced immune response, leading to patients becoming more unwell after getting COVID-19.
He told Newsweek: "Diabetes is associated with raised blood sugar and this can reduce our immune response, potentially leading to patients become more unwell because of COVID-19.
"In addition, some diabetes-related health issues, such as nerve damage and reduced blood flow to the extremities, can increase our vulnerability to infection.
"The other thing to remember is that patients with diabetes, are more likely to have other long-term medical conditions, like high blood pressure, and heart or kidney disease, which also make them more susceptible to illness and makes it harder for them to mount a good response to infection."
It comes as a report earlier this week from Public Health England set out recommendations on how to better protect black, Asian and minority ethnic (BAME) communities from COVID-19, after it was confirmed that people from ethnic minority backgrounds were up to twice as likely to die from the virus than white people.
Among the actions recommended were "more research to better understand the impact of COVID-19 on BAME communities" and ensuring "routine ethnicity data collection and recording across medical settings, including mandatory collection of ethnicity data on death certification."