South Korean Prime Minister Warns Against 'Illegal Hoarding of Medical Goods' As Coronavirus Infections Surpass 600
South Korea's Prime Minister warned the country's citizens against the "illegal hoarding" of medical goods amid the growing spread of the new coronavirus. Over the weekend, South Korea was forced to push its alert level to its highest point, as the number of those infected rose to more than 600 people, with at least six deaths resulting from the virus.
With the spread of the virus on the rise, South Korean Prime Minister Chung Sye-kyun issued a message to the public on Saturday, calling on residents to cooperate with the government's bid to contain the spread of the virus.
Calling the recent surge in infections a "grave situation," Chung asked citizens to avoid crowded indoor spaces, including those where religious activities are being held, according to The Korea Times. He said citizens should find different ways to carry out religious services with their loved ones that do not require them to visit crowded venues.
Chung also warned that South Koreans could face punishment for interfering in quarantine efforts and for trying to hoard medical goods.
"In accordance with law and principles, the government will sternly deal with acts that interfere with quarantine efforts, illegal hoarding of medical goods and acts that spark uneasiness through massive rallies," Chung said in a public message.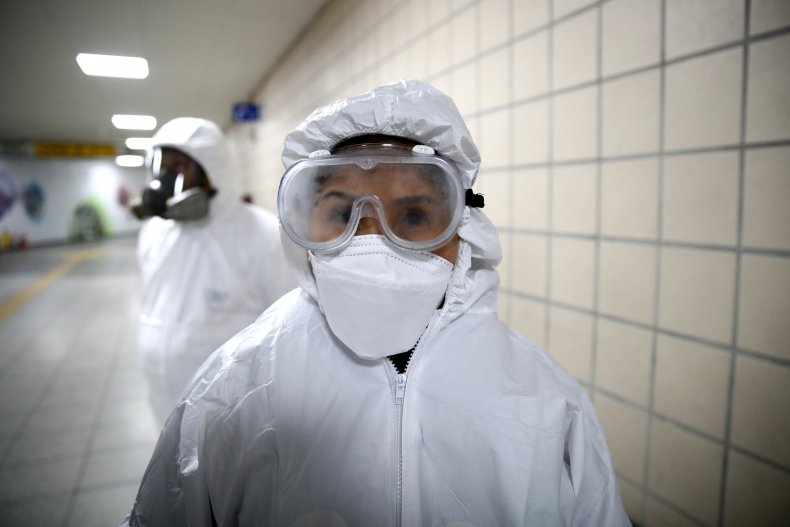 President Moon Jae-in, meanwhile, said the country was facing a "grave turning point," with the next few days being critical in the effort to contain the spread of the coronavirus.
On Sunday, China's President Xi Jinping described the coronavirus outbreak as the "largest public health emergency" in the country's recent history, according to the BBC. He said he was aware of "shortcomings" in China's response to the outbreak and said lessons must be learned from the situation unfolding across the globe.
The new strain of coronavirus, first discovered in China's Hubei province, causes a respiratory disease known as Covid-19. According to the Johns Hopkins University's online tracker of the spread of coronavirus, there have been more than 78,820 cases identified worldwide as of Sunday morning. Of those cases, at least 2,466 have resulted in death. 76,936 of those cases have been in Mainland China, with the country seeing 2,442 deaths related to the virus.
South Korea, meanwhile, had seen 602 as of Sunday morning, with 6 deaths recorded. The U.S. has seen 35 cases recorded, with zero deaths to date.