Huge Subway Brawl Breaks Out Over Man Not Wearing Mask
As new coronavirus cases in South Korea continue to emerge, a man on a subway in Seoul, where masks have been mandatory in all public spaces both indoors and outdoors since Monday, was arrested after assaulting passengers who called him out for not wearing a face covering.
The man and another unmasked passenger were reportedly talking loudly when a masked male passenger seated opposite asked them to wear a face covering, a witness told South Korea's SBS News channel.
The incident was captured on video which showed the man in his 50s smacking the masked passenger on the head with a slipper while shouting: "It's fine to do what you need to do and mind your own business. What does it matter?"
Another masked male passenger was then heard pointing out the breach, shouting: "It [not wearing a mask] is an offense," after which he was also hit in the head by the man in his 50s, leading to a brawl between the pair.
The man in his 50s was pushed and kicked on the floor of the subway car as the pair punched and shoved each other, while passengers seated nearby moved away from the area.
The masked passenger who was attacked earlier was seen going over to the second unmasked man, yelling: "They said it's an offense, why aren't you wearing a mask?"
The brawl ended after police and station staff arrived at the next subway stop. The man was taken into custody and is under investigation by police, SBS News reported.
Masks have been required in Seoul on public transport since May, but tighter restrictions were introduced this week in the South Korean capital following a recent rise in new cases in the country.
There have been around 350 mask-related incidents reported to police since the mask mandate was implemented in May. Most of the individuals involved were reported to be middle-aged, including 115 people aged 60 or more and 83 people in their 50s, SBS News reported.
The latest incident follows a sharp increase in weekly new case totals in South Korea, after months of decline since early March and a flattening out of new infections from April through July.
The country reported a rise in weekly new cases for three consecutive weeks in August, increasing by 210 percent in the week starting August 10 and 189 percent in the week starting August 17, according to data compiled by the World Health Organization (WHO).
Clusters of new cases have been linked to the Sarang Jeil Church in Seoul. According to the latest report Friday from the Korea Centers for Disease Control (KCDC), a total of 978 confirmed cases have been related to the church so far. Nearly 20 confirmed cases have been related to the In The Light Church in the capital.
South Korea has reported 19,077 confirmed cases, including 359 new local cases, 12 new imported cases, and three new deaths, according to the latest KCDC report Friday.
Earlier this week, South Korean president President Moon Jae-in warned the country may need to implement a phase three level of social distancing, the highest level, which would urge schools and businesses to close, Reuters reported.
"If we can't stop it at this stage, we have no choice but to upgrade to the third phase of social distancing. The raise to phase three is by no means an easy option," Moon said, Reuters reported.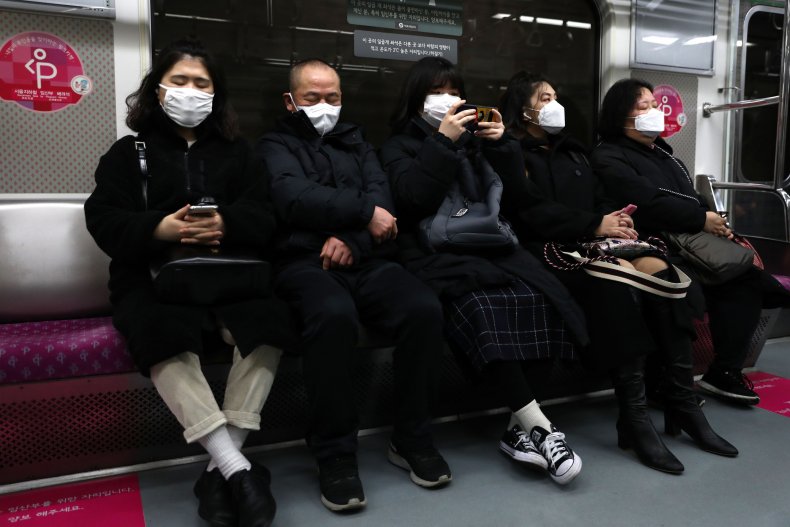 Concerns over the surge were also raised by health ministry official Yoon Tae-ho who noted the transmission routes of about 20 percent of recent infections have to be determined, Reuters reported.
"If we fail to flatten the curve this week we believe we will be faced with a very important crisis, that the virus will spread to the entire nation," Yoon said at a briefing earlier this week.
The coronavirus has infected over 24.4 million people across the globe since the virus was first reported in Wuhan, China. More than 832,400 people have died following infection, while over 16 million have reportedly recovered, as of Friday, according to Johns Hopkins University.
The graphic below, provided by Statista, illustrates countries with the most COVID-19 cases.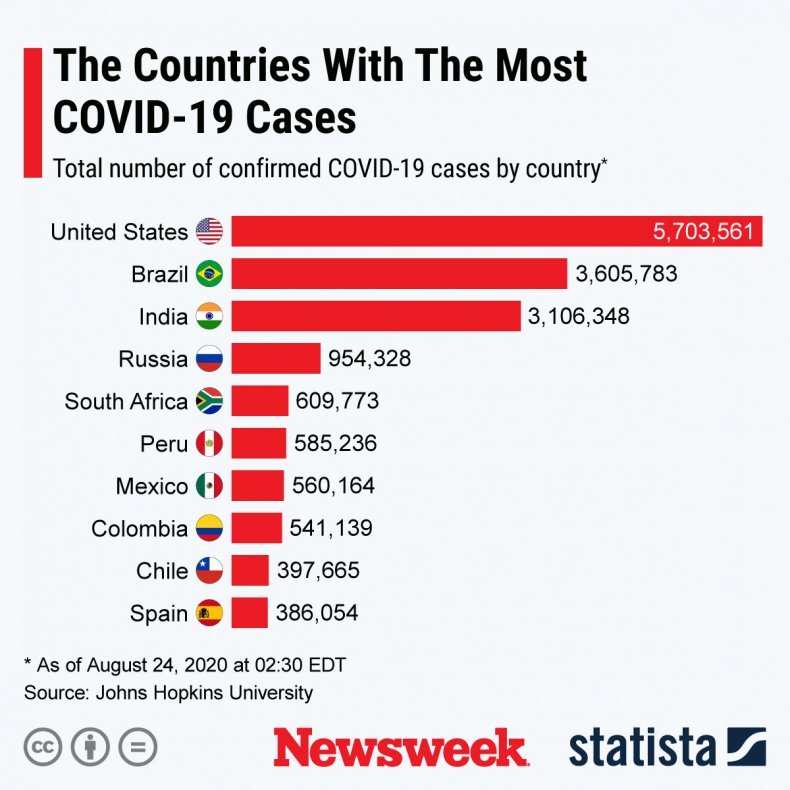 The graphic below, provided by Statista, illustrates the spread of COVID-19 cases in the U.S.