Dozens Infected with COVID-19 at Hospital After Nurse Retirement Party
Two clusters of coronavirus cases at a hospital in Spain have led to dozens of people being infected following a retirement party held for a nurse from the Virgen de las Nieves hospital in the city of Granada.
There were reported to be at least 43 positive cases from one cluster that could be potentially linked to the party in the Andalucia region, in southern Spain.
Of these, 24 were reported to be patients at the hospital, 18 were workers and one was a family member.
Hospital workers who were infected included at least seven doctors and nurses who work on the ninth floor, as well as a nurse and four nursing assistants who work on the fifth floor, officials said. Cases were said to have also been reported on the sixth floor, according to Granada's Ideal newspaper.
Five cases from a second cluster of cases at the hospital were also reported to be hospital workers, the newspaper reported.
Elias Bendodo, Minister of the Presidency, Public Administration and Interior of the Andalucian government, said the origin of the latest outbreak is being investigated and its link to the party has yet to be confirmed.
The hospital said that a "strict protocol of planned control" was followed "as soon as they had knowledge" of the positive cases. That included contract tracing, isolating positive cases and mass testing of all health professionals working in the affected area, according to news agency Europa Press.
All affected workers having been quarantined, with 40 extra nursing staff hired to make up for staff shortages caused, the agency reported.
"This contingency has not affected the health care activity of the center at this time, although some delayed interventions will be postponed for the next few days," the hospital said.
The latest outbreak comes as the number of confirmed coronavirus cases in Spain surpassed 640,000, according to the latest report Monday by Johns Hopkins University.
The seven-day moving average of daily new cases in Spain increased on a sharp incline from early July to late August. From then, it briefly flattened out through early September before dropping sharply through late September, according to data compiled by Worldometer.
Weekly new cases in Spain have been rising consistently from the week commencing June 22 to the week commencing September 7, according to the World Health Organization (WHO).
Several districts in southern Madrid, and a few areas just outside the Spanish capital, have reported over 1,000 cases per 100,000 people. That is much higher than the national average of 285.
New restrictions in Madrid were announced this week, where around 850,000 people have been told to remain at home from Monday, leaving their neighborhoods only for essential activities such as: going to work, seeing a doctor or taking children to school.
The restrictions, which remain in effect for at least two weeks, have been issued in local areas reporting more than 1,000 infections per 100,000 people.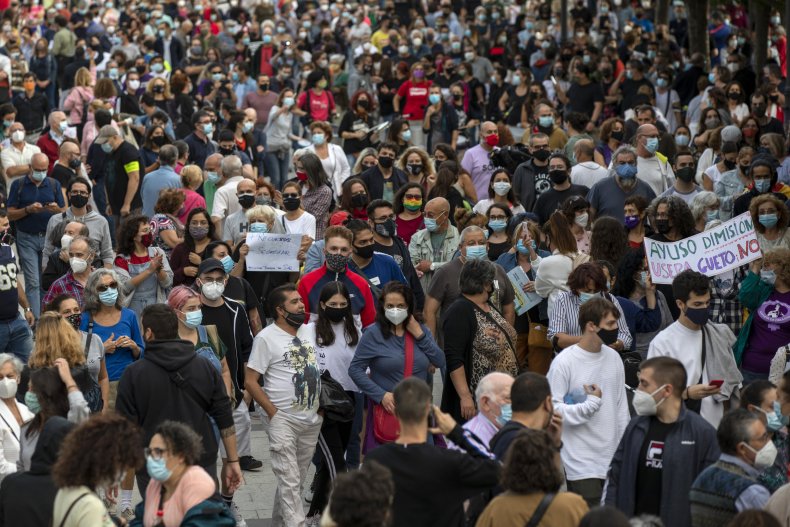 The wider picture
The novel coronavirus has infected over 31.1 million people across the globe, including more than 6.8 million in the U.S.. Over 961,400 have died following infection, while more than 21.2 million have reportedly recovered, as of Monday, according to JHU.
The graphic below, provided by Statista, illustrates the spread of COVID-19 cases in the U.S. compared with countries in the European Union.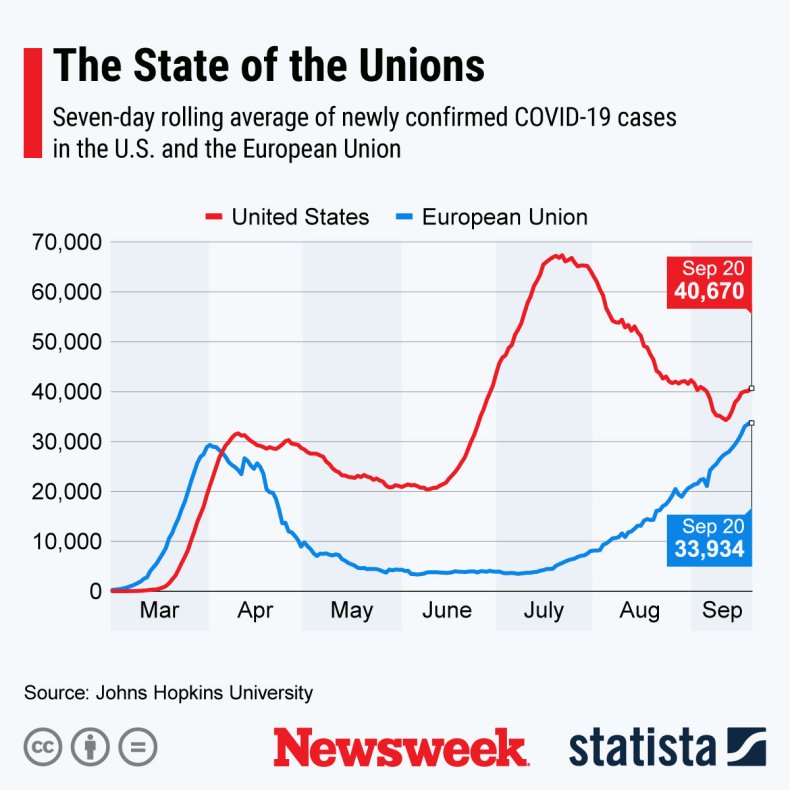 The graphic below, also provided by Statista, illustrates the spread of COVID-19 cases in counties across the globe.