Elderly Woman Under Coronavirus Lockdown Gets Surprised By Neighbors Singing 'Happy Birthday'
Twitter users have shared a tear-jerking and heartfelt moment showing a woman being serenaded by her neighbors for her birthday during the Coronavirus outbreak.
The tweet, which is written in Spanish, translates to say, "Charo lives alone and today is her birthday. Like the rest of the #Churruca15 families, one of the 14 buildings sold by #Fusara, they want to kick her out of the house. Today her neighbors have wanted to be with her. These things happen in the #BloquesEnLucha, which creates a community."
Churruca 15 is a block of apartments that have recently been bought by a network of companies and as a result Charo may now be evicted. Known as "Bloques En Lucha," which translates to "block in struggle" or "in fight," buildings in Madrid that are sold to investment funds see a surge in high rental prices that residents cannot cope with.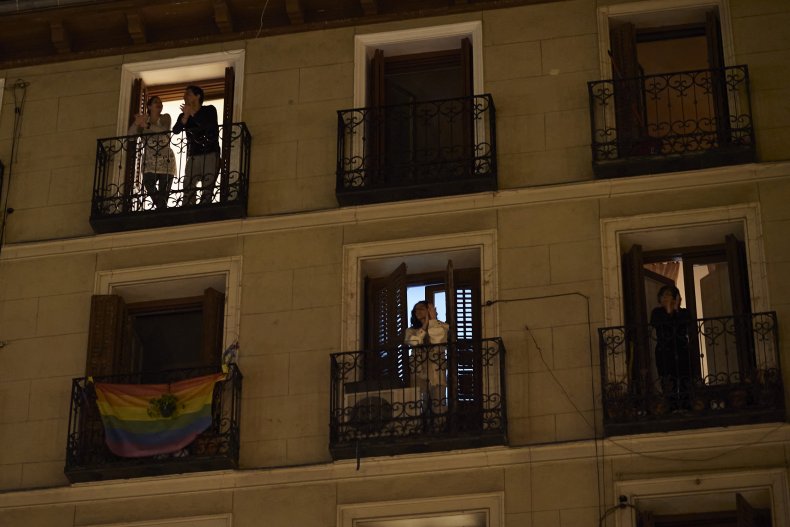 In the video, viewers can see Charo's neighbors come to her door saying (in Spanish), "Charo, it's for you, come out! It's from all the neighbors, come out, come out and say hi, they are in the patio."
The woman comes out saying "Oh my god" and her friends sing "Happy birthday" to her.
At the end of the video, a neighbor tells Charo, "see you at 8:00 p.m. for the applause, yes?" This last part references every evening at 8 p.m. Spaniards take to balconies and windows to applaud medics.
The video was posted by AfecadoXfusara, an account for the tenants affected by the sale of real estate in Fundacion de Santamarca and San Ramón and San Antonio, says on its Twitter page that the woman turned 80 years old. In tweets following the video, the account says, "Our neighbor Charo turned 80 years old and sooner rather than later they will kick her out of her house, like all of us.
"But the neighbors are more united than ever and yesterday we wanted Charo not to feel alone and to know that we are with her.
"We want to stay home ... forever #westayathome"
In Spain, there have been 13,784 cases of COVID-19, according to Johns Hopkins University. Of these cases, 602 have resulted in death and 1,081 recoveries. The country is currently on a nationwide lockdown, with only essential services operating. According to Business Insider, the country has also nationalized all private hospitals and healthcare providers and declared a state of emergency.
But amid the worry surrounding COVID-19 in Spain, which has the highest numbers of cases after Italy in Europe, tenants in the named blocks in struggle are fearful that they will lose their homes. According to the Union of Tenants, Inquilinato, families in the blocks that are unexpectedly sold to investment funds and real estate companies are not having their contracts renewed or see disproportionate increases in the rental price.
"The high price of rents and the lack of policies that curb the commercialization of housing are expelling many people from their homes and neighborhoods, making it difficult to access decent housing," says the Union's website.