Global Coronavirus Death Toll Now Exceeds 11,500 and Nearly 279,000 Infected Around the World
The COVID-19 virus continues to spread globally with confirmed cases now surpassing 278,000 globally, with more than 11,500 deaths. At least 89,000 people have recovered from infection to date, according to the latest figures from Johns Hopkins University.
Spain's death toll has soared, the British government has announced bars and restaurants will close, and China is providing supplies and expertise to other countries. Here is a summary of the key developments around the world.
Death Toll Rises in Spain and Italy
Soldiers have been drafted in to enforce the lockdown in Italy, Europe's worst-hit country. On Friday, officials announced there had been 627 new deaths making it the single largest toll anywhere in the world since the coronavirus outbreak began.
In Spain, Europe's second worst-hit country after Italy, the death toll reached 1,326 as of Saturday morning, while there are 1,612 people in intensive care.
Figures from Spain's health ministry stated that the number of confirmed coronavirus cases reached 24,926, up from 19,980 on Friday, with more than a third of cases reported in the Madrid region.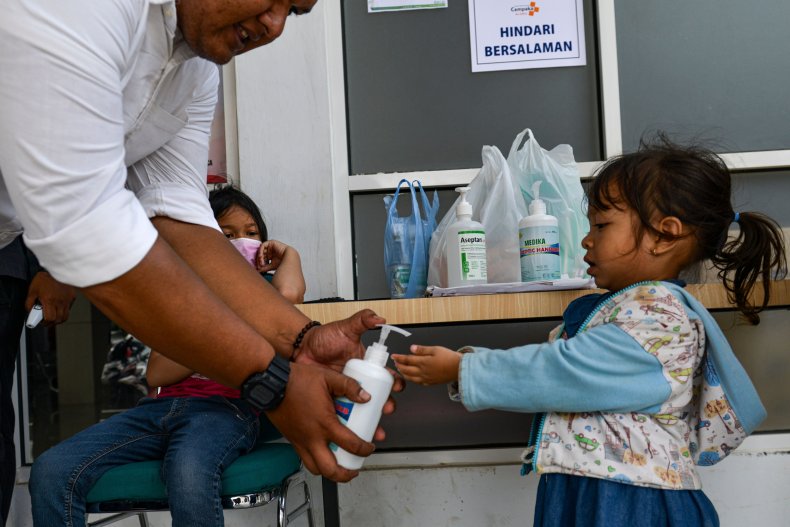 Restaurants and Bars in the U.K Close
British prime minister Boris Johnson ordered the closure of bars, clubs, and restaurants beginning Saturday. The venues would be allowed to sell takeaway food and drink. Social distancing measures would be reviewed every month.
Faced with a surmounting loss in jobs, the chancellor Rishi Sunak announced that the government would pay 80 percent of the wage costs of those workers furloughed because of the crisis, up to a limit of $2,900 a month to stop firms from firing people.
Meanwhile supermarkets say they need to hire thousands more staff to deal with the unprecedented demand.
The largest chain Tesco, said it would hire 20,000 temporary workers and had launched a recruitment drive this week. Meanwhile Asda was hiring 5,000 people and would focus on those whose jobs have been impacted by the virus, BBC News reported.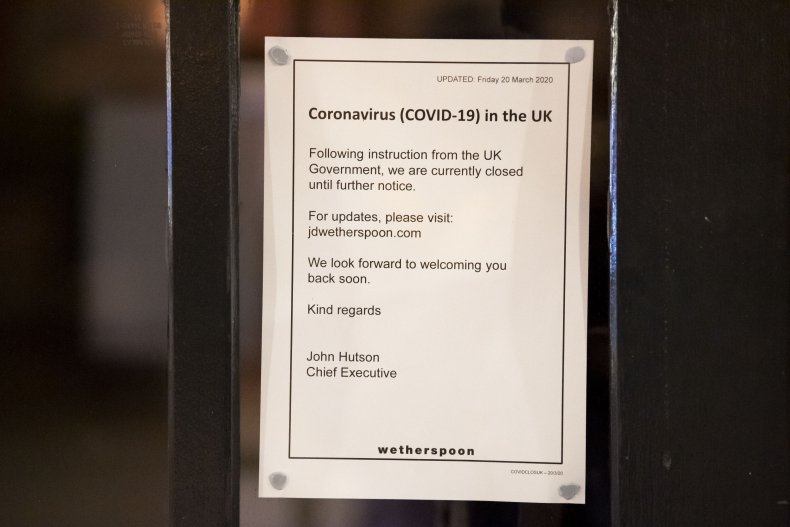 The EU Loosens Rules on Budget Deficits for the First Time
For the first time in its history, the European Union agreed to suspend its rules which limit how much governments in the bloc can borrow so they can tackle the economic impact of the coronavirus. Under EU laws, governments are obliged to try to balance budgets and reduce public debt annually until it is below 60 percent of GDP.
But the European Commission, which oversees EU rules, has proposed to activate a "general escape clause" so governments can do what is financially necessary to tackle the coronavirus, as countries across the continent face lockdown and travel restrictions.
European Union finance ministers will formalize the deal at their next meeting, meaning that money that countries spend on fighting the coronavirus will not be counted in their calculations of deficit and debt.
In a statement, the European Commission said, "It will allow member states to undertake measures to deal adequately with the crisis, while departing from the budgetary requirements that would normally apply under the European fiscal framework," Reuters reported.
The graph by Statista below compares the number of coronavirus cases with recoveries.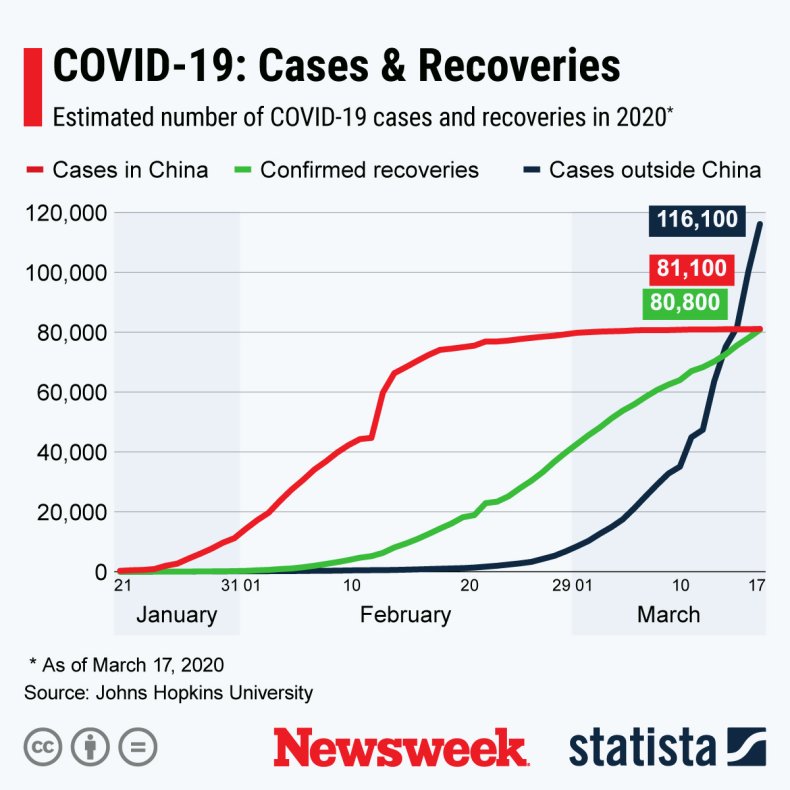 China Provides Coronavirus Expertise and Supplies
China stepped up its provision to other countries by sending crucial medical supplies like masks, testing kits, and protective clothing.
Beijing also dispatched medical experts to help with the coronavirus outbreak as it seeks to deflect criticism that it had dragged its feet and mishandled the viral outbreak, allowing it to spread, the AP reported.
Serbia, the Czech Republic, the Philippines, and Liberia are among the countries to receive shipments of essential supplies from China which has also donated $20 million to the World Health Organization for COVID-19 efforts. Julian Ku, a law professor at Hofstra University in New York told the AP, "The Chinese government's failures... will be less harshly viewed in light of the failures of other governments to respond effectively as well."
Coronavirus Spreads in Thailand After Kickboxing Events
In Thailand, more than 100 people are thought to have contracted the coronavirus after they attended a kickboxing match in a stadium in Bangkok on March 6, the AP reported
Out of the national total of confirmed cases of 411, 104 emanated from three boxing stadiums in the Thai capital and even prompted an urgent message on Instagram by Muay Thai star Matthew Deane Chanthavanij.
The country has not gone into lockdown, although restrictions have been put in place such as shutting down schools and postponing a national holiday.
Prime minister Prayuth Chan-ocha has been criticized for a lack of transparency over the outbreak and has said that the crisis had not yet hit Phase Three which would spark tougher restrictions.
Bangkok governor Aswin Kwanmuang said that the city's malls, boxing stadiums and arcades will be closed for 22 days from Sunday, BBC News reported.
World Health Organization advice for avoiding spread of coronavirus disease (COVID-19)
Hygiene advice
Clean hands frequently with soap and water, or alcohol-based hand rub.
Wash hands after coughing or sneezing; when caring for the sick; before; during and after food preparation; before eating; after using the toilet; when hands are visibly dirty; and after handling animals or waste.
Maintain at least 1 meter (3 feet) distance from anyone who is coughing or sneezing.Avoid touching your hands, nose and mouth. Do not spit in public.
Cover your mouth and nose with a tissue or bent elbow when coughing or sneezing. Discard the tissue immediately and clean your hands.
Medical advice
If you feel unwell (fever, cough, difficulty breathing) seek medical care early and call local health authorities in advance.
Stay up to date on COVID-19 developments issued by health authorities and follow their guidance.
Mask usage
Healthy individuals only need to wear a mask if taking care of a sick person.
Wear a mask if you are coughing or sneezing. Masks are effective when used in combination with frequent hand cleaning.
Do not touch the mask while wearing it. Clean hands if you touch the mask.
Learn how to properly put on, remove and dispose of masks. Clean hands after disposing of the mask.
Do not reuse single-use masks.