Coronavirus Panic After Woman Recently In China Coughs and Vomits at Party—Doctors Say She Was Only Drunk
A woman health officials feared was displaying coronavirus symptoms at a party has been discharged from hospital after she was found to just be intoxicated.
Staff at a bar in the northern Spanish city of Valladolid called emergency services when the woman became visibly ill and started vomiting and coughing, according to the English-language news outlet Olive Press.
Just 10 days previously, the unnamed woman had been in Shanghai, according to a statement from the regional health authority of Castille and Leon. Shanghai is not one of the areas China has quarantined during the coronavirus outbreak.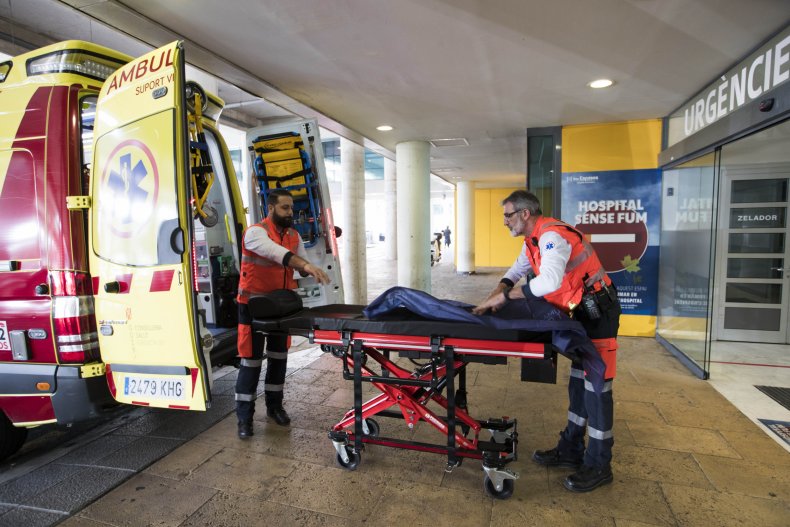 The street where the bar was located was shut down. Images of emergency services staff arriving in special protective gear were shared on social media.
The nearby religious brotherhood of the Secular Franciscan Order was also evacuated from their premises as a precaution.
The woman was not co-operative with emergency services. She managed to escape from them and took a taxi home, but police officers caught up with her. Bar patrons were interviewed by medical staff.
The woman was taken to the city's Hortega Rio hospital, in keeping with Spanish ministry of health guidelines issued to deal with the coronavirus.
The health ministry statement said that she had "non-specific symptoms compatible" with the coronavirus that turned out to be "high alcohol intoxication." She was kept under observation before being discharged.
So far, there have been two confirmed cases of coronavirus in Spain. This week, a British man on holiday in Palma was diagnosed with the virus, only days after a German tourist in La Gomera also tested positive.
Coronavirus has killed at least 1,115 people and infected more than 45,171 globally, with the vast majority of cases found in China.
World Health Organization Director-General Tedros Adhanom Ghebreyesus warned on Tuesday that the virus could wreak more havoc "than any terrorist attack."
"This is a common enemy and we have to fight it using this window of opportunity and fight it hard," Ghebreyesus said, adding: "We shouldn't lose this opportunity. If we lose [it], we will regret it."
The Diamond Princess cruise ship, where 175 cases of the coronavirus have been confirmed, will be released from quarantine at Yokahama, Japan, on February 19, a Princess Cruises spokesperson said on Wednesday.