Coronavirus Could Spread 'Like Wildfire' Through America's 'Unsanitary' Prisons and Vulnerable Inmates Should Be Released, Watchdogs Say
America's correctional system is facing an "unprecedented" threat from coronavirus if and when the sickness takes hold in the prison population, according to prison and civil liberty watchdogs.
Groups like the American Civil Liberties Union and The Sentencing Project have been calling on officials to release elderly and at-risk prisoners—at least those who do not pose a risk to the general public—nationwide in preparation for the anticipated coronavirus stress on the prison system.
Overcrowded facilities with relatively poor sanitary conditions offer perfect environments for coronavirus to spread. As more people come down with the virus, prison staff levels—both guards and medical workers—are likely to be stretched further and conditions could deteriorate.
The U.S. already incarcerates the highest number of people in the world—655 prisoners per 100,000 people as of July 2019, as show in the Statista infographic below. America's mass incarceration problem has developed over generations, but combined with coronavirus it could degenerate into a disaster.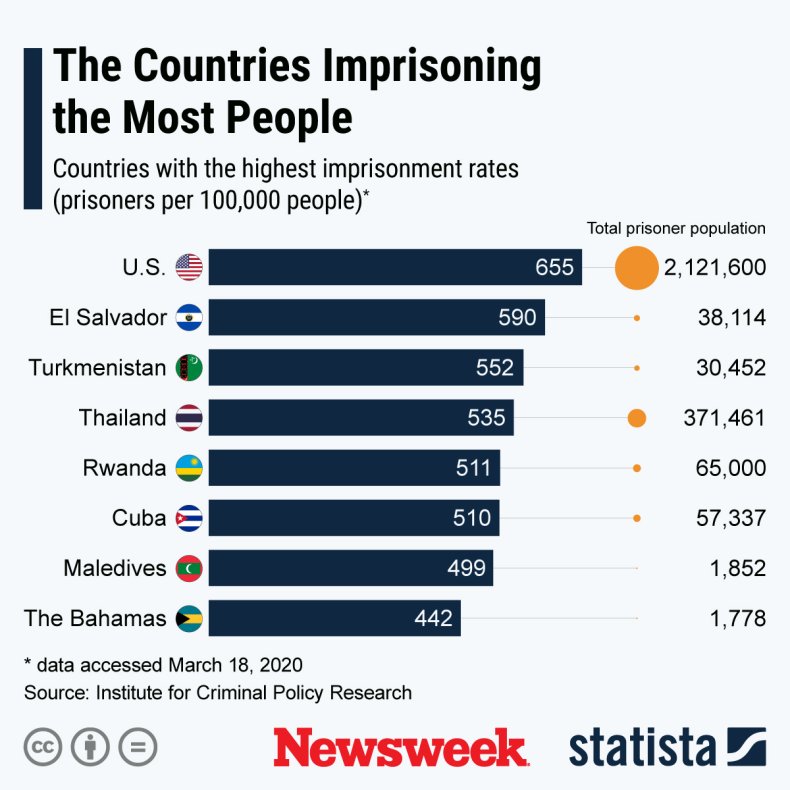 Some prisons are now taking steps to reduce the number of inmates and thus the medical burden. In Ohio, facilities are releasing high-risk inmates early, as are institutions in Los Angeles and Philadelphia—where police are also arresting fewer people. The district attorneys in Manhattan and Brooklyn are among those who have also called for the release of vulnerable prisoners, and the Brooklyn DA has said fewer low-level crimes will be prosecuted.
But Nazgol Ghandnoosh, senior research analyst at The Sentencing Project, told Newsweek that authorities need to do more, and that coronavirus poses an "unprecedented" threat to an already creaking prison system. There have been 6,519 confirmed COVID-19 cases in the U.S. to date with 115 deaths.
"Correctional facilities are overcrowded—generally—and they are unsanitary environments," Ghandnoosh explained. Coronavirus will enter prisons like every other part of American society, and when it does "it's going to spread like wildfire," she warned.
Prisoners are generally "sharing really small living quarters, often in rows right next to each other," explained Maria Morris—the senior staff attorney at ACLU's National Prison Project. As such, they "can't do the things that are important for protecting themselves. A lot of the time, they can't separate themselves from other people."
"A lot of people who are in prison are already somewhat bad health to begin with," Morris said, "and the health care provided is generally pretty atrocious." The combination means that if—or when—coronavirus takes hold in the prison system, "it will do a great deal of damage very quickly."
"We have days, not weeks, to act in order to prevent a very vulnerable population from being exposed to this virus in a setting that's not equipped to help them," Ghandnoosh warned.
Coronavirus is deadliest for elderly people and those with underlying health conditions. Some such prisoners—plus those who are incarcerated because of substance abuse or mental health issues—"are held past the point that's necessary in order to ensure their rehabilitation, and they can be released safely to the community without a harm to public safety," Ghandnoosh said.
"A lot of these people need access to treatment instead of punishment," she added.
Morris noted that many people currently detained are awaiting trial or are being held in other facilities like immigration detention centers. Keeping them there as coronavirus spreads is an unnecessary risk, she argued.
The majority of coronavirus deaths to date in the U.S. have been among those older than 60. Only 6 percent of the U.S. prison population is older than 61, according to the Bureau of Prisons (BOP), but Morris noted that conditions inside the facilities mean even younger people are at high risk. "If you're in your 40s or 50s in prison, that's a lot older than being in your 40s or 50s out in the community because it is so hard on your body," she told Newsweek.
Understaffing has long been a concern in U.S. prisons, one that will be exacerbated by coronavirus. Sick or self-isolating staff means fewer personnel will be required to oversee inmates, and help them if they become infected with coronavirus. This will be "a huge burden on a prison staff that's going to be struggling with the virus themselves," Ghandnoosh said. "It's not sustainable."
In Italy and Brazil, riots and prison breaks have occurred in response to curtailed visiting hours to try and stop the spread of the disease. It is not out of the question that similar unrest could occur in the U.S.
Ghandnoosh suggested that prison telephone services or other forms of contact could be expanded or made cheaper to head off unrest inside facilities relating to curtailed visits. Morris noted that alternative forms of communication will be needed to ensure that prisoners can also stay in touch with their attorneys.
A spokesperson for the Bureau of Prisons told Newsweek by email that the agency has "instituted a comprehensive management approach that includes screening, testing, appropriate treatment, prevention, education, and infection control measures" to combat the spread of coronavirus.
The spokesperson said that the bureau is coordinating its efforts with internal and external experts and incorporating guidance from the World Health Organization, the Centers for Disease Control and Prevention, the Office of Personnel Management, the Department of Justice, and the Office of Vice President Mike Pence, who is heading up the administration's COVID-19 task force.
BOP has an "ample supply" of cleaning, sanitation and medical supplies, the spokesperson added, which is "ready to be distributed or moved to any facility as deemed necessary." They added that inmates are being encouraged to wash their hands with soap in accordance with CDC guidelines. "There is no shortage of hand soap for either staff or inmates," the spokesperson added.
World Health Organization advice for avoiding spread of coronavirus disease (COVID-19)
Hygiene advice
Clean hands frequently with soap and water, or alcohol-based hand rub.
Wash hands after coughing or sneezing; when caring for the sick; before; during and after food preparation; before eating; after using the toilet; when hands are visibly dirty; and after handling animals or waste.
Maintain at least 1 meter (3 feet) distance from anyone who is coughing or sneezing.
Avoid touching your hands, nose and mouth. Do not spit in public.
Cover your mouth and nose with a tissue or bent elbow when coughing or sneezing. Discard the tissue immediately and clean your hands.
Medical advice
If you feel unwell (fever, cough, difficulty breathing) seek medical care early and call local health authorities in advance.
Stay up to date on COVID-19 developments issued by health authorities and follow their guidance.
Mask usage
Healthy individuals only need to wear a mask if taking care of a sick person.
Wear a mask if you are coughing or sneezing.
Masks are effective when used in combination with frequent hand cleaning.
Do not touch the mask while wearing it. Clean hands if you touch the mask.
Learn how to properly put on, remove and dispose of masks. Clean hands after disposing of mask.
Do not reuse single-use masks.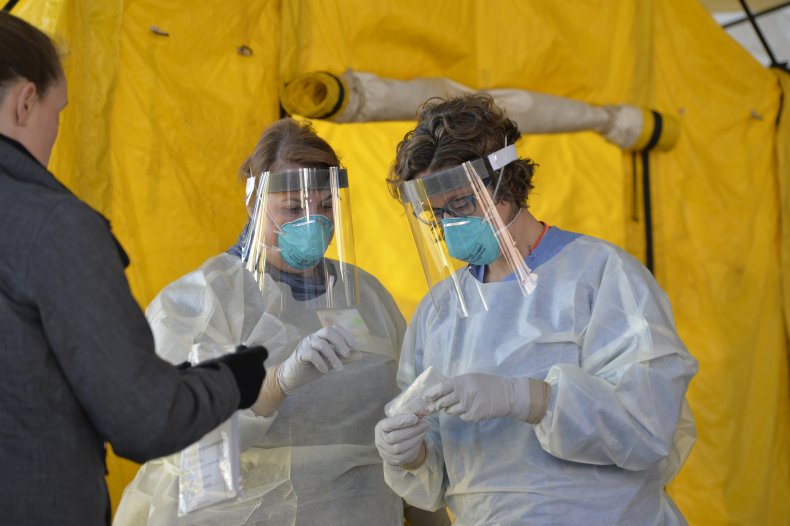 This article has been updated to include an infographic.