Coronavirus Is Spreading Quickly in 31 of 50 U.S. States, Data Shows
The novel coronavirus continues to infect Americans across the country and is spreading at an increased rate in 31 out of 50 states, according to new data.
The data, which was released by Rt.live, shows values for Rt, a key metric indicating how fast the virus is spreading, according to the site. "It's the average number of people who become infected by an infectious person. If Rt is above 1.0, the virus will spread quickly. When Rt is below 1.0, the virus will stop spreading," the site says.
According to the data, Wyoming has the highest Rt rate, which is estimated to be 1.29, but the data also shows the state having an Rt rate ranging between .93 and 1.51. Behind Wyoming is Massachusetts, with a 1.21 estimated Rt rate, and Wisconsin, with an estimated Rt rate of 1.16.
A Johns Hopkins University tracker shows there are over 5,000 confirmed cases of the virus in Wyoming, over 121,000 in Massachusetts and more than 119,000 in Wisconsin.
Montana, New Mexico, Missouri and Indiana all have an estimated Rt rate of 1.14, according to the data.
Other states that have an Rt rate of 1.00 or above are New York, North Carolina, Idaho, Nevada, Utah, Nebraska, Rhode Island, Oregon, Colorado, Connecticut, Delaware, North Dakota, Arkansas, New Hampshire, Kansas, New Jersey, Washington, Vermont, Oklahoma, Mississippi and Illinois.
By comparison, the data shows that at least 20 states, as well as Washington, D.C., have an Rt rate lower than 1.0. According to the data, South Carolina has the lowest Rt rate, estimated at .84, while Georgia, Virginia and Washington, D.C., have a rate below .90.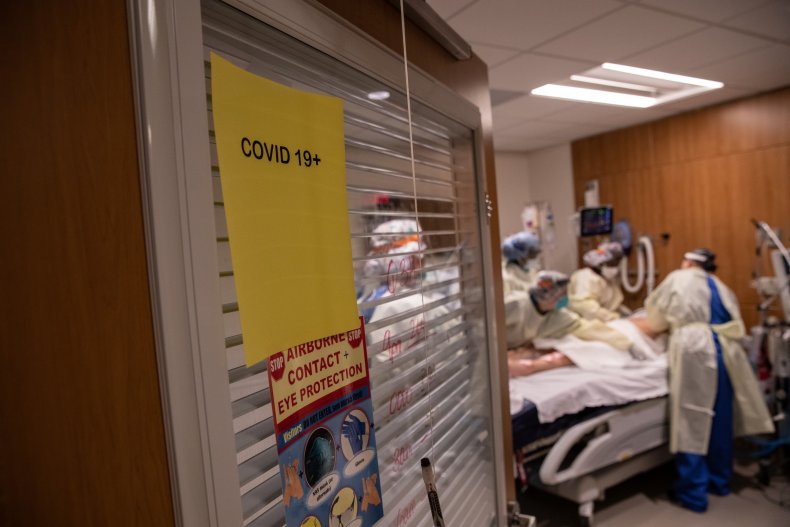 According to the Johns Hopkins tracker, there are currently over 147,000 confirmed cases of the virus in South Carolina and Virginia, while Georgia has reported more than 316,000.
The other states that have a Rt rate below 1.0, according to the data, are Arizona, Ohio, Alabama, California, Maryland, Florida, West Virginia, Tennessee, Louisiana, Texas, Maine, Kentucky, Pennsylvania, Minnesota, Michigan and Hawaii.
The data also indicated that a number of states have been able to lower their Rt rate through virus mitigation efforts. Three months ago, the data showed at least 37 states had an estimated Rt rate above 1.0.
Across the U.S., the virus, which causes the respiratory disease COVID-19, has infected over 7.1 million Americans and caused at least 206,000 deaths. According to the Johns Hopkins tracker, California has the most confirmed cases among all states, with over 816,000, while Texas has more than 767,000 and Florida has over 704,000.
Newsweek reached out to the U.S. Department of Health and Human Services for comment but did not receive a response in time for publication.