Officials Start to Paint Picture of What Summer Will Look Like Amid Coronavirus Outbreak
Stay-at-home orders should ease up by the time summer arrives, but the season will likely look different to most people across the country.
Reopening the country is going to be done on a state-by-state basis, and even some of the hardest-hit areas are developing plans to get people back to work. Returning to normal life won't be as if a light switch has been flicked on, an analogy several officials have used, and even if bars and restaurants can resume in-person operations, officials' statements caution people to temper their expectations.
California was the first state to experience community transmission of the virus and is responsible for 31,531 cases, the fifth-highest of any U.S. state. Governor Gavin Newsom hasn't provided a time frame for easing restrictions but said on April 14 that the state is headed into the outbreak's suppression phase.
Easing restrictions will eventually allow for restaurants to be open for in-person business, which they haven't been able to do for more than a month. When they do reopen, though, they may have fewer tables to foster social distancing, according to Dr. Sonia Angell, the California Department of Public health director and state health officer.
State beaches have remained open during the outbreak, and some city beaches, including those in Santa Cruz, have reopened to the public. Given the access Californians already have to beaches, it's likely they'll be able to spend the summer, at least partially, in the sand. But mass gatherings that bring in hundreds, thousands or tens of thousands of strangers are "not in the cards," according to Newsom.
"The prospect of mass gatherings is negligible at best until we get to herd immunity and we get a vaccine," Newsom said during the April 14 press conference.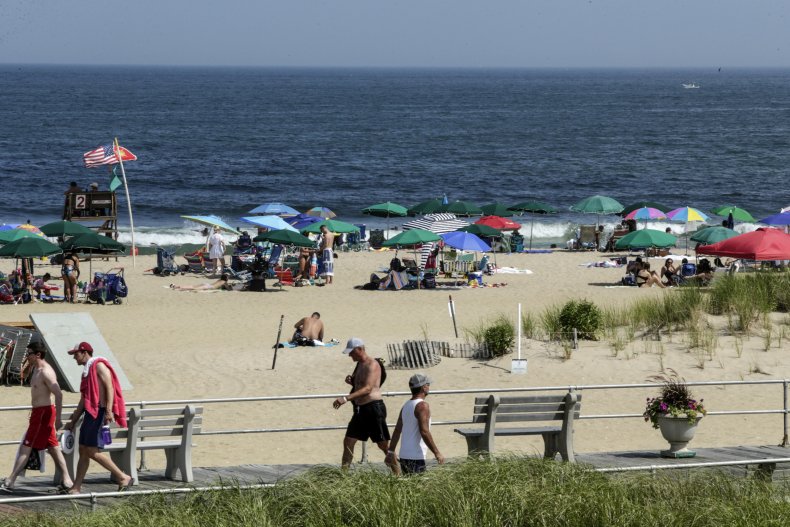 California may be known for its iconic piers and surf, but its residents aren't the only ones wondering about the fate of their beaches.
New York City Mayor Bill de Blasio told reporters he doesn't see Coney Island, where hundreds of thousands of people are packed tightly together in summer, "happening anytime soon." It is possible people could go to the beach for a walk, but de Blasio rejected the idea of that occurring in large numbers.
As he's done throughout the outbreak, Governor Andrew Cuomo said reopening beaches in New York will be done on a state, not a local, level. Along with developing a plan for all of New York, Cuomo said he has to coordinate with New Jersey, Connecticut, Massachusetts and Delaware.
"What I do on my beaches matters to New Jersey and matters to Connecticut," Cuomo said.
Cuomo has encouraged an interstate approach to the response effort, as well as the reopening phase, and on Saturday he joined New Jersey Governor Phil Murphy and Connecticut Governor Ned Lamont to announce the opening of marinas, boatyards and marine manufacturers.
"Aligning our policies in this area is another example of that strong partnership and will help ensure there is no confusion or 'state shopping' when it comes to marinas and boatyards," Cuomo said.
People can now use those spaces for personal use, as long as strict social distancing and sanitization protocols are followed, but rentals and chartered watercraft services are still prohibited. Cuomo hasn't publicly ruled out the possibility that rentals and chartered boat services could reopen by summer and has maintained that data about the outbreak will drive decision-making.
New York City has already canceled its Shakespeare in the Park program, a summer staple, and de Blasio said Monday that nonessential events were canceled through June. This includes the 50th Gay Pride Parade.
For businesses along the New Jersey coast and homeowners who rent their houses for the summer, the closure of the shore could come at a hefty price. New Jersey's stay-at-home order is in place until further notice, but Murphy told ABC News that he would be "the happiest guy" if the state could start reopening June 1. He reiterated a June or July time frame for reopening during an interview with MSNBC, meaning summer may be saved on some level but businesses would lose out on Memorial Day weekend tourists.
"This is certainly going to be a huge challenge for us. April through May, there's no question," Murphy told CNN's Wolf Blitzer. "And the evidence is increasingly showing this is going to spill meaningfully into the summer."
Officials are hesitant to give firm statements about what will happen and when, given the changing circumstances of the outbreak. With fears of reopening too early and fostering a second wave, it's likely bars and restaurants that do open will have to do so at a diminished capacity.
In New Jersey's Cape May, Mayor Clarence Lear III said it's possible local ordinances could be changed to give restaurants and hotels the ability to serve guests but continue social distancing rules, according to The Washington Post. This could include allowing people to purchase alcohol for takeout and hotels opening up their green spaces to sunbathing and dining.
"Most beaches are fairly large, and people are probably going to spread out more naturally now and not crowd so close to each other, so the beaches are not the problem," Lear said. "But the boardwalk is one of the issues I see now, because there are a couple points where it's maybe 8 to 10 feet wide, and we already were seeing crowds either congregating or getting too close to each other."
On the bright side, it's possible summer could bring a return to the world of sports. On Wednesday, Dr. Anthony Fauci, director of the National Institute for Allergy and Infectious Diseases, told Snapchat's Peter Hamby that there are ways of bringing sports back, but they wouldn't involve fans in the stadium.
"People say you can't play without spectators. I think you probably get enough buy-in from people who are dying to see a baseball game," Fauci said.