Coronavirus Could Push Companies to Stop Relying on China, But It's Easier Said Than Done, Experts Say
Fashion companies are already pulling away from China because of trade wars and tariffs, and experts predict the new coronavirus will be yet another reason for companies to cut some ties with the manufacturing hub.
"I do think there's an opportunity for certain businesses and industries to break free from China," Sean Maharaj, managing director of AArete, a global management consultancy, told Newsweek.
Chinese authorities shuttered factories in January to prevent the spread of COVID-19, which has infected 74,000 people in that nation. Workers have slowly started to return to work, but travel restrictions keep factories and manufacturers from operating at full capacity. Meanwhile, a growing list of companies—including Under Armour and Apple—have announced they expect disruptions in their supply chains.
"I don't consider most companies or myself smarter than Apple, and they didn't plan for this," said Edward Hertzman, founder and president of Sourcing Journal. "This is showing everyone if you're heavily reliant on one country, it's very dangerous."
Apple said on Monday that the disruption in production could cause an iPhone supply shortage, and Coresight Research, a research and advisory company, warned that summer fashion collections could be affected if factories aren't fully operational by the end of March. The worst-case scenario, according to Marie Driscoll, managing director of luxury and fashion at Coresight, is total global output being reduced by up to 50 percent.
"Manufacturing will be a key part of this in getting factories back and running," said Jon Gold, vice president of supply chain and customs policy at the National Retail Federation. "It's not just finished goods. It's components made in China that aren't being shipped out."
Experts have their own opinions about when operations will level out, but at this point it's a guessing game, Hertzman said.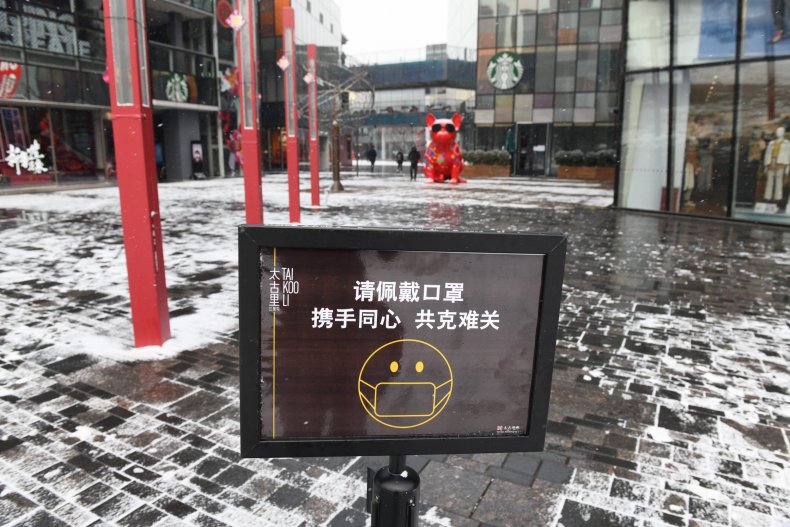 Returning to business as usual won't necessarily bring a sigh of relief, though, because there could be capacity restraints in meeting demands, Maharaj said. Factories being able to produce at the necessary rate is certainly a concern, but experts also foresee problems transporting finished goods and materials.
Companies largely rely on sea travel to move goods, and Hertzman predicted a "huge bottleneck" at the ports, causing massive delays. Switching to air transportation could alleviate the problem, but air travel's high price tag could hurt a company's bottom line.
The companies that are best positioned to deal with disruptions caused by the new coronavirus, according to Hertzman, are those that have diversified their supply chains out of China. It's a move that companies have been mulling for years, and trade wars and tariffs accelerated the conversation.
In 2018, President Donald Trump imposed tariffs on goods imported from China, thereby increasing the cost of producing goods abroad. A July 2019 survey from the United States Fashion Industry Association found that the tariffs increased sourcing costs for the majority of companies they polled. Also, 83 percent of the companies polled expected to decrease sourcing from China, a 16-point increase from the previous year's results.
China was once responsible for manufacturing 70 percent of clothes from Xcel Brands, a company that sells items under the Isaac Mizrahi and Halston labels, but that figure was down to about 20 percent last August. Chairman and CEO Robert D'Loren told NPR he began moving away from China even before the tariffs were enacted, in an effort to find suppliers who could turn out clothes in as little as six weeks.
"You never want to have all your eggs in one basket," D'Loren said. "China was easy. In retrospect, probably if you had 90 percent of your production in China, that wasn't good risk-management planning."
Having a diversified supply chain is one of the first lessons people are taught in business school, D'Loren told Newsweek, and the situation with COVID-19 is raising awareness about the dangers of focusing production in one area. Now that the risks of relying on China, including disruptions caused by the new coronavirus, are surfacing, D'Loren told Newsweek companies are starting to think about diversifying.
Fast-fashion retail giant H&M has 1,899 manufacturing factories worldwide, with about 22 percent in China. H&M told Newsweek in a statement that the company's "strong presence" in multiple production countries gave them the flexibility to move production if it was necessary.
Major brand names such as Nike and Adidas have also started shifting away from relying on China as a supplier, but making the move is easier said than done.
"I think you're talking about a race to the bottom in the pricing war," Maharaj explained. "The significant discounts that occur in producing in China are far ahead of what you could do stateside. If you decide to produce stateside, you're at an automatic disadvantage, but I don't think you can't do it."
China still has "a lot of advantages," according to Hertzman, because popular alternatives such as Mexico and Vietnam are "insignificant" compared with China's production capacity in terms of workforce and infrastructure. "You can't just move product X to country Y and think it's the same," he said.
Clardy Palacios, senior licensing manager of activewear at Champion, told Glossy last October that everyone is "starting to figure out how to get out of China." For certain items, such as footwear, it's difficult, though, because of differences in production quality inside and outside of China.
Depending on how the situation shakes out, Maharaj said, it could be the catalyst for companies to "lend a hand" in developing infrastructure in Vietnam and other desirable countries.
Even if the new coronavirus is the last motivating factor for companies to move out of China, Gold estimated that diversifying supply chains could take months or even years. "There's a lot that goes into the movement of the supply chain, from infrastructure to capacity and testing," he said. "That takes time, and it's complex."
Getting out of China for manufacturing doesn't guarantee a clear break from the country either. Along with being a top exporter for clothes and footwear in 2018, China was also the top exporter for textiles, Coresight Research reported.
"It will take time for mills and hardware factories and button and trim manufacturers to develop outside of China but when you think about supply chain risk, I think that's now at the top of everyone's mind," D'Loren told Newsweek.
Some countries, including Vietnam, rely on the country for fabric in many cases. So even if a company had moved its supply chains ahead of the COVID-19 outbreak, there could still be disruptions if the new production country can't get the necessary materials from China.
"What this is showing is, even when you're diversifying supply chains, China is still part of the conversation," Hertzman said.
This article has been updated to include comment from H&M and Xcel Brands Chairman and CEO Robert D'Loren.