Sweden, Which Refused COVID Lockdown, Says Restrictions Will Remain For 'At Least Another Year'
Coronavirus restrictions in Sweden, which never issued a nationwide lockdown but implemented safety measures to mitigate the spread of infection, are expected to be in place for at least another year.
The director general of Sweden's public health agency, Johan Carlson, noted: "We can expect that measures against the spread of corona will remain for some time, we're talking about at least another year," in an interview Sunday with Sweden's Sveriges Television (SVT).
"The measures that are being taken in Europe are not sustainable, we're trying to find a level that is steady and that keeps the spread down. We can't get rid of it, but we can keep it down at a reasonable level," Carlson said.
Weekly new cases in Sweden have increased from the week commencing August 31 to the week commencing September 21, after declining since late June and flattening out from July through August, according to the latest report Tuesday from the World Health Organization (WHO).
The Scandinavian nation is currently "reporting community transmission" of the virus, reporting a 27 percent increase in its "14-day incidence value," according to WHO's latest report Tuesday.
The 14-day incidence value represents the "number of new cases reported per 100,000 population over the past 14 days. Percentages indicate change in 14-day cumulative incidence as compared to 14 days ago," the WHO noted.
Some of the recent clusters of new cases have been linked to sports clubs and university parties. Health officials also believe the recent rise in new infections may be due to people returning to work after the summer break, despite the government's continued recommendation for residents to work from home, The Local reported.
"A certain fatigue is setting in, this has been going on for a number of months. But we are not seeing anger or aggression, we're not seeing the same reactions as in Europe," Carlson noted.
New rules for food and drink venues in Sweden were introduced back in July, which requires restaurants, bars and cafes to maintain a distance of one meter (3.3 feet) between groups of patrons.
"The new part [of the existing restriction] is that we have specified the one-meter distance," the chief legal officer of Sweden's public health agency, Bitte Bråstad, said at the time.
Public gatherings in Sweden are currently limited to 50 people. "The limit for 50 participants remains as a general rule, but there will be exceptions," Sweden's Minister for Home Affairs, Mikael Damberg, said last month.
The exceptions will apply to restaurants from October 8. The government is also planning to allow a maximum of 500 people at events, including soccer games, concerts and theater shows where viewers can be seated at least a meter apart, but a decision on the measure has not been formally made, Damberg told reporters last month.
Confirmed cases in Sweden have surpassed 96,100, with 5,883 deaths, as of Tuesday, according to the latest report by Johns Hopkins University (JHU).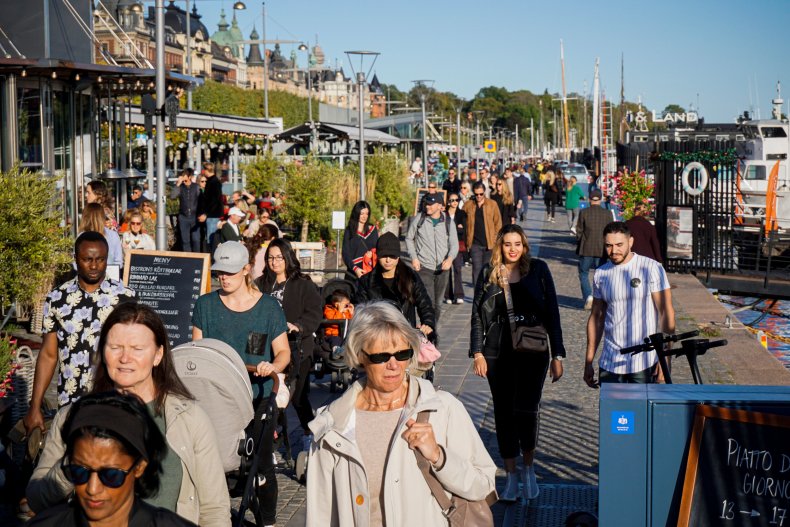 Last month, the health and hospitals director of Stockholm, Björn Eriksson, told local media: "What we can see are worrying signs that the spread of infection is increasing. The downwards trend is broken. We can only hope that this is a blip, that the spread starts decreasing again. That depends on how well we follow the guidelines."
In early September, Sweden also recorded its lowest ever rate of positive tests following a record number of COVID-19 tests done in the country. Over 120,000 tests were conducted and 1.2 percent (just over 1,300 tests) came back as positive, a much lower level than the 19 percent of positive tests seen during the spring, Reuters reported.
Back in August, Anders Tegnell, the chief state epidemiologist at Sweden's public health agency who is behind the country's anti-lockdown strategy, noted: "We don't believe we'll have a classic second wave, such as those seen in influenza pandemics where you get widespread contagion in the community again," in an interview with Sweden's TV4 broadcaster.
"This disease appears to work in a different way. The spread is more patchy, so the likelihood is greater that we will see—as one is currently seeing around Europe—outbreaks in certain places, at workplaces and similar environments, during the autumn," he said at the time.
The wider picture
The novel coronavirus has infected more than 35.5 million people across the globe since it was first reported in Wuhan, China, including over 7.4 million in the U.S. More than a million have died following infection, while more than 24.7 million have reportedly recovered as of Monday, according to Johns Hopkins University.
The graphic below, provided by Statista, illustrates countries with the most COVID-19 cases.