Coronavirus Task Force Briefing Live Stream: How to Watch White House's Latest COVID-19 Announcements
As cases of a new coronavirus continue to soar in the United States, the White House Coronavirus Task Force will continue with its daily briefings on Thursday.
Scheduled to begin at 5 p.m. ET, interested members of the public can stream the briefing live from the White House's YouTube channel. Vice President Mike Pence, who is spearheading the task force, is expected to attend, according to his official schedule, but it's unclear which other members will be taking questions.
On Thursday morning, there were 69,210 cases of a new coronavirus in the United States, according to Johns Hopkins University and Medicine, making it the third-largest outbreak in the world. More than 1,000 people have died and officials are grappling with how to balance stemming the outbreak with stabilizing the economy.
States across the country have shuttered non-essential businesses and limited restaurants to take-out and delivery service only. The mitigation measures have resulted in thousands of people being laid off or having hours cut, and President Donald Trump warned that if the country doesn't resume operations soon, businesses and individuals could go bankrupt.
On Tuesday, he said he hopes to have the country back up and running by Easter, adding that people could return to work while still engaging in social distancing and practicing proper hand hygiene. He later clarified that he was following the advice of experts and that reopening businesses may be done on an area-by-area basis. Places such as New York, where the epicenter of the outbreak is, might not be back to business as normal by April 12.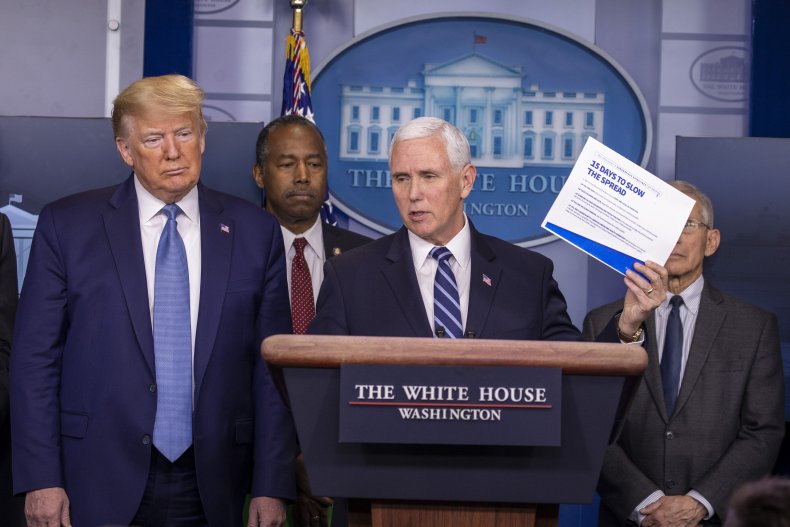 New York Governor Andrew Cuomo noted that he understands the president's point about the economy and called the current state of businesses "unsustainable." However, when given the choice between public health and the economy "it's no contest," he said, so a "smarter approach" needs to be taken so officials don't have to choose.
Refining the public health strategy in New York could mean sending people who recovered from the virus and younger people back to work. These individuals could "ramp up" the economy, according to Cuomo, while protecting vulnerable populations.
"So, you're refining your public health strategy and at the same time you're restarting your economy," Cuomo said. "Those two can be consistent if done intelligently."
The governor warned Wednesday that the state, where there have been more than 33,000 cases, has yet to see the worst of the outbreak. He asked Trump to use a "rolling deployment" of supplies instead of spreading resources out. Under this method, New York would receive a massive delivery of beds and ventilators to help it get the outbreak under control and then pass the supplies along to the next state that's hit hard.
Pence said in a briefing Wednesday that the federal government would focus resources in areas that are struggling the most with the virus, including New York. He added that he was "inspired" by people across the country who were following guidelines to stop the spread of the virus.
Coronavirus Task Force Briefing Live Stream: How to Watch White House's Latest COVID-19 Announcements | U.S.