Coronavirus Task Force Shifted From Science to Trump's Personal Agenda, Former Pence Aide Says
Olivia Troye, who was Vice President Mike Pence's lead staffer on the White House coronavirus task force, said the team was forced by the administration to shift the national response from science to President Donald Trump's personal agenda.
"Suddenly, the course of what we were doing had changed, because that wasn't really what the president wanted," she told NBC News' Andrea Mitchell in an interview scheduled to air Tuesday night.
"It's very hard, when you're trying to actually base things on facts and science and on the data, to have a president that wasn't focused on that," Troye added. "He was really focused on public image, messaging, and it was really more about, you know, his personal agenda than really the agenda that the task force had at hand, which was how are we going to save and protect Americans."
Troye worked as Pence's adviser on homeland security and counterterrorism, a position she left in July. Last week, she publicly endorsed Joe Biden for president.
She has criticized Trump's handling of the coronavirus pandemic, saying that the president has disregarded the health of the American people, including his supporters.
"He's not actually looking out for you," she warned. "He's not looking out for these people. He's not looking out for them. He just wants you in that audience so he can have the camera shot of, you know, his fanfare and the people around him. But the truth is, he's putting those lives at risk."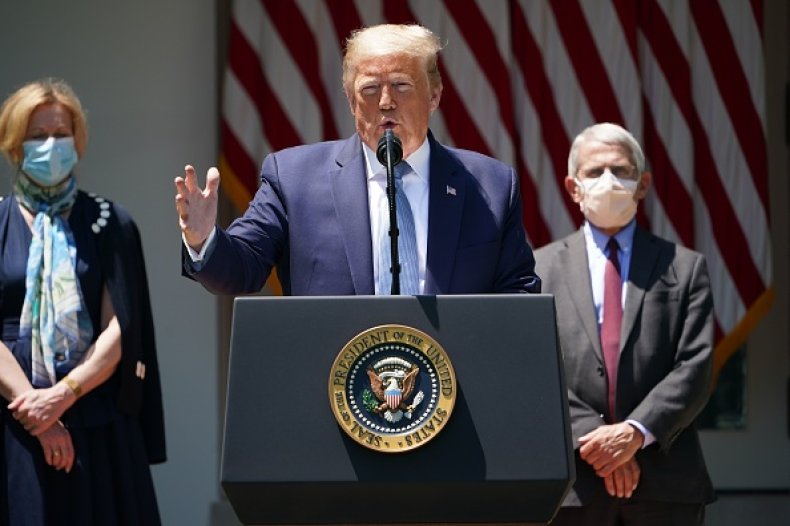 Troye said the safety guidelines at Trump's campaign rallies undermined what the task force knew about containing the spread of the virus, citing the lack of masks at the president's June rally in Tulsa, Oklahoma. The event later led to a surge in coronavirus cases, according to a number of health officials.
Troye cautioned that despite conflicting reports from the White House on the outbreak, the virus is "not gone."
"We just hit 200,000 deaths. It's not going away," she said.
She also said that the administration's public affairs people increasingly interfered with scientific reports because of "a lot of political pressure internally to word things in the right way."
The White House declined Newsweek's request for comment.
Since Troye's public appearances and subsequent critique of the coronavirus task force, the Trump administration has questioned her credibility.
In previous statements sent to Newsweek, White House spokesperson Judd Deere said Troye "was never in private meetings with the president and her assertions have no basis in reality and are flat-out inaccurate."
Keith Kellogg, Pence's national security adviser, said Troye never expressed "any concern regarding the administration's response to the coronavirus to anyone in her chain of command" during her tenure.