Over Half of Arizona, Texas Total Coronavirus Deaths Were Reported Last Month
Novel coronavirus deaths in the U.S. have surpassed 160,100, with a combined total of over 12,000 deaths reported in Texas and Arizona to date. Each state's total COVID-19 fatalities doubled in July, according to data compiled by Johns Hopkins University.
Texas reported 4,601 deaths in July, which accounts for 53.7 percent of the 8,569 total fatalities reported in the state. Arizona reported 2,050 deaths in July, which makes up 51.2 percent of the state's 4,002 total deaths.
The largest daily death count in Texas last month was reported on July 27, when the state changed its method of counting COVID-19 deaths. It resulted in more than 600 additional deaths being added to the overall death tally for that day, which came in at 685.
Arizona's highest daily death toll last month was on July 30, when 172 new deaths were reported. The state also recorded an unusual spike of 147 new deaths on July 18 after 106 new deaths were added following a review of death certificates by the state health department done at the time.
The seven-day rolling average of daily new deaths in Texas increased on a sharper incline from July 6, just after the Fourth of July weekend, until August 4.
Arizona's seven-day rolling average of daily new deaths rose sharply from July 7 to 21, peaking at 83, before mostly declining through the rest of July and August.
The death toll in Texas is projected to reach 27,435 by December 1 if mandates, such as social distancing regulations, are reissued for six weeks whenever the death count hits eight per million people, according to the latest projection by the Institute for Health Metrics and Evaluation (IHME) at the University of Washington.
Arizona's death toll is predicted to hit 6,840 by December 1 if mandates are reimplemented for six weeks when the death count reaches eight per million people.
Last month, a new study showed Arizona to be the most "anti-mask" state, according to a survey by the Survival At Home website, which tracked over 150,000 tweets posted on Twitter over the past month that referenced different anti-mask-related hashtags including #nomasks and #antimask, among others.
The state's death count is expected to soar to 13,496 if mandates are eased. But it could potentially drop to 6,049 with "95 percent mask usage in public in every location," and with mandates reissued for six weeks when daily deaths reach eight per million people.
Back in June, Texas Gov. Greg Abbott announced a pause on further reopenings in the state, warning the outbreak has taken a "very swift and a very dangerous turn in Texas over just the past few weeks."
Arizona's stay-at-home order expired on May 15 but at the end of June, the state's reopening was paused, with bars, nightclubs and water parks ordered to close for 30 days following a surge in new cases reported at the time.
As of Friday, 27 U.S. states have reported 1,000 or more COVID-19 deaths to date.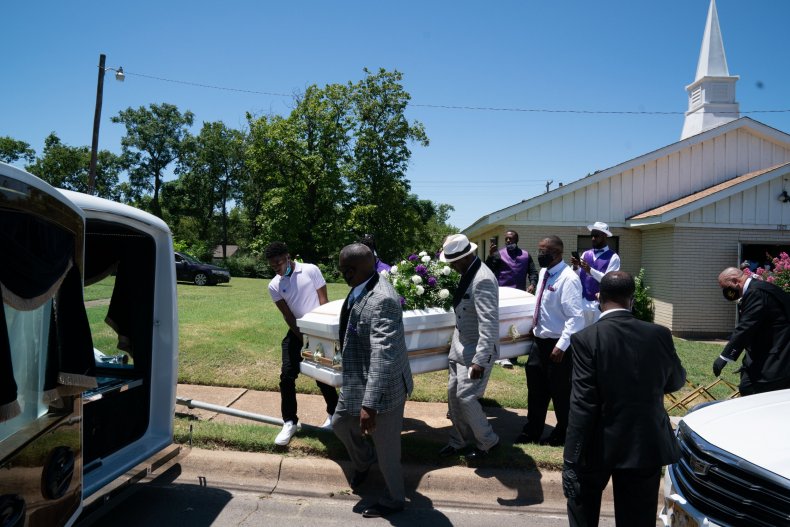 More than 19.1 million people globally have been infected since the virus was first reported in Wuhan, China, including more than 4.8 million in the U.S. More than 11.5 million globally have reportedly recovered from infection, while over 715,600 have died, as of Friday.
The graphics below, provided by Statista, illustrate the spread of COVID-19 cases in the U.S.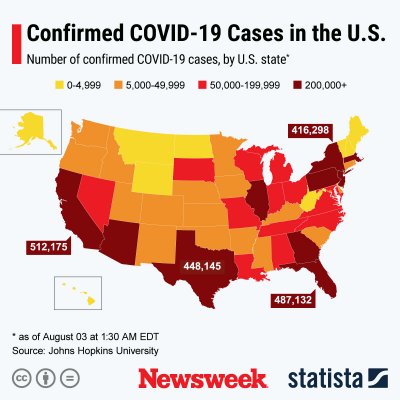 The graphic below, provided by Statista, illustrates the countries with the most COVID-19 cases.