COVID-19 Spikes Derail Reopening Plans Across a Third of U.S. Economy
After the U.S. recorded its biggest daily spike in new coronavirus cases since the start of the pandemic, state governments are grappling with lockdown measures with some governors hitting the pause button on reopening plans.
Thursday saw a record 39,327 new infections across the country with the states reopening the earliest bearing the brunt of the increase.
While some states are pushing ahead with reopening following the shutdown, Texas, Florida, California, Arizona and North Carolina, have announced tighter measures to mitigate the disease's spread.
The combined GDP of these states putting the brakes on easing restrictions that had been aimed to boost the flagging economy is around $7.2 trillion.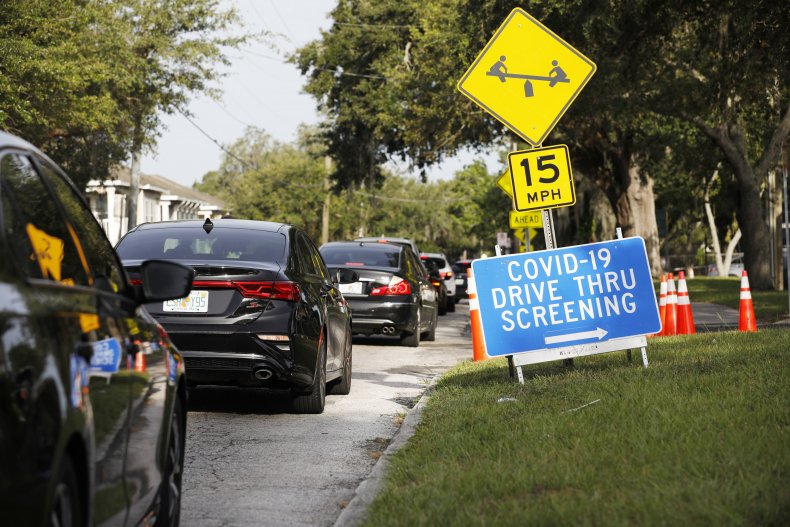 This comprises around 33 percent of U.S. GDP which in 2019 was $21.73 trillion, according to figures from the Bureau of Economic Analysis at the U.S. Department of Commerce.
To free up hospital beds, the governor of the Lone Star state, Greg Abbott, suspended elective surgeries in its biggest counties and said both small and larger communities have been hit hard by a spike in cases.
"Literally, there's been an explosion in the number of COVID-19 patients," Abbott said, The Washington Post reported.
In Florida, Gov. Ron DeSantis told a press conference he would not move his state to Phase Three of its reopening plan. It had started reopening on May 5 with bars, restaurants, cinemas and other entertainment venues in counties that were less hard hit, allowed to open up as long as they used only 50 percent of their capacity.
"We are where we are," DeSantis said. "I didn't say we were going to go on to the next phase," he told reporters with more than 5,000 new cases reported on Thursday.
Hospitals in Arizona, which after an order from Gov. Doug Ducey had been allowed to resume elective surgeries, are now pausing or looking at pausing elective surgeries to free up capacity for COVID-19 patients.
At a press conference on Thursday, Ducey asked people to stay home as much as possible to slow the disease's spread, 12 News reported.
California Gov. Gavin Newsom defended his reopening strategy and last week ordered all Californians to wear masks in public places. On Thursday, the state saw a 32 percent increase in patients hospitalized with confirmed COVID-19 disease, The Los Angeles Times reported.
North Carolina Gov. Roy Cooper, has ordered people to wear face coverings and has paused plans to ease lockdown restrictions. He said his state would stay in the "safer at home" Phase Two of reopening, which had been due to end on Friday, but will now be extended for another three weeks.
Cooper told a press conference that the rise in cases is a "stark warning" and that it was "clear that our numbers will keep us from moving ahead into the next phase of easing restrictions" WBTV reported.
Meanwhile, New York, New Jersey and Connecticut, which had been at the epicenter of the pandemic, have imposed a two-week quarantine on visitors from states with higher infection rates.
The graphic below, provided by Statista, illustrations the daily number of newly confirmed COVID-19 cases in the U.S.