Here Are 6 Coronavirus Dashboards Where You Can Track the Spread of COVID-19 Live Online
As the new coronavirus which causes COVID-19 continues to spread around the world, keeping up with the outbreak which has touched every continent except Antarctica can feel overwhelming. Thankfully, trackers and dashboards updated by experts and news teams can make staying abreast of developments a little easier.
Below are a some of the most reliable trackers charting how the outbreak is unfolding, both near and afar.
Johns Hopkins University Dashboard
This dashboard by Johns Hopkins University's Center for Systems Science and Engineering is often cited by news organizations, including Newsweek. First published publicly on January 22, around a month after the outbreak started, it is updated in real-time. New cases are identified through sources including Twitter, online news services, and through communications sent to the dashboard, co-creator Lauren Gardner, an associate professor at Johns Hopkins University, wrote in a blog post.
The team confirms diagnoses with international, national, and local health officials like the World Health Organization (WHO) and the U.S. Centers for Disease Control and Prevention (CDC). It gives information on provinces in China, cities in the U.S., Australia, and Canada, and nationwide data on other countries. It also includes graphs mapping trends in recoveries and cases in the bottom right corner.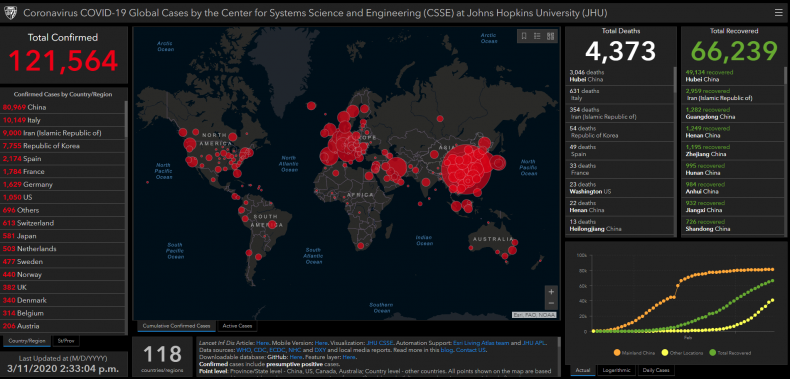 HealthMap
Founded in 2006 at Boston Children's Hospital and aided by an international team of contributors from top institutions, the HealthMap project charts disease outbreaks and public health threats in real-time. Its map dedicated to COVID-19 details confirmed cases, color-codes the number of diagnoses by location, and shows the spread of the virus as an animation. The information comes from publicly available sources including government reports and the news media. You can also visit healthmap.org to find information on all diseases, not just COVID-19, in specific areas in the past week.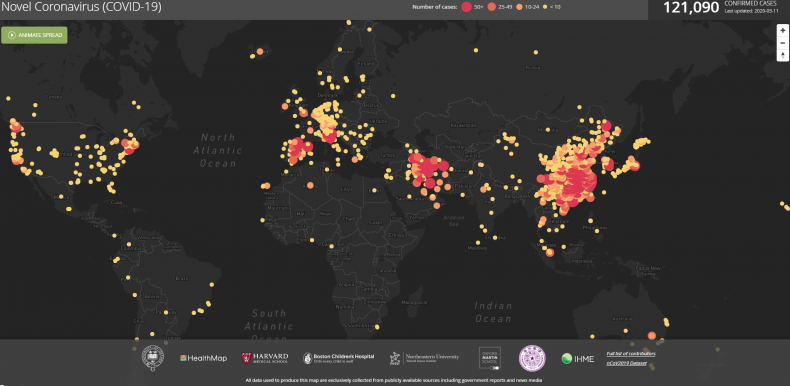 An open-source project, Nexstrain is updated in real-time. It monitors and maps the evolution of the new coronavirus which causes COVID-19, and is designed to serve experts such as virologists, epidemiologists, public health officials, and community scientists. The COVID-19 virus is the latest pathogen the team is keeping tabs of, on top of the seasonal flu, Zika, Ebola, and measles.
It is updated as soon as new data on genomes are available in order to help policymakers and officials decide the appropriate interventions to put in place during outbreaks. The webpage includes a function which allows you to watch the evolution and spread of COVID-19.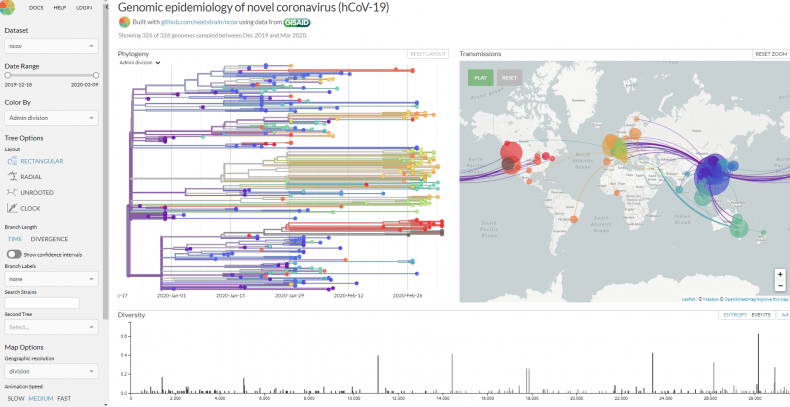 Statista
The data-visualisation company, which provides daily maps to Newsweek, offers up snapshots of the spread of the new coronavirus. The maps, graphs and charts aren't interactive, but hone in on specific data, like regional differences of the outbreak in China, the average age of those sick, and the impact on GDP. Visit its ''Coronavirus (COVID-19) disease outbreak - Statistics & Facts' webpage to see more.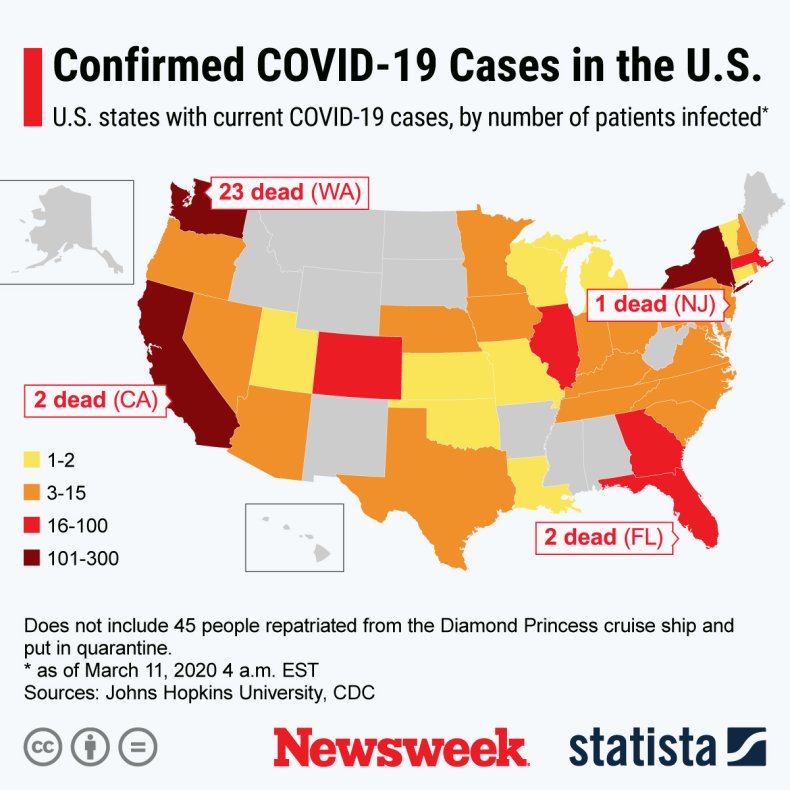 BBC News
The visual data and journalism team of the British public service broadcaster regularly updates its visual guide to the coronavirus outbreak page with separate, largely static, infographics which hone in on trends. That includes the growth of cases outside of China, how confirmed causes spread outside of the country, and rundowns on hotspots like Italy and Iran. The data sources, like the World Health Organization and health ministries, are clearly stated beneath each graphic. The U.K.-focused counterpart of this page is meanwhile useful for those interested in keeping an eye on the situation in that country specifically.
The New York Times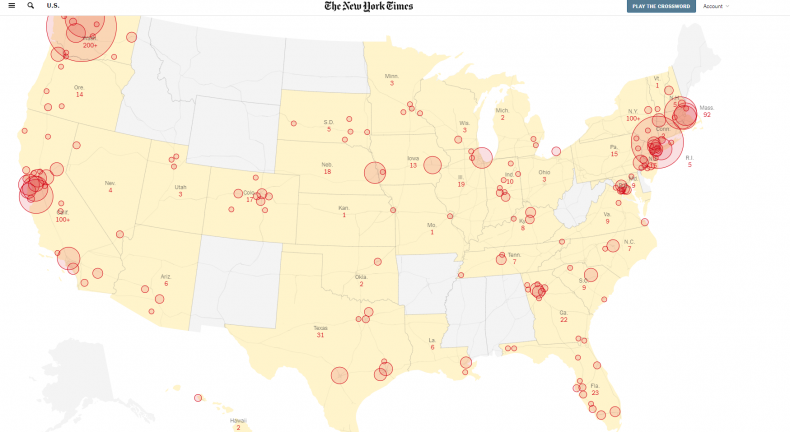 The newspaper provides an easily digestible overview of how many cases of COVID-19 there are in which U.S. states, and how the outbreak has grown since the first case in the country was confirmed in January. The maps and charts aren't interactive, but are accompanied by useful information on hotspots, established and emerging. Its team takes data from federal, state, and local officials to keep the tracker up-to-date.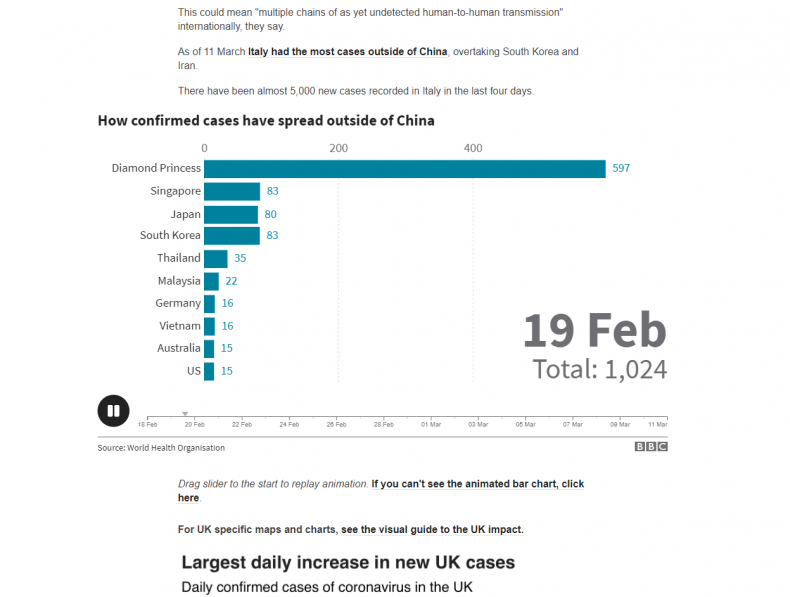 World Health Organization advice for avoiding spread of coronavirus disease (COVID-19)
Hygiene advice
Clean hands frequently with soap and water, or alcohol-based hand rub.
Wash hands after coughing or sneezing; when caring for the sick; before; during and after food preparation; before eating; after using the toilet; when hands are visibly dirty; and after handling animals or waste.
Maintain at least 1 meter (3 feet) distance from anyone who is coughing or sneezing.
Avoid touching your hands, nose and mouth. Do not spit in public.
Cover your mouth and nose with a tissue or bent elbow when coughing or sneezing. Discard the tissue immediately and clean your hands.
Medical advice
If you feel unwell (fever, cough, difficulty breathing) seek medical care early and call local health authorities in advance.
Stay up to date on COVID-19 developments issued by health authorities and follow their guidance.
Mask usage
Healthy individuals only need to wear a mask if taking care of a sick person.
Wear a mask if you are coughing or sneezing.
Masks are effective when used in combination with frequent hand cleaning.
Do not touch the mask while wearing it. Clean hands if you touch the mask.
Learn how to properly put on, remove and dispose of masks. Clean hands after disposing of mask.
Do not reuse single-use masks.