Coronavirus Flight Cancellations and Travel Advisories: What to Know About Italy, Iran and South Korea and More
As COVID-19 continues to affect countries around the world, airlines are suspending flights to high-risk areas, and the State Department has issued increased travel warnings for certain areas of the globe.
More than 87,000 people in 59 countries have become infected with the virus, and nearly 3,000 people have died, including two deaths in America. Health officials expect to see additional cases in the United States, and to try to curb the virus from spreading, President Donald Trump expanded travel restrictions.
Vice President Mike Pence announced on Saturday that a travel ban was put in place, with foreign nationals barred from entering the U.S. if they visited Iran, where a large outbreak is underway, within the past 14 days.
Iran has 593 confirmed cases of COVID-19, according to the World Health Organization (WHO), and 43 deaths, the highest toll outside of China. Among those who have contracted the virus are Vice President Masoumeh Ebtekar, members of the parliament and Iraj Harirchi, the deputy health minister.
Trump previously banned foreign nationals who have visited China, where the virus originated, within the past 14 days from entering the U.S.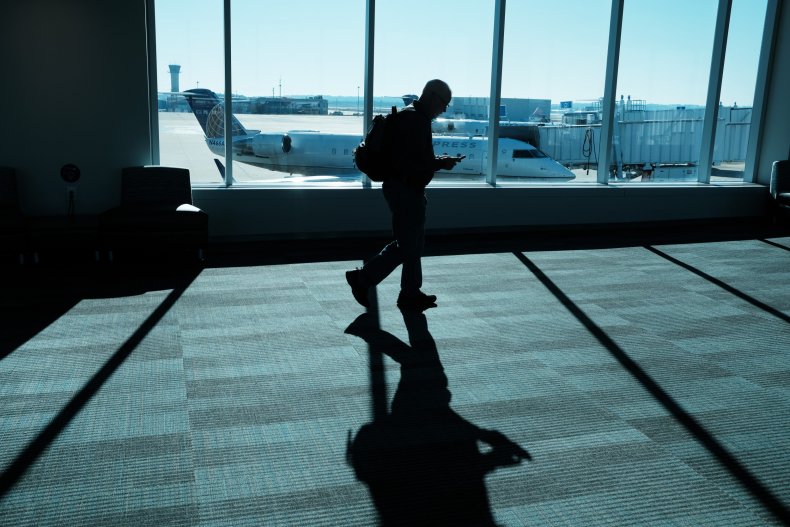 Americans were already told not to travel to China, according to a February 2 State Department advisory, and Pence said on Saturday that message was expanded to include parts of Italy and South Korea. A Level 4 travel advisory, the most restrictive on the State Department's scale, was issued for the Italian regions of Lombardy and Veneto because of community transmission of the virus and local quarantine measures.
On Sunday, Italy's Civil Protection agency reported the country had 1,694 cases, the largest number in any European country, in 13 regions and the autonomous province of Bolzano. Of the 639 people who were hospitalized, 140 were in intensive care units. Thirty-four people have died.
Delta and American Airlines suspended flights to Milan, the capital city of Lombardy, through April 30 and 25, respectively. Travel waivers were available for people traveling to other parts of the country, including Bologna, Turin, Venice and Verona.
United Airlines hasn't canceled any flights but issued travel waivers for people traveling to Bologna, Genoa, Milan, Trieste, Turin, Venice and Verona.
The U.S. State Department also issued a Level 4 travel advisory for the South Korean city of Daegu because of a COVID-19 outbreak. As of Sunday, there were 3,786 cases and 18 deaths in South Korea, according to the WHO. The vast majority of the cases involve people from Daegu, who predominantly are linked to the Shincheonji Church.
Officials blamed the church's leader, Lee Man-hee, for contributing to the virus' spread because he failed to provide a list of members to the government, thus making it harder to track the outbreak. On Monday, he offered an apology, according to The New York Times, and said any spreading of the virus was unintentional.
Because of the outbreak, Delta and United reduced service to Incheon International Airport in South Korea. Delta, United and American also suspended flights to parts of China, including Shanghai, Beijing and Wuhan, until the end of April.
Along with suspending flights to Beijing and Shanghai until April 17, British Airways reduced travel to New York City. In a statement Monday, the airline announced the cancellation of 12 round-trip flights—24 flights total—from London's Heathrow Airport to New York's John F. Kennedy Airport. The flights were scheduled between March 16 and March 28 and were canceled because of a decrease in demand as a result of the coronavirus outbreak.
Mongolia was under a Level 3 travel advisory, meaning Americans should reconsider travel. Officials put a Level 2 advisory on Japan, Macau and Hong Kong, which means Americans should exercise increased caution when traveling.
This article has been updated with flight cancellation information from British Airways.