What Countries Have Closed Their Borders Because of Coronavirus?
To limit the spread of the new coronavirus that causes COVID-19, at least 27 countries on every inhabitable continent have closed their borders to certain foreign nationals.
Cases of infection have surpassed 150,000, and the outbreak shows no signs of slowing down. As cases increase across the globe, countries have amplified their mitigation and containment measures to limit exposure risks, including reducing large gatherings, implementing quarantine restrictions and prohibiting people from entering.
Some countries, including South Africa and the Czech Republic, banned foreign nationals from high-risk areas, and Kenya imposed a ban on foreign nationals traveling from any country with reported cases. Kenya had only one case as of Sunday, according to the World Health Organization (WHO), and along with banning foreign nationals, all citizens and those with valid residence permits who enter the country must self-quarantine for 14 days.
Save for a few exceptions, El Salvador, India, Israel, Denmark, Poland, Ukraine, Croatia, Norway and Slovakia banned all foreign nationals from entering the country. Foreign nationals from Europe or Asia were also prohibited from entering Colombia, where there have been 24 cases, and officials closed the border with Venezuela.
The WHO criticized countries that implemented blanket travel bans, and Dr. Mike Ryan, director of the WHO's Health Emergencies Program, said during a Friday press conference that they will do "nothing to protect individual states."
"Many countries that had imposed bans ended up importing more cases anyway and may have reacted later than they should because they assumed travel bans would protect then," Ryan added.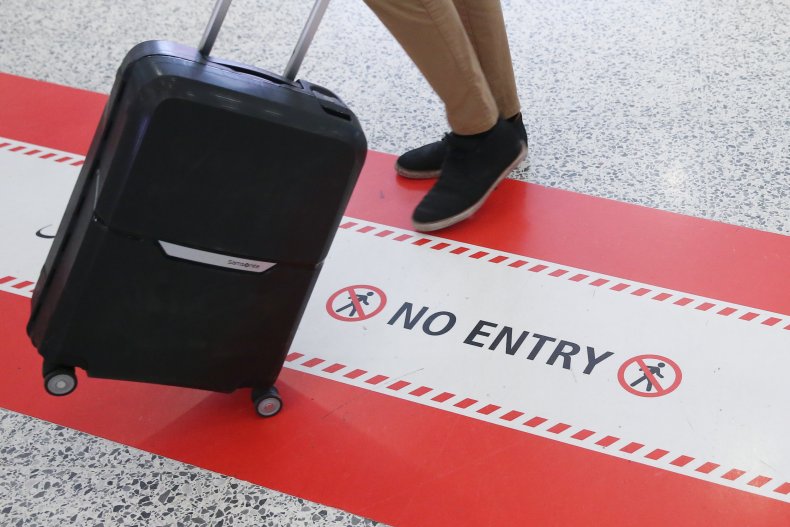 On Monday, the European Commission issued guidelines for border management to its member states. The guidelines urged countries to apply controls in a "proportionate manner" that facilitates the flow of goods and services and the transit of frontier workers in essential services.
"Our measures to contain the coronavirus outbreak will be effective only if we coordinate on the European level," President Ursula von der Leyen said in a statement. "We have to take exceptional measures to protect the health of our citizens. But let's make sure goods and essential services continue to flow in our internal market. This is the only way to prevent shortages of medical equipment or food."
New cases in China, where the virus originated, appear to be waning, but the country still has more reported cases than every other nation combined. Large outbreaks have also been seen in Italy, South Korea and Iran, where half the cases outside China have been reported. As a result, Japan and Hungary banned foreign nationals from entering if they'd recently been in any of those four countries.
After Italy, the European countries with the most cases of the new coronavirus are France, Germany and Spain, prompting Singapore to ban travelers from those nations. Malta, the smallest country in Europe, expanded that ban to include Switzerland.
Turkey, Vietnam, Argentina, Austria, Russia, Jordan, Guatemala, Vietnam, Germany and South Korea have also implemented bans on travelers from certain countries where cases have been reported.
In the United States, President Donald Trump banned most foreign nationals from entering the country if they had been in any of the 26 countries that make up the Schengen Area, the United Kingdom or Ireland. He said Saturday that he was considering imposing restrictions on domestic travel and advised people to avoid moving around the country if possible.
"If you don't have to travel, I wouldn't do it," Trump said. "We want this thing to end. We don't want a lot of people getting infected."