'I Have Seen the Future of Travel Post-Coronavirus. It Will Never Be The Same'
My medical bag served no purpose. The kit I usually carried as an international correspondent covering armed conflict and civil unrest, filled with sutures and Band-Aids and gauze and a tourniquet, had been rendered useless save for its surgical gloves and antiseptic towelettes.
For the next twenty-four hours I'd be traveling back to my home in Northern Italy from a house in Massachusetts to which I'd fled days before the center of the European coronavirus outbreak shuttered its borders in early March.
I had felt a raw sense of comfort returning to the States, a homecoming I celebrated with the certainty of a refugee who felt that he was out of harm's way. The reality was much different.
For eight weeks I hardly left my home, an elective quarantine during which I noticed every unfinished surface, every imperfection throughout the house: the shoddy alignment of pine framing around the windows or the sloppy caulking around a doorway's frame. When it came time to leave, I was ecstatic. I planned my route back to Italy.
Before my day of travel I packed a different medical kit, one that nearly everyone who has spent two months under lockdown or in self-quarantine has themselves comprised: of ibuprofen, acetaminophen, wipes, hand sanitizer, surgical gloves and a variety of masks.
Shopping for groceries, doffing and donning a mask inside the safety of my car, was one thing. Traveling through four international transportation hubs on three multi-hour flights, was something more daunting. Feeling as though I'd had the virus in early March, I wasn't worried about contracting COVID-19. I was worried about infecting others. The notion of my own potential biohazard plagued me.
"I've never seen it like this, ever," said the Uber driver who drove me to the airport. "This is, literally, I kid you not, the first time I've had a ride to the airport in the last two months." The road to JFK Airport was empty.
At the upper-level curb for departing flights there were few cars. A military police truck sat at the entrance like a sentry. A pilot, wearing his flight cap and the required face mask, tugged his luggage into an empty terminal. Inside were more birds than people. Three flights were listed for the afternoon.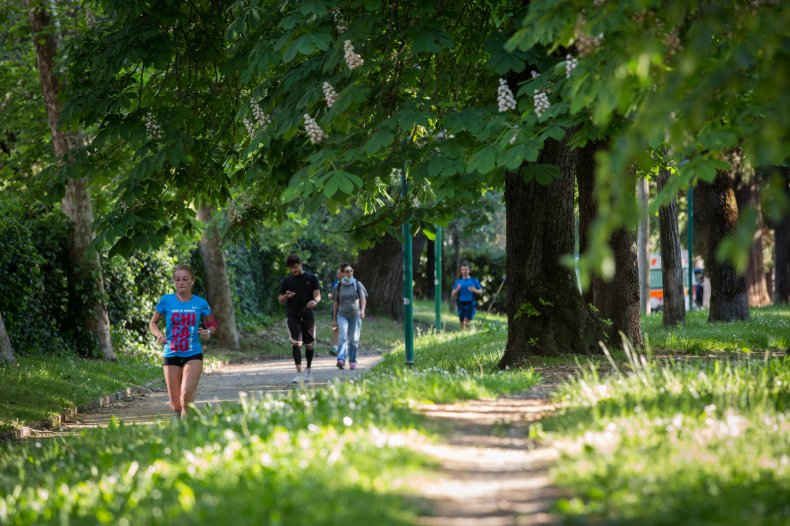 In Focus
Public Gardens are open again and people can train again and meet up after two months of quarantine on May 04, 2020 in Bologna, Italy.
Launch Slideshow

3 PHOTOS
The only available flight to Venice was through Amsterdam and then Rome. On my first leg, I completed the first of many health forms: the government in the Netherlands required all passengers on this KLM flight to declare whether or not they had symptoms of COVID-19. I didn't, and was told to keep the document with me during transit, though no one would check it in the coming hours.
Plastic shields separated guests from the check-in clerks. Security operated two X-ray machines as more than two dozen stations stood empty. Not two months ago, the wait-time to get through the Transportation Security Administration (TSA) checkpoint was twenty minutes. I stepped through in less than a minute.
The terminal was empty, save for a handful of passengers, many of whom wore white full-body PPE and plastic protective goggles. My simple kit seemed useless. Outside, for every ten gates, there was a single plane. Beyond the terminal were dozens of parked planes, collecting dust like cars in a long-term parking lot.
I wiped my seat with one of the towelettes, scrubbed my hands and forearms with hand sanitizer as I settled down. On my seat was a plastic bag filled with food, a gouda and mustard sandwich pressed tightly around a can of ginger ale and surrounded by a bag of nuts, slices of cheese, crackers, and a large bottle of water. I realized there would be no in-flight service.
On arriving in Amsterdam, there were more health forms and the first of three temperature checks. Thermal cameras were mounted to the ceiling at various checkpoints across the airport. Those changes stirred in me memories of the world after the terrorist attacks of September 11. I had questions that only weeks ago would have seemed absurd.
Would I ever be able to travel while sick? What if I had a simple cold? What if I had strep throat? Could only the healthy ever fly again? The only legitimate reason to fly now appears to be for business or those who are homeward bound.
The adjustment to the world's new norm of travel came quick. I slowed before approaching anyone, making sure to maintain a distance when asking for a health declaration form or for directions to the check-in kiosk: once a passive convenience, now standard for all.
I accepted doses of hand sanitizer after most interactions with plane and airport staff, a ritual I'd always chided as "bad for my natural hand oils." One thing I had always detested about flying was the moment when other passengers crushed together at the boarding gate.
No more. People stayed away until their section was called to board and those who did wish to crowd the gate maintained six feet from each other. Cash was taboo. Credit and debit cards were preferred in Rome, and the purchaser swiped themselves through checkout.
When I landed in Venice, through more temperature scans staffed by military personnel, I filled out another form detailing the required fourteen-day at-home quarantine for all non-essential visitors to the country. As a journalist, I was exempt, and therefore soon tasked with grocery runs for my otherwise quarantined family.
I was picked up from the airport by one such family member. There were no hugs, no kisses, only slight bows.
"I haven't seen the roads in two months," my aunt said as she drove. "I can't believe how busy they are." The Carabinieri, Italy's domestic police force, did not ask for our papers. There were no checkpoints. We drove into the mountains north of Venice without issue.
Residents had become used to lockdown, if wearied and worn. They knew all about face masks in a way they never imagined they would, my Aunt said. Trucks screamed past us in the other direction.
There were imperfections here, too. I knew our rural house would be a point of convergence for thousands of ants, flies, gnats and other rodents who had established a redoubt in my absence. Some effort would be needed to exterminate the house in the coming weeks. But I was able to breathe more easily, knowing I was home.
Though lockdown restrictions were being eased with caution, and though the roads seemed somewhat open, there were hints of the pandemic's presence. In the time that I had gone, the country had become overgrown, a gift from spring.
The fields and medians outside the airport, along the autostrada, into the villages of the north country, were uncut and untended. Weeds and chrysanthemums grew tall.
While the world spent the first days of a new season indoors, the earth had begun its reclamation.
Kenneth R. Rosen is a senior editor and correspondent at Newsweek. He is the author of "Bulletproof Vest," out now from Bloomsbury. All views expressed in this article are the writer's own.