European Visitors Spent $3.4 Billion in March 2019, Restrictions Will 'Exacerbate' Coronavirus Impact, Travel Association Says
The coronavirus outbreak is already taking a bite out of airlines' business, and the U.S. Travel Association said limiting travel from Europe to the United States in March could have a $3.4 billion impact.
Beginning on Friday at midnight, most foreign nationals will be barred from entering the U.S. if they've been in one of 26 European countries, known as the Schengen area, within 14 days of their arrival. The goal is to limit the number of people who may be infected from spreading the virus in the U.S., and President Donald Trump called it one of several "strong but necessary" actions to protect the "health and well-being of all Americans."
International visitors flying from Europe in March of last year spent about $3.4 billion in the U.S., according to the U.S. Travel Association. President and CEO Roger Dow said 15.7 million Americans have jobs that depend on travel.
Dow acknowledged in a statement that public health is a "top concern" during the outbreak but said policy conversations must also "address the health of the economy." Now that the federal government has taken "aggressive steps" to protect the public against virus, Dow is pushing legislators to take "equally aggressive steps to protect America's workforce and employers."
Airlines have already seen a reduction in demand for travel to and from Europe, causing them to reduce flights and offer travel waivers for passengers going to Italy. Trump's proclamation suspending travel will "exacerbate the already-heavy impact" the coronavirus has had on the travel industry, according to Dow.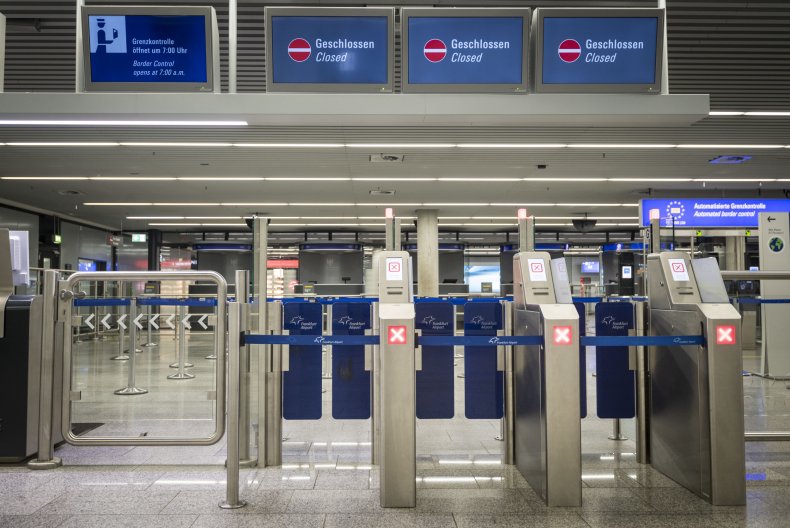 In March 2019, European residents accounted for about 39 percent of total overseas travel to the U.S., according to the National Travel and Tourism Office. Of those passengers, more than 461,000 were from Italy, Germany, France or the Netherlands, four countries in the Schengen area.
"We have and will continue to engage Congress and the administration on policy steps that are necessary to ensure that travel employers—83% of which are small businesses—can keep the lights on for their employees," Dow said in a statement.
Trump said he would be taking "emergency action" soon to provide financial relief for people who must remain at home because they're either quarantined, ill or caring for others because of the coronavirus. To help American families and businesses, he announced that the Small Business Administration would begin providing economic loans to people in affected states and territories. With their low-interest rates, he said, the loans were intended to help small businesses overcome "temporary economic disruption."
More than two-thirds of U.S. states have reported cases of COVID-19, the disease caused by the coronavirus, and Washington, New York and California are experiencing the largest outbreaks. With about 1,000 cases, the outbreak in the U.S. is less substantial than in countries in the Schengen area, where there have been more than 21,000 cases, more than half in Italy.
In California and Washington, 600 health care workers weren't able to go to their jobs, according to Dr. Robert Redfield, director of the U.S. Centers for Disease Control and Prevention. All three states have implemented mitigation measures that limit the number of large gatherings of people, including banning fans from NBA games.
Trump denied that the outbreak would hit America's economy hard, as some people have predicted, because of the policies his administration is putting into place.
"This is not a financial crisis, this is just a temporary moment of time that we will overcome together as a nation and as a world," Trump said.