Coronavirus Flight Cancellations, Travel Advisories, Waivers: What to Know About U.S., Italy, Japan And More
The spread of the new coronavirus that causes COVID-19 has lessened people's desire to travel, causing airlines to suspend or reduce flights and offer waivers for customers to change their plans.
Officials in 73 countries, including the United States, have reported more than 90,000 cases to the World Health Organization (WHO) as of Tuesday. China's seen the biggest impact, with more than 80,000 people becoming infected. About 80 percent of cases outside China were found in three countries—Iran, Italy and South Korea—but travel worldwide is taking a hit.
"There is a lot of uncertainty around coronavirus, and it is pretty clear that it is having an effect on travel demand—not just from China, and not just internationally, but for domestic business and leisure travel as well," Roger Dow, president and CEO of the U.S. Travel Association, said in a statement.
On Wednesday, Delta announced a reduction in weekly flights to Japan, where there have been 268 cases, according to WHO, because of a drop in demand.
Round-trip flights from Tokyo to Portland, Oregon; Nagoya to Detroit and Honolulu; and Osaka to Honolulu will be reduced from a daily schedule to three times a week, beginning March 7. Daily round-trip flights from Tokyo to Atlanta and Minneapolis will run only five times a week until full service resumes April 30.
Summer seasonal service between Seattle and Osaka will be suspended for 2020 and pick back up in 2021, according to Delta. Affected customers may be able to rebook on alternate flights or flights taking off after April 30 or receive a refund. United Airlines also suspended some service to Tokyo.
On January 21, Washington became the first state to report a case of the new coronavirus, and its case count has grown to 27, according to the U.S. Centers for Disease Control and Prevention. Five weeks after the first case was identified, CDC officials reported the first death, involving a man in his 50s. Since Saturday, eight other people have died in Washington—mostly involving people who are elderly or have underlying conditions—bringing the total death toll in the U.S. to nine, according to the CDC.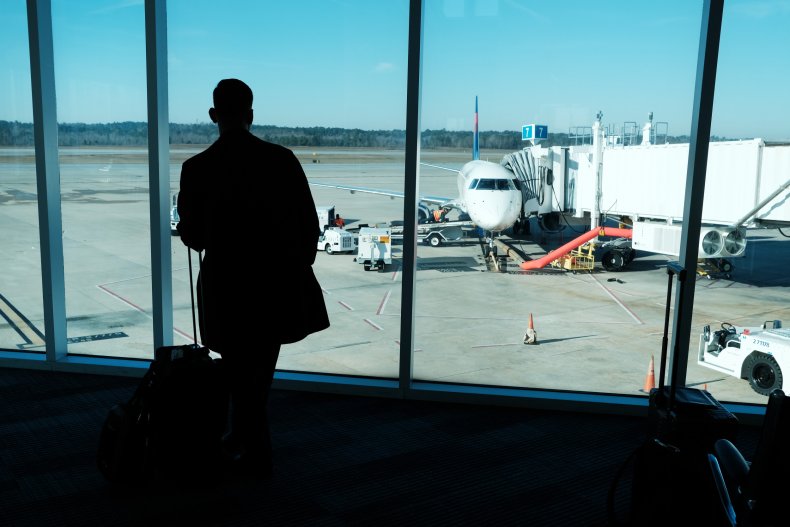 As President Donald Trump departed the White House on Tuesday, he told reporters his administration was not looking at restricting domestic travel to prevent the virus from spreading.
Although there aren't any restrictions on domestic travel, United Airlines is allowing people to change trips that are booked between March 3 and 31 for free, as long as the change is made within 12 months and the ticket is of equal or lesser value. Those who want to cancel their trip can apply the value of the ticket to a new one, without a fee, for up to 12 months from the original ticket's issue date.
Vice President Mike Pence applauded Trump for quickly restricting travel from China. Meanwhile, the president said he would consider expanding limitations on travel to the U.S. from countries with significant outbreaks, such as Italy and South Korea.
The State Department advised Americans to reconsider traveling to Italy and, if they were to go there, not to visit the regions of Lombardy and Veneto, where local quarantines were enacted. Delta and American Airlines suspended flights between New York's John F. Kennedy Airport and Milan, the capital of Lombardy, until May 1 and April 25, respectively. Delta's seasonal service between JFK and Venice was pushed back to May 1 from its original start date of April 1.
Americans were also advised against traveling to South Korea, which was under a Level 3 travel advisory due to an outbreak in Daegu. As of Tuesday, there were 4,812 cases in South Korea, and Delta, United and American had all reduced service to Seoul, the capital city.
To accommodate qualifying customers with upcoming travel plans who may not want to visit Italy or South Korea, Delta and United have waived change fees. American also waived change fees for passengers traveling to Italy but gave South Korea travelers the additional option of canceling altogether.
The U.S Travel Association predicted international travel to the U.S. will drop 6 percent over the next three months. If that happens, it would be the largest decline in international inbound travel since the 2008 financial crisis.
As of Tuesday, the only restrictions on travel into the U.S. due to the new coronavirus are on foreign nationals who have been in Iran or China within 14 days of their expected arrival. Given the extent of the outbreak in China, Delta, United and American all suspended service until April 30, and United and American offered qualifying customers the option to cancel their trip. Qualifying Delta customers were able to rebook travel without paying a change fee.
Dow acknowledged that people are wondering if it's safe to travel and urged everyone to bear in mind that restrictions and warnings were specific to areas where there are outbreaks.
"Right now, there is absolutely no official guidance that people need to be reconsidering travel in the U.S.," he said.