Trump COVID Update—What Doctors Have Said About President's Illness
President Donald Trump has experienced two episodes of low oxygen levels, his doctors said at a press briefing on Sunday from the Walter Reed National Military Medical Center in Bethesda, Maryland, where he is being treated for COVID-19. The president was given supplemental oxygen for one episode, and he has started the steroid drug dexamethasone, as well as continuing a five-day course of the antiviral drug remdesivir, which he began on Saturday.
Dexamethasone and remdesivir are both used for COVID-19 patients who require supplemental oxygen, according to the National Institutes of Health (NIH).
The president was reported to be "doing really well" and "if everything continues to go well," he could potentially be discharged as early as Monday to continue his treatment at the White House, doctors confirmed.
Dr. Sean Conley, the president's physician, said: "Over the course of his illness, the president has experienced two episodes of transient drops in his oxygen saturation. We debated the reasons for this and whether we'd even intervene. It was the determination of the team, based predominantly on the timeline from the initial diagnosis, that we initiate dexamethasone.
"Late Friday morning, when I returned to the bedside, the president had a high fever and his oxygen saturation was transiently dipping below 94 percent. Given these two developments, I was concerned for possible rapid progression of the illness.
"I recommended the president we try some supplemental oxygen, see how he'd respond. He was fairly adamant that he didn't need it. He was not short of breath. He was tired. He had the fever. That was about it. After about a minute and only two liters, his saturation levels were back over 95 percent," Conley said.
On Saturday, Trump experienced another episode which saw his oxygen saturation levels drop to around 93 percent. It is unclear whether the president received supplemental oxygen for this second episode, Conley confirmed, noting: "I'd have to check with the nursing staff. If he did, it was very, very limited. But he's not on oxygen. The only oxygen that I ordered that we provided was that Friday morning, initially."
Trump's blood oxygen levels were at 98 percent on Sunday, Conley said. When asked whether the levels ever dipped to below 90 percent, he replied: "We don't have any recordings here [at Walter Reed] of that.
"He [Trump] doesn't ever feel short of breath. We watched it and it returned back up...we debated whether we'd even start the dexamethasone and we decided that in case the potential benefits early on the course probably outweighed any risks at this time," Conley said.
The president completed his second dose of remdesivir on Saturday and has had no side effects so far, according to Dr. Brian Garibaldi, director of the Johns Hopkins Biocontainment Unit.
"He has had none that [side effects from remdesivir] we can tell. His liver and kidney function have remained normal. We continue to plan to use a five-day course of remdesivir," Garibaldi confirmed.
"We did initiate dexamethasone therapy and he received his first dose of that yesterday [Saturday]. Our plan is to continue that for the time being.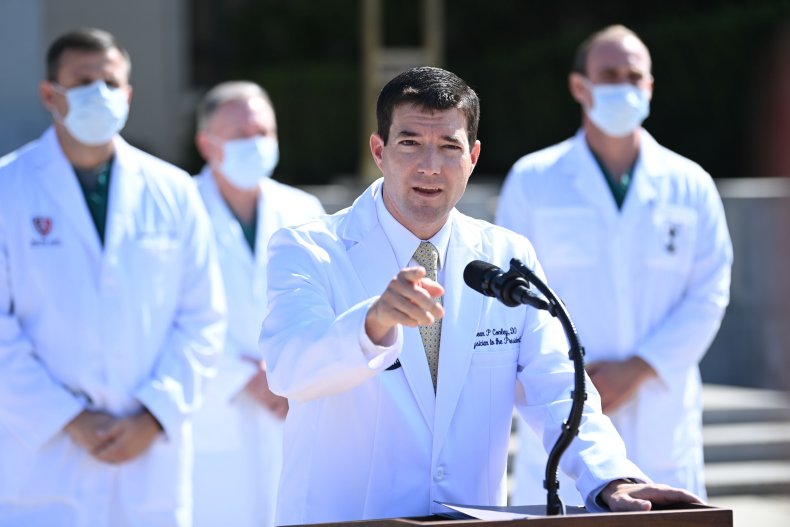 "Today [Sunday], he feels well, he's been up and around. Our plan for today is to have him to eat and drink, be up out of bed as much as possible, to be mobile. If he continues to look and feel as well as he does today, our hope is that we can plan for a discharge as early as tomorrow [Monday] to the White House where he can continue his treatment course," Garibaldi added.
Dr. Sean Dooley, a pulmonary critical care physician, confirmed: "The patient [Trump] continues to improve. He has remained without fever since Friday morning. His vital signs are stable.
"From a pulmonary standpoint, he remains on room air this morning and is not complaining of shortness of breath or other significant respiratory symptoms. He is ambulating himself, walking around the White House medical unit without limitation or disability.
"Our continued monitoring of his cardiac liver and kidney function demonstrates continued normal findings or improving findings," Dooley added.
The president was also reported to have performed well when a spirometry was conducted, which tests how much air you can breathe out in one forced breath.
Dr. Conley noted: "Like every patient we perform lung spirometry on him and he's maxing it out...over 2,500 milliliters each time. He's doing great."
When asked whether X-rays and CT scans so far have indicated any signs of pneumonia or damage to the lungs, Conley noted: "We're tracking all of that. There's some expected findings, but nothing of any major clinical concern."
Conley declined to confirm when asked whether the president was in a negative pressure room, stating: "I'm not going to get into the specifics of his care."
When asked why the president has not been wearing a face covering, Conley replied: "The president wears a mask any time he's around us and we're all wearing our N95's, full PPE [personal protective equipment]...when he'll move out into...around other people that aren't in full PPE, I assure you, as long as he's still under my care, we'll talk about him wearing a mask."
When asked by a reporter at the Sunday briefing why Conley was reluctant to disclose previously that the president had been administered with oxygen, the doctor responded: "I was trying to reflect the upbeat attitude that the team, the president, that his course of illness has had. I didn't want to give any information that might steer the course of illness in another direction and in doing so, it came off that we were trying to hide something, which wasn't necessarily true.
"The fact of the matter is he's doing really well. He is responding. As the team said, if everything continues to go well, we're going to start discharge planning back to the White House," he added.
Doctors not involved in the president's treatment have noted both dexamethasone and remdesivir can be used early on in the course of illness from COVID-19 infection to prevent it from getting worse but dexamethasone is typically used for patients whose condition have deteriorated, Reuters reported.
"The biggest question would be is there a risk of deterioration, or is he on a good trajectory?" said Dr. Amesh Adalja, an infectious disease specialist at Johns Hopkins University.
Dr. Rajesh Gandhi, an infectious disease physician at Massachusetts General Hospital in Boston, added: "Some people with COVID-19 develop worsening symptoms, shortness of breath and other complications about a week after they first develop symptoms."
Dr. Stuart Cohen, chief of infectious disease at California's UC Davis Health, said: "People sort of putter along for up to a week...then everything goes downhill very quickly. It is always hard to predict who that is going to happen in."
Trump noted on Sunday that he was going to "pay a little surprise to some of the great patriots we have out on the street," in a video shared on his official Twitter account.
On Sunday evening, the president was seen wearing a mask in the back seat of an SUV and waving to crowds of supporters cheering outside Walter Reed National Military Medical Center.
The drive was a "short, last-minute motorcade ride to wave to his supporters" and Trump quickly returned to his hospital suite afterwards, his White House deputy press secretary Judd Deere said.
"The movement was cleared by the medical team as safe to do," Deere confirmed, noting that "appropriate precautions were taken" before the ride to protect the president and those supporting him.
The drive was criticized by an attending physician at Walter Reed, Dr. James Phillips, who tweeted: "Every single person in the vehicle during that completely unnecessary Presidential "drive-by" just now has to be quarantined for 14 days. They might get sick. They may die. For political theater. Commanded by Trump to put their lives at risk for theater. This is insanity."
The wider picture
The novel coronavirus has infected more than 35.1 million people across the globe since it was first reported in Wuhan, China, including over 7.4 million in the U.S. More than a million have died following infection, while more than 24.5 million have reportedly recovered as of Monday, according to Johns Hopkins University.
The graphic below, provided by Statista, illustrates U.S. states with the most COVID-19 cases.