Republican Group Is Recruiting Pro-Trump Doctors to Make Case for Swift Reopening of Economy
A group of Republicans is reportedly enlisting the support of medical professionals willing to push the message that the U.S. economy should reopen as quickly as possible even if the Centers for Disease Control and Prevention (CDC) guidelines are not met.
The news of such an effort to recruit medics came in a leaked recording of a conference call from May 11 organized by CNP Action, which is part of the Save Our Country Coalition, a group pushing to end state lockdowns.
During the call, GOP activist Nancy Schulze said she had given the campaign a list of more than two dozen doctors who could argue for reopening the economy, seen as central to the re-election hopes of President Donald Trump, the Associated Press reported.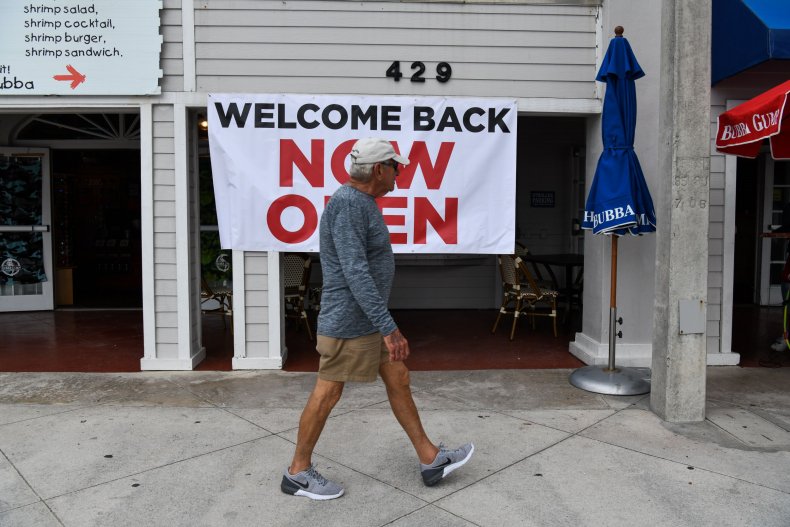 "There is a coalition of doctors who are extremely pro-Trump that have been preparing and coming together for the war ahead in the campaign on health care," Schulze said on the call. "And we have doctors that are ... in the trenches, that are saying 'It's time to reopen.'"
Trump campaign senior adviser Mercedes Schlapp backed the idea, saying in the call: "Those are the types of guys that we should want to get out on TV and radio to help push out the message."
"They've already been vetted. But they need to be put on the screens," she added in the leaked call given to the AP by the Center for Media and Democracy, a progressive group.
Tim Murtaugh, Trump campaign communications director told the AP a campaign to recruit doctors to support efforts was taking place but would not specify any timeline.
In a statement to Newsweek, Murtaugh said: "The purpose of campaign coalitions is to amplify and promote President Trump's accomplishments and point of view.
"The president has been outspoken about the fact that he wants to get the country back open as soon and as safely as possible because there are also health risks associated with a prolonged lockdown. There are a lot of doctors who agree with that."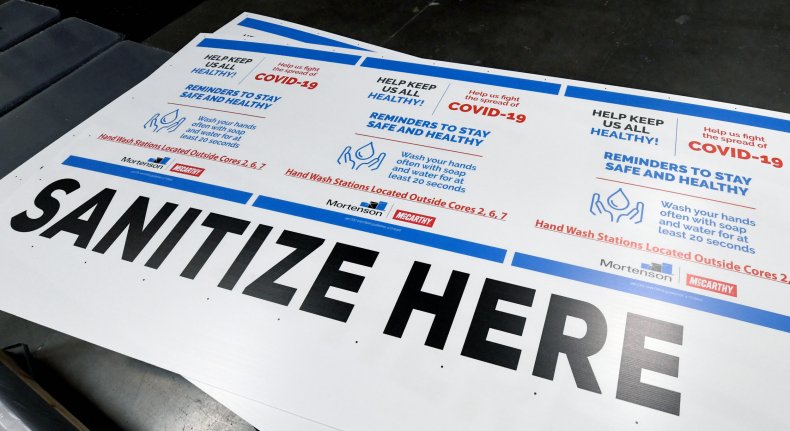 A number of Republican governors are starting to lift state lockdowns even after a forecast from the CDC that the number of U.S. deaths will hit 100,000 by June.
Dr. Anthony Fauci, the nation's top infectious disease expert, and other prominent figures in health policy warn that lifting lockdowns too quickly could lead to a spike in deaths.
Shannon Anderson, associate professor of sociology and coordinator of public health studies at Virginia's Roanoke College, said doctors calling for a reopening of states could make it harder for people to get clear public health messages about coronavirus risks.
"I think it will be particularly powerful to people in the middle who aren't sure, who don't feel that they know enough about the public health side," she told Newsweek.
"If somebody who speaks regular doctors' office language to them says, 'It's OK, you can go out'—that is more familiar in American culture than talking about mitigation and containment and contact tracing.
"That could make this harder for the public health argument which says we do need to reopen but we must do it carefully.
"I think I would like to see a stronger commitment to conversations between public health and economic experts as opposed to what we have done which is to set them against each other. The two things go hand in hand."
Geoffrey Wilkinson, a clinical associate professor at the Boston University School of Social Work and a former senior manager in the Massachusetts Department of Public Health, said it was "no surprise" that Republican operatives would seek doctors to work "for the president's cause."
"Sacrificing public health for political expediency is entirely consistent with Trump's self-view as being a wartime president," Wilkinson told Newsweek.
"He's apparently willing to accept the collateral damage of even more people dying needlessly in order to resuscitate the economy and his reelection prospects."
Newsweek has contacted the White House and CNP Action for comment.
The infographic below, provided by Statista, shows the spread across the U.S. of confirmed COVID-19 cases as of May 20.