Donald Trump COVID Update as President Plans Florida Rally Amid Test Secrecy
President Donald Trump has "responded extremely well" to his coronavirus treatment, which is now complete, according to the latest update Thursday from Dr. Sean Conley, the president's physician.
While questions remain about when the president last tested negative for the virus, Trump revealed Thursday that he is hoping to hold rallies this weekend in Florida and Pennsylvania.
The president said: "We want to do a rally in Florida, probably in Florida on Saturday night, might come back and do one in Pennsylvania, on the following night," in an interview Thursday with Sean Hannity for the Fox News Channel.
"I think I'm going to try doing a rally on Saturday night if we can, if we have enough time to put it together," he told Hannity.
The president had repeated coughing bouts during the interview, one of which led to a few seconds of silence before he said "excuse me" and continued speaking.
When Hannity questioned Trump on whether the president had been tested for the virus since testing positive last week, Trump replied: "Well what we're doing is, probably the test will be tomorrow. The actual test, because there's no reason to test all the time."
White House officials have yet to disclose when the president last tested negative for the virus.
"I don't know when he last tested negative," White House deputy press secretary Brian Morgenstern told reporters Wednesday. "We're not asking to go back through a bunch of records and look backwards."
Judd Deere, deputy assistant to the president and White House deputy press secretary, told ABC News Wednesday "the president is tested regularly," when asked about Trump's testing regimen, his last negative test and the information provided to the Commission on Presidential Debates (CPD) and Cleveland Clinic.
On Wednesday, White House chief of staff Mark Meadows declined to say when the president last tested negative,.
At a Monday press briefing, when Conley was questioned about when Trump had his last negative test result, he replied: "I don't want to go backwards."
Newsweek has contacted the White House for comment.
Trump expected to make "safe return" on Saturday
Trump is expected to make a "safe return to public engagements" by Saturday, Conley said.
In a memorandum published Thursday, Conley wrote: "Today the President completed his course of therapy for COVID-19 as prescribed by his team of physicians.
"Since returning home, his physical exam has remained stable and devoid of any indications to suggest progression of illness. Overall he's responded extremely well to treatment without evidence on examination of adverse therapeutic effects."
With Saturday marking 10 days since last Thursday's diagnosis, Conley added: "Based on the trajectory of advanced diagnostics the team has been conducting, I fully anticipate the President's safe return to public engagements at that time [Saturday]."
As of Thursday afternoon, Conley noted the president's vital signs were recorded to be the following:
Heart rate: 69 beats/minute
Blood pressure: 127/81 mmHg
Respiratory rate: 15 to 17 breaths/minute
Pulse oximetry: 96 to 98 percent room air
"I don't think I'm contagious at all"
On Thursday, the president claimed: "I think I'm better. I'd love to do a rally tonight. I wanted to do one last night, but I think I'm better to a point that I feel better than I did, I jokingly said, 20 years ago. I feel perfect. There's nothing wrong. I don't think I'm contagious at all," in an interview with Maria Bartiromo for the Fox Business Network.
"I would have done it [recover] fine with no drugs. You don't need drugs," he added.
As part of his treatment, Trump was given regeneron, an experimental polyclonal antibody cocktail. While regeneron has shown results in improving symptoms of COVID-19 and reducing virus levels in the body, it has not been approved by the Food and Drug Administration (FDA) and is currently being evaluated.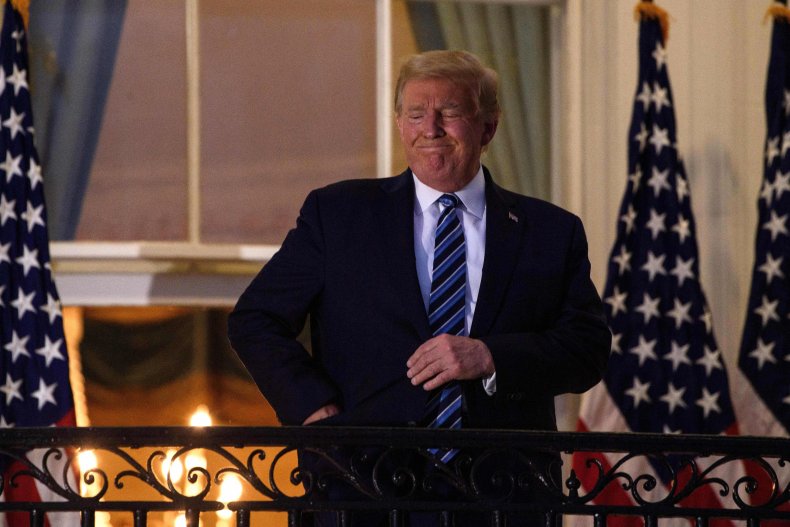 Trump returned to the Oval Office this week following his stay at the Walter Reed National Military Medical Center.
The president returned to the White House earlier than the period of isolation recommended for those infected or who might be infected, according to U.S. Center for Disease Control and Prevention (CDC) guidelines, which note: "You can be around others after 10 days since symptoms first appeared and 24 hours with no fever without the use of fever-reducing medications and other symptoms of COVID-19 are improving."
Questions about the president's health were raised after many social media users commented that he appeared to be struggling to breathe in footage of him standing on the Truman Balcony of the White House just after his arrival.
What other doctors say
Dr. Leana Wen, an ER (emergency room) doctor and visiting professor at the Milken Institute School of Public Health at George Washington University told CNBC Thursday: "It's just mind-blowing," noting "the White House is a hotbed of infection. It is the epicenter of a major outbreak."
Wen tweeted Friday: "Stunned that Dr. Conley says @realDonaldTrump can return to public engagements on Saturday. That's Day 10, according to @WhiteHouse's own time course. Patients with severe #covid19 can be infectious for 20 days. Why put the public knowingly at risk?"
"Just less than a week ago, the president was in a hospital being treated for severe illness. It's very likely that he's still shedding virus right now," Wen told CNBC Thursday.
"By definition, this is not a mild case. We know also that patients with more severe illness could end up having a higher viral load and be infectious for longer," she added.
Dr. Syra Madad, senior director of the systemwide special pathogens program at New York City Health + Hospitals, criticized Trump's "complete disregard for public health guidance" in an interview with CNBC.
"This is about the rest of the nation. If [Trump's] not going to isolate for that full period when he may be infectious, then, as a doctor, why would we tell other people to do the same? Why should they listen to us when the president of the United States isn't abiding by his own public health measures?" Madad said.
Around three in four people (75 percent) think the Trump administration has not been transparent about the president's health following his COVID diagnosis, according to an online poll conducted by Newsweek.
Dr. Peter Hotez, the dean of the National School of Tropical Medicine at Baylor College of Medicine, told ABC News Thursday: "The White House and coronavirus task force has not been transparent for the entire year. Why would we expect them to be transparent now?"
The wider picture
The novel coronavirus has infected more than 36.5 million people across the globe since it was first reported in Wuhan, China, including over 7.6 million in the U.S. Globally, more than a million have died following infection, while more than 25.4 million have reportedly recovered as of Friday, according to Johns Hopkins University.
The graphic below, produced by Statista, illustrates a survey of U.S. adults concerned about catching COVID-19.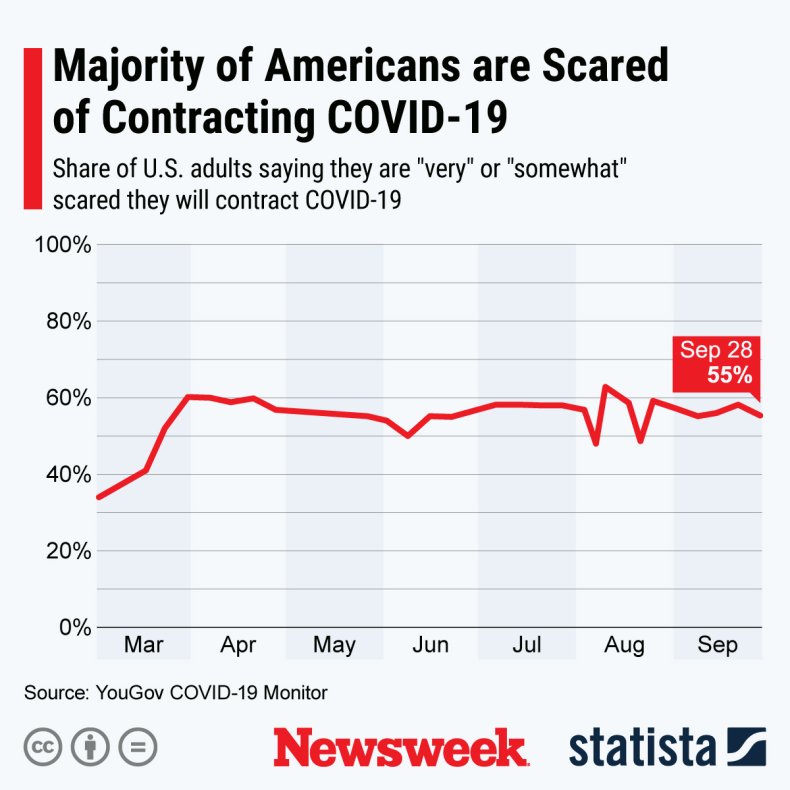 The graphic below, also provided by Statista, illustrates U.S. states with the most COVID-19 cases.