Ivanka Trump, Jared Kushner, Rudy Giuliani and Others Traveled With Hope Hicks Before COVID Diagnosis
In addition to President Donald Trump and Melania Trump, nearly 20 people, including Ivanka Trump, Jared Kushner and Rudy Giuliani, have reportedly traveled with senior Trump adviser Hope Hicks before her COVID-19 diagnosis, according to a screengrab of a list shared on an MSNBC television program.
The list includes several other members of the Trump family, including Donald Trump Jr., Eric Trump and his wife Lara, as well as Tiffany Trump, the president's child with his second wife Marla Maples.
On Wednesday, Kushner (senior adviser to the president and husband of Ivanka Trump), Dan Scavino (the White House deputy chief of staff for communications), Nicholas Luna (assistant to the president and director of Oval Office operations) and Stephen Miller (senior adviser to the president) were pictured walking alongside Hicks to board Marine One.
On Tuesday, Hicks was reportedly seen traveling without wearing a mask in a staff van with Jason Miller (senior adviser to the president) as well as Stephen Miller and other members of staff.
When they arrived in Washington on Tuesday, Stephen Miller and Hicks were reportedly seen sharing an umbrella in the rain as they left Air Force One.
Several other White House officials, including White House press secretary Kayleigh McEnany, White House chief of staff Mark Meadows, Derek Lyons (adviser to the president) and Kimberly Guilfoyle (adviser to the president and the partner of Donald Trump Jr.), have also reportedly traveled with Hicks prior to the announcement of her infection.
Giuliani, the president's personal lawyer and former mayor of New York City, reportedly spent the weekend at the White House preparing for the presidential debate ahead of the event Tuesday.
National Security Advisor Robert O'Brien and Ohio Representative Jim Jordan were also among those who reportedly traveled with Hicks before her diagnosis.
White House deputy press secretary Judd Deere said in a statement: "The president takes the health and safety of himself and everyone who works in support of him and the American people very seriously.
"White House Operations collaborates with the physician to the president and the White House Military Office to ensure all plans and procedures incorporate current CDC [Center for Disease Control and Prevention] guidance and best practices for limiting COVID-19 exposure to the greatest extent possible both on complex and when the president is traveling," he added.
Newsweek has contacted the White House for further comment.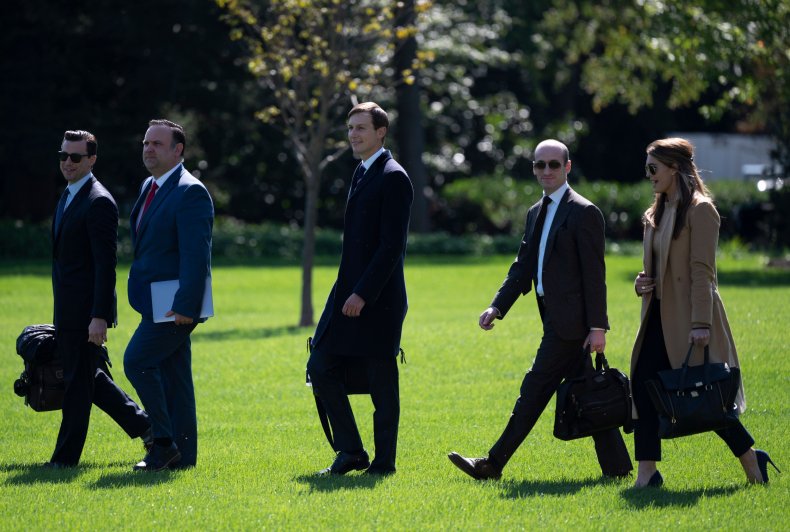 Public figures who recently traveled with Hope Hicks
Source: MSNBC (via Twitter user Acyn Torabi)
Ivanka Trump.
Jared Kushner.
Eric Trump.
Lara Trump.
Tiffany Trump.
Donald Trump Jr.
Kimberly Guilfoyle.
Rudy Giuliani.
Jim Jordan.
Robert O'Brien.
Stephen Miller.
Jason Miller.
Derek Lyons.
Mark Meadows.
Dan Scavino.
Kayleigh McEnany.
Bill Stepien (the president's campaign manager).
Gaby Hurt (White House press assistant).
Alice Marie Johnson (criminal justice reform activist).
The wider picture
The novel coronavirus has infected more than 34.3 million people across the globe since it was first reported in Wuhan, China, including 7.2 million in the U.S. More than a million have died following infection, while more than 23.8 million have reportedly recovered as of Friday, according to Johns Hopkins University.
The graphic below, provided by Statista, illustrates world leaders who have tested positive for COVID-19 so far.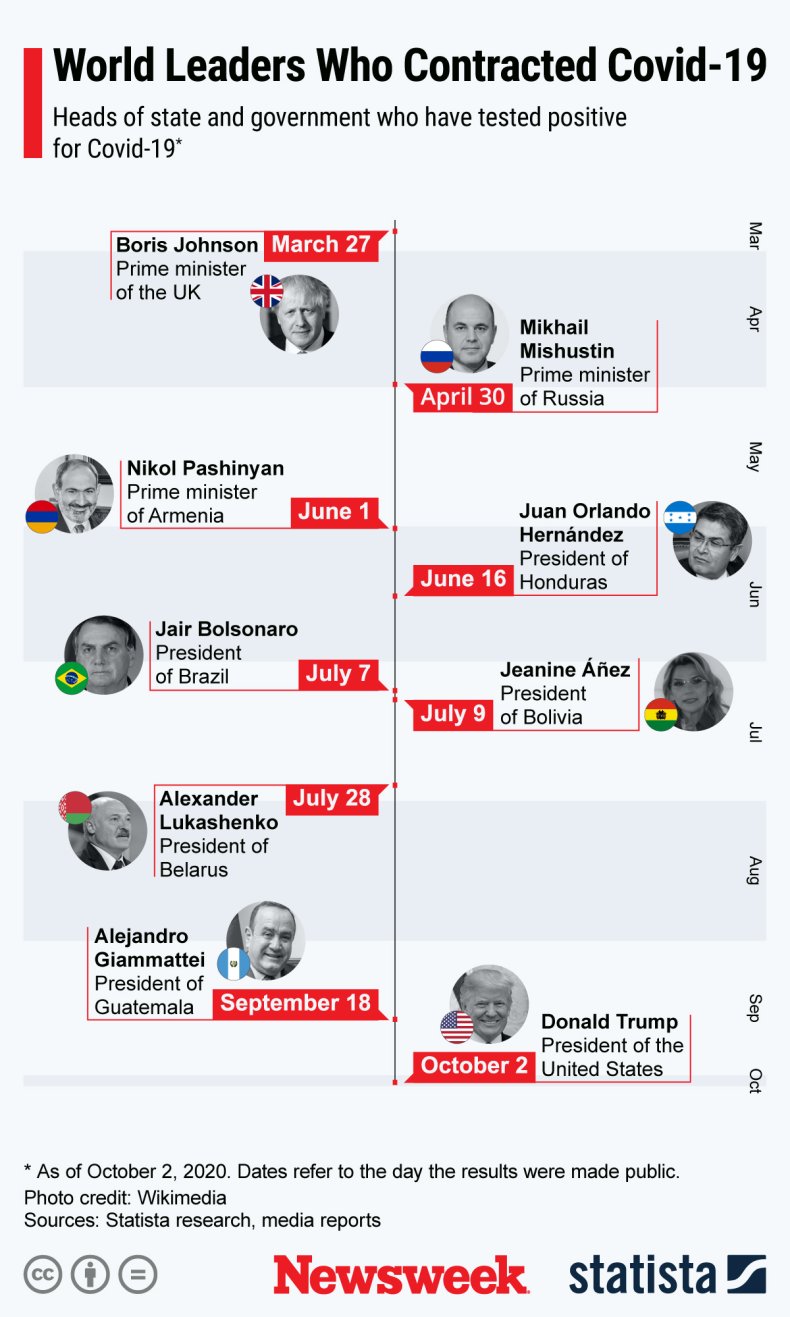 The graphic below, also provided by Statista, illustrates U.S. states with the most COVID-19 cases.