Coronavirus Would Be 'Disastrous' for China's Muslim Concentration Camp Prisoners and the World Might Never Find Out, Uighur Activist Warns
Coronavirus poses a serious risk to millions of inmates in China's Muslim prison camps, where overcrowding and lack of transparency could result in "disastrous" results, according to a Uighur human rights activist.
Jewher Ilham—the daughter of jailed Uighur academic Ilham Tohti—said she is deeply concerned by what she described as China's slow response to the coronavirus outbreak, particularly with regards to the western Xinjiang province where the Communist Party is suppressing majority-Muslim minority groups.
Up to 3 million people are thought to have been detained in the re-education camps there, which critics argue is part of a cultural genocide against the Muslim minority. The Communist Party government claims the camps are voluntary and required to stamp out separatist and Islamist terrorism in the restive province.
Ilham spoke to Newsweek this week from Switzerland, where she was attending the Geneva Summit for Human Rights and Democracy. She warned conditions at the detention centers—described by some as concentration camps—offered the perfect chance for coronavirus to spread.
Former inmates and employees have reported systematic abuse, serious overcrowding and poor sanitary conditions inside the camps, which China maintains are voluntary vocational centers.
"If one person—let's say a prison guard or a concentration camp guard—got infected, it could result in thousands, even millions of people getting infected," Ilham said. "And without medical equipment, medical doctors and treatment, it could be disastrous."
Ilham noted that the overcrowding will undermine hygiene and said she was "sure" prisoners were not being fed adequately. Combined, a significant number of those detained could have "very poor immune systems," she said.
The Muslim re-education camps are shrouded in secrecy. Journalists and officials have been allowed inside, but skeptics have suggested they were presented with a carefully crafted and misleading image of life inside.
China has also been accused of under-reporting the scale of the coronavirus epidemic and the number of those infected and dead. Ilham suggested that even if the virus took hold in one or more of the prison camps, the world may never find out.
Ilham told Newsweek it is a "huge concern" that China may try and hide news of coronavirus in its prison camps. "We do know that the numbers are probably way higher than what has been reported," she added of the national situation.
A total of 73,337 people worldwide have so far been infected by coronavirus, of whom 1,875 have died, according to the Johns Hopkins University coronavirus tracker. The vast majority of infections and deaths have been in mainland China. The Statista infrographic below shows the rate of recorded infections since January.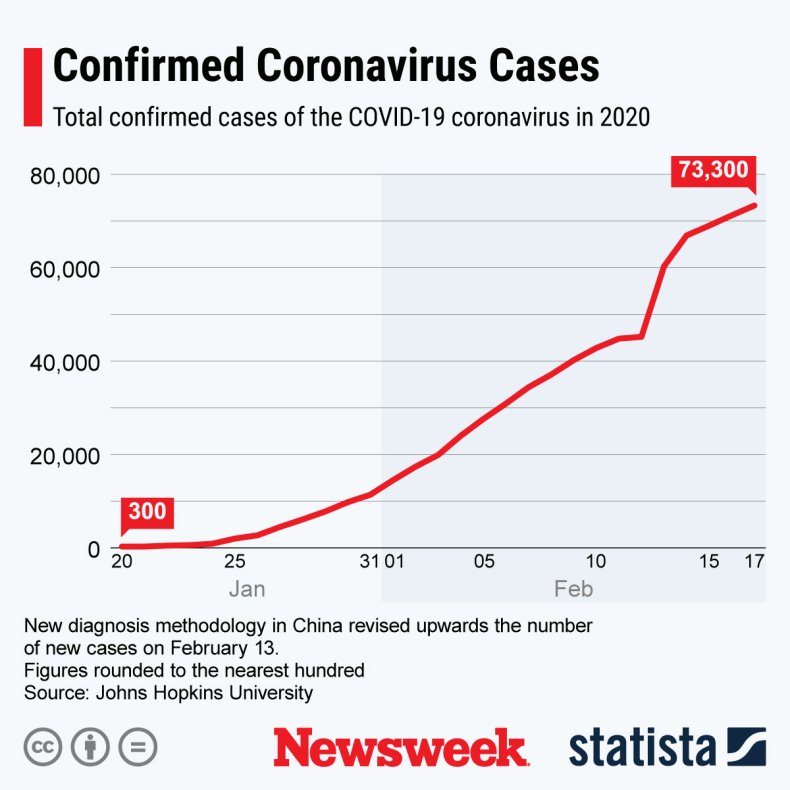 The tracker has recorded 76 infections in Xinjiang and one death, as well as 12 people who have been infected and recovered. The province is more than a thousand miles from Wuhan province where the epidemic began, but Ilham said that thousands of people flew into the regional capital Urumqi before the government began grounding flights to slow the outbreak.
Families of those detained in the camps have already raised concerns that coronavirus could take hold there. The World Uyghur Congress is one of the groups representing Uighurs abroad. Its president Dolkun Isa said that prisoners "are in a vulnerable and weakened state due to the Chinese government's abuses and mistreatment."
Ilham said she hoped that the United Nations or specific nations will be able to send delegations to Urumqi and wider Xinjiang to evaluate the spread of the epidemic and ensure treatment reaches those who need it.
Newsweek has contacted China's National Health Commission to enquire about measures taken to guard the camps against coronavirus.
When asked for comment, the Chinese embassy in Washington directed Newsweek to remarks made by a Xinjiang government spokesperson on Monday. The statement dismissed "fabrications and slander" about possible coronavirus in the camps.
The spokesperson said that all of the "trainees" from Xinjiang's "deradicalization institutions" have "graduated," meaning any suggestion of large-scale infection is "utterly ridiculous."
The spokesperson added that the government has taken "a highly responsible and transparent attitude" to disclosing information about the outbreak.
This article has been updated to include an infographic.