Coronavirus Update, Map As More Than 4,000 People Infected Outside China in Over 50 Countries
Fears over the rapid spread of the COVID-19 coronavirus have been growing, with California reportedly monitoring around 8,400 people after the first possible case of person-to-person transmission of unknown origin was confirmed this week.
Cases have been confirmed in at least 10 new countries as of Friday, including New Zealand, the Netherlands and Nigeria, as the death toll climbed to more than 2,850 across the globe.
The deadly virus, which was first identified in China's Wuhan city in Hubei province, has now infected nearly 84,000 people across more than 50 countries, including more than 4,000 people outside China, according to the latest figures from Johns Hopkins University.
For the first time since the outbreak of the virus, the number of new cases reported outside China has surpassed the number of new cases within the country, with at least 746 reported outside China, while 439 new cases have been recorded within, according to a February 27 report by the World Health Organization.
Some countries have taken drastic measures to prevent the virus from spreading. This includes banning the entry of travelers from countries most affected by the outbreak such as South Korea, which now has the highest number of cases outside of China, with nearly 2,400 infected patients.
The Royal Caribbean cruise company is rejecting travelers from South Korea, China, Hong Kong, Macau, and Italy, while Japan, Singapore and the Philippines are also banning travelers from South Korea.
Several nations in the Middle East, where Iran has seen 26 deaths from the virus (the highest outside China so far), have also taken heightened precautionary measures. This week Saudi Arabia banned all pilgrimages to the cities of Mecca and Medina, two of Islam's holiest sites, in a bid to prevent the virus from entering the country.
WHO issued a set of temporary recommendations after the virus was declared a public health emergency in January. But the body "did not recommend any travel or trade restriction based on the current information available."
"Tourism's response needs to be measured and consistent, proportionate to the public health threat and based on local risk assessment, involving every part of the tourism value chain – public bodies, private companies and tourists, in line with WHO's overall guidance and recommendations," WHO said in a statement on Thursday.
"UNWTO [UN World Tourism Organization] and WHO stand ready to work closely with all those communities and countries affected by the current health emergency, to build for a better and more resilient future. Travel restrictions going beyond these may cause unnecessary interference with international traffic, including negative repercussions on the tourism sector," it added.
Despite the sudden spike in outbreaks in different regions, WHO has not declared the virus a pandemic.
"For the moment, we are not witnessing sustained and intensive community transmission of this virus, and we are not witnessing large-scale severe disease or death," WHO director-general Tedros Adhanom Ghebreyesus said at a WHO weekly mission briefing on Wednesday.
"Using the word pandemic carelessly has no tangible benefit, but it does have significant risk in terms of amplifying unnecessary and unjustified fear and stigma, and paralyzing systems," he added.
More than half of U.S. coronavirus cases are in California
California confirmed 33 patients tested positive for the virus and the state is monitoring at least 8,400 others, California's governor Gavin Newsom said at a press briefing on Thursday.
The U.S. Centers for Disease Control and Prevention (CDC) confirmed there are around 60 cases confirmed in the U.S., 42 of which were passengers on board the Diamond Princess, the cruise ship which was quarantined off the coast of Japan for two weeks after a passenger from Hong Kong was diagnosed earlier this month.
"We are currently in deep partnership with CDC on one overriding protocol that drives our principal focus right now and that's testing, and the importance to increase our testing protocols and to have point of contact diagnostic testing as our top priority not just in the state of California but I imagine all across the United States," Newsom said at the press conference.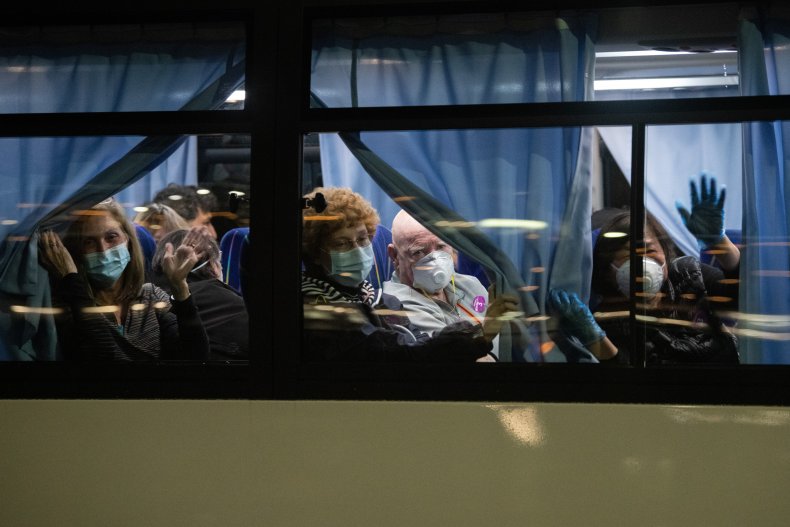 The state was said to be conducting a "deep tracking and tracing" of anyone who may have come into contact with the latest infected patient this week, who had no known exposure to the virus via close contact with an infected person or from traveling. The case was reported to be the first possible indication of a community spread of the virus where the source of the infection is unknown, the California Department of Public Health (CDPH) said.
The latest patient, who is being treated in Sacramento County, was reported to be in serious condition, according to Representative John Garamendi, who represents the California district where the patient is from.
"Whether this person can actually talk or not is of question. She's been intubated, and so may not be in a position to discuss it," he told CNN.
"This is a fluid situation right now and I want to emphasize the risk to the American public remains low," Dr. Sonia Y. Angell, the director of the CDPH and the state's health officer, said at a press conference. "There have been a limited number of confirmed cases to date," she added.
The virus spreads to 10 new countries
New cases of the virus have been reported in at least 10 additional countries, including New Zealand, the Netherlands and Nigeria.
New Zealand became the 48th country to be affected by the outbreak, the country's ministry of health confirmed in a statement on Friday.
The infected patient was reported to be in their 60s and had recently returned from Iran on a flight with Emirates (Flight EK450) via Bali, arriving in Auckland on February 26.
"The patient confirmed with COVID-19 is being treated in Auckland City Hospital. They are in an improving condition in isolation, in a negative pressure room to prevent any spread of the disease.
"Contact tracing has started and close contacts are in isolation. Other close family contacts will also now be tested for COVID-19," the ministry said in the statement.
"Although we have our first case of COVID-19, the chances of community outbreak remain low.
"The Ministry of Health is confident the public risk from this new infection is being well managed because of the public messaging, awareness of COVID-19 disease and our public health response to managing cases and contacts," the ministry said.
Nigeria has also reported its first infection, becoming the first case in sub-Saharan Africa.
The patient, an Italian national working in Nigeria who had flown from Milan to Lagos on February 25, was reported to be in stable condition, with no serious symptoms, at the Infectious Disease Hospital in Lagos, the BBC reports.
"We have already started working to identify all the contacts of the patient, since he entered Nigeria," the Nigeria Centre for Disease Control said in a statement.
Two South African nationals aboard a cruise ship in Japan were also reported to have tested positive for the virus, according to South Africa's ministry of health, while Egypt and Algeria previously reported cases.
Kenya has seen a public outcry after China's Southern Airlines resumed flights to Nairobi amid the growing outbreak.
WHO recently warned that the continent's "fragile health systems" meant the threat posed by the virus was "considerable" in Africa, the BBC reports.
Lithuania, Belarus, Denmark, Estonia, Romania and Pakistan also reported their first infections in the last 24 hours or so.
Italy, Europe's worst-hit country, has now reported a total of 655 cases, an increase of more than 200 within a day, with a death toll of 17. Other popular European destinations continue to report more cases, including Germany, which has 48 cases, while France has 38 and Spain has 25 confirmed cases, according to the latest figures from Johns Hopkins University.
South Korea faces more travel bans, Japan weighs Olympics
Confirmed cases in South Korea have climbed to 2,337, most of which have been linked to members of a religious group known as the Shincheonji Church of Jesus, the Temple of the Tabernacle of the Testimony (SCJ). The secretive group holds services in large masses with members sitting on the floor in close proximity for periods of one to two hours.
Vietnam will suspend visa-free travel for South Koreans from Saturday, while Russia is planning to restrict the entry of South Koreans (and ban the entry of Iranians) from March 1.
Disney theme parks in Asia have been temporarily shut in view of the growing outbreak. Japan's Disneyland Tokyo will be closed until March 15, while all schools in Japan (which has confirmed 226 cases so far) will be closed from March 2 until the next spring break session later that month, Japanese Prime Minister Abe Shinzo confirmed.
Japan is due to host the 2020 Olympics this summer in July and fears over the virus have cast doubts over whether the games will go ahead.
Olympic organizers are scheduled to decide on the ceremonial torch relay, which is due to begin in the country on March 20 for a 121-day journey through the country's landmarks, Reuters reports.
The graphic below, provided by Statista, illustrates the spread of the COVID-19 virus as of February 28.