Over 50,000 People Have Recovered From Coronavirus Around the World, According to Johns Hopkins
As cases of the new coronavirus continue to climb, so have instances of recovery, and a tracker maintained by Johns Hopkins University reported that more than 50,000 people have recovered.
More than 94,000 people have become infected with the coronavirus, which causes the disease COVID-19, since it was first identified in December. With the increased spread, case counts and deaths, public concern has driven people to hoard supplies. But health officials maintain that the threat of contracting the virus and the chances of coming down with the disease remain low for the average person.
As of Wednesday morning, the Johns Hopkins tracker showed 94,225 cases of the virus in 73 countries. Of those cases, 51,026 people recovered from the virus, including 49,856 in mainland China.
Outside of China, where the virus originated and has taken the biggest toll, large outbreaks have been seen in Italy and Iran. The outbreaks prompted the World Health Organization (WHO) to send experts into the infected areas, and on Saturday, Vice President Mike Pence announced that, in light of the outbreaks, the U.S. was barring foreign nationals from entering America if they have visited Iran within 14 days.
In Iran, there have been 2,922 confirmed cases and 92 deaths, while 552 people have recovered.
The U.S. also increased travel warnings to a Level 4 advisory (meaning do not travel) for the Italian regions of Lombardy and Veneto because of the outbreak. The rest of the country was under a Level 3 advisory, meaning Americans should reconsider travel, and of the 2,502 cases in Italy, 79 people have died and 160 have recovered.
News of the virus has already lowered travel demands, causing airlines to reduce flights, and prompted runs on stores for protective supplies, such as face masks and hand sanitizer. From the outset, health officials have sought to strike a balance between stressing the importance of taking the outbreak seriously and accurately conveying the threat the virus poses to the public.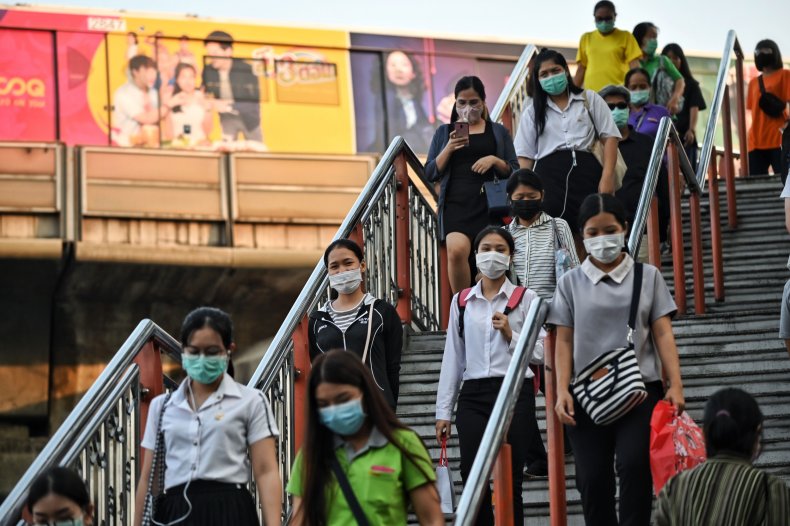 On Tuesday, WHO Director-General Tedros Adhanom Ghebreyesus acknowledged that fear was a "natural human response" to any threat and that the mortality rate for the new coronavirus was higher than that for the flu. This was not a reason to hoard supplies, though, and Ghebreyesus said people misusing protective equipment, such as healthy people wearing face masks, compromises countries' abilities to respond to the outbreak.
"Shortages are leaving doctors, nurses and other health care workers dangerously ill-equipped to care for COVID-19 patients," Ghebreyesus said.
A report from the WHO-China Joint Mission, a group of 25 international experts that studied the virus in China, noted that 80 percent of laboratory-confirmed cases have had mild to moderate disease. Only about 14 percent of cases had severe disease, and 6.1 percent were critical.
In America, there have been 126 cases, including 48 people who were repatriated from the Diamond Princess cruise ship and from Wuhan, China, the epicenter of the outbreak. Of those people, nine have died, all in Washington state.
Six of the cases include people in their 70s or 80s, three of whom had underlying health conditions, according to the King County Public Health Department. Two deaths involved men in their 50s, one of whom had underlying health conditions.
One man in his 40s—whom the Snohomish Health District in Everett, Washington, said had no underlying lying health conditions—also passed away after testing positive for the virus.
On Saturday, after the first U.S. death was reported, Dr. Anthony Fauci, director of the National Institute of Allergy and Infectious Disease, told reporters during a press conference that "for the most part" people who require severe medical care or die from the virus are those who are elderly or have underlying conditions.
"However, every once in a while you're going to see a 25-year-old person, who looks otherwise well, that's going to get seriously ill. But the vast majority of people who get into trouble do have these underlying conditions," Fauci said.