More Than 40,000 Americans Have Now Recovered From Coronavirus
More than 41,000 people in America have recovered from the coronavirus that has prompted states nationwide to close businesses and restrict social gatherings.
As the United States looks toward the end of President Donald Trump's 30-day plan to slow the spread of the outbreak, recovered patients could be key to reopening the country. Based on how previous viruses have behaved, officials believe those who have recovered will have at least some immunity, meaning their return to daily life may be less likely to fuel an outbreak.
The United States has had the largest outbreak worldwide and more than 2,816,000 people have been tested. Of those people, 557,500 had positive test results and 22,109 died, according to the Johns Hopkins University tracker. As of Monday, 41,831 people in America were deemed "recovered," according to the tracker. Worldwide, 440,699 people have recovered, the tracker reported.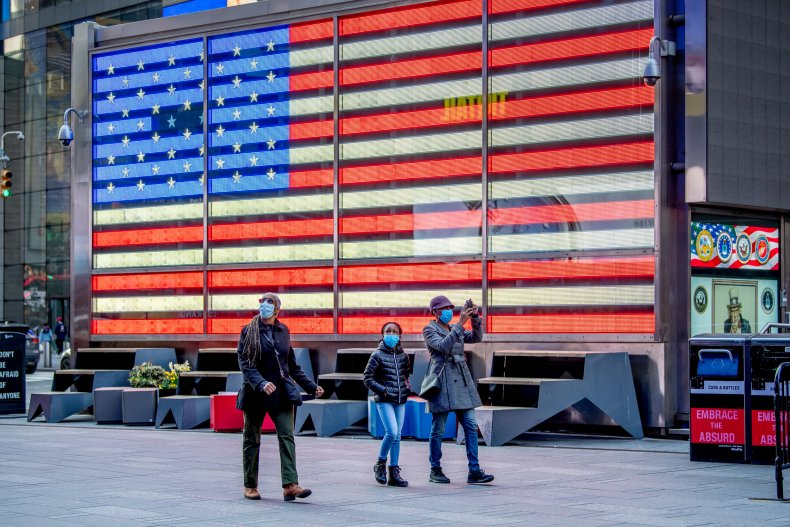 Significant studies have not been conducted to determine immunity levels. Dr. Anthony Fauci, director of the National Institute of Allergy and Infectious Diseases, told the Journal of the American Medical Association (JAMA) that it's reasonable to assume a person who was infected in February or March would be protected in September or October.
"Those are the people you worry less about driving an outbreak than those who are in fact, antibody-negative and very likely have never been exposed," he told JAMA. "So you really want to get a good feel from a countrywide where we are."
Last Thursday, Vice President Mike Pence said America was working to scale up surveillance testing to identify people who may have had the virus and recovered without showing symptoms or having such mild symptoms they didn't get tested.
South Korea has reported cases of people testing positive for the virus after being cleared. This raised concerns that people who have already recovered wouldn't be protected if there was a second wave, as officials have predicted.
They're conducting a comprehensive study, but Jeong Eun-kyeong, director-general of the Korean Centers for Disease Control and Prevention, said officials are putting more weight in reactivation, rather than reinfection.
Dr. Gregory Poland of the Mayo Clinic told ABC News it's also possible a person could develop partial or weak immunity that doesn't eliminate the risk of reinfection but protects them from severe disease.
Without comprehensive studies, no one can be 100% certain, but Fauci told The Daily Show host Trevor Noah that he'd "be willing to bet anything that people who recover are really protected against reinfection."