Coronavirus Update: China Reports Only One New Domestic Case As 185,000 Cases, 7,300 Deaths Confirmed Worldwide and 80,000 Have Recovered
The coronavirus pandemic has reached at least 155 countries, with more than 185,000 known cases and 7,300 related deaths. Around 80,200 have recovered, according to the latest figures from Johns Hopkins University.
The total number of cases in the U.S. has surpassed 4,600, with at least 85 deaths. Cases continue to soar in Italy, where nearly 28,000 infections have been reported and more than 2,100 people have died.
New infections have been reported in at least four countries across Africa, Europe and the Americas in the past two days, according to the latest report by World Health Organization (WHO).
Brazil and Chile have started to see a surge in cases in recent days, with Brazil reporting a jump from 121 on Saturday to 234 confirmed cases on Sunday. Chile also climbed from 61 cases on Saturday to 156 infections on Tuesday, according to figures from the Americas Society and Council of the Americas.
Spain, Italy and Iran have surpassed South Korea in having the most confirmed cases outside China. The virus spread has prompted various travel bans in different parts of the world.
WHO urges "test every suspected case"
As the world battles the growing number of cases and deaths, the WHO has urged countries to test all people suspected of being infected.
WHO Director-General Dr. Tedros Adhanom Ghebreyesus, said on Monday at media briefing: "As I keep saying, all countries must take a comprehensive approach. But the most effective way to prevent infections and save lives is breaking the chains of transmission. And to do that, you must test and isolate.
"You cannot fight a fire blindfolded. And we cannot stop this pandemic if we don't know who is infected. We have a simple message for all countries: test, test, test. Test every suspected case," he said.
He confirmed that WHO has sent out nearly 1.5 million tests to 120 countries and that the spread cannot be contained if people are not tested.
"WHO advises that all confirmed cases, even mild cases, should be isolated in health facilities, to prevent transmission and provide adequate care," he added.
China sees only one new domestic case
The spread of the virus has significantly slowed down in China, which on Tuesday reported only one new domestic infection, while 20 other new cases in the country were said to be imported, according to Agence-France-Presse (AFP).
Wuhan, where the latest domestic case has been reported, was placed in lockdown in January in the wake of the outbreak, while the rest of the Hubei province did the same just days after. Stricter quarantines were issued by early February, confining residents to their homes, which health officials believe was a vital measure that helped contain the spread.
At least nine of the 20 new imported cases are in Beijing, the Chinese capital, where all travelers arriving from abroad are now required to be quarantined for 14 days at designated hotels.
Shanghai, where three new imported cases have been reported, has also introduced a 14-day mandatory quarantine from Tuesday for travelers coming from 16 countries, including the U.S., Australia and various European nations. The travelers may be quarantined either at home or at designated locations.
The graphic below, provided by Statista, illustrates the spread of the COVID-19 virus across the world, as of March 17.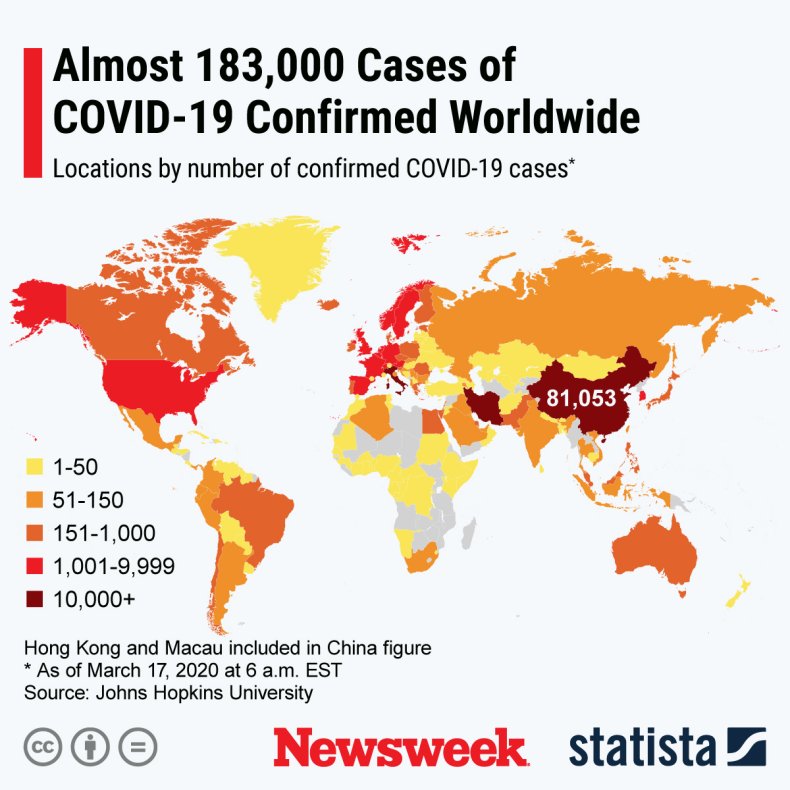 Americans told to avoid groups of more than 10, death toll nears 90
As the U.S. death toll climbs, President Donald Trump on Monday issued stricter guidelines to be followed for the next 15 days, as part of the country's continued efforts to contain the spread.
The new guidelines advise Americans to avoid social gatherings of more than 10 people as well as eating and drinking at bars and restaurants, to "avoid discretionary travel, shopping trips and social visits," and tell people not to visit nursing homes or other long-term care facilities, among other precautions.
"Even if you are young and otherwise healthy, you are at risk—and your activities can increase the risk of contracting the Coronavirus for others," the White House said in a statement.
"The reason we're taking these strong and bold steps is because we know there is virus spread before you develop symptoms, and then we know that there's a large group—we don't know the precise percent yet—that actually is asymptomatic or has such mild cases that they continue to spread the virus. If your children are sick, please keep them home," Dr. Deborah Birx said at the briefing.
"These guidelines are very specific. They're very detailed. They will only work if every American takes this together to heart and responds as one nation and one people to stop the spread of this virus."
Meanwhile, the first vaccine trial on humans began in Seattle, Washington on Monday. Developed by scientists from the U.S. National Institutes of Health (NIH) scientists, in collaboration with Massachusetts-based biotechnology company Moderna, the vaccine will be tested in 45 healthy adults over six weeks. It is expected to take at least a year to 18 months for the vaccine to be available for the public, following more trials and safety approvals, AFP reports.
Europe to close borders
The European Commission is aiming to suspend all non-essential travel between nations within the Schengen Area, where currently travelers can enjoy visa-free travel within 22 European Union (EU) countries as well as Iceland, Norway, Switzerland and Lichtenstein.
"The less travel, the more we can contain the virus," noted European Commission President Ursula von der Leye, who will ask the measures to be implemented from Tuesday.
The travel ban will not apply to EU nationals, long-term residents and diplomats but may be extended to travelers from non-Schengen EU countries such as the U.K.
Germany has already begun shutting its borders, limiting travel at the borders with France, Austria, Switzerland and Luxembourg to work commuters and goods. Various social venues, including bars, restaurants and playgrounds, in the country have also been closed. Germany has reported around 7,000 cases.
German Chancellor Angel Merkel said at a news conference: "The better everyone sticks to these rules, the faster we'll get through this phase."
France, which has reported 75 deaths among its more than 6,600 cases, is also imposing stricter rules. The government has deployed 100,000 members of the police to enforce a lockdown in the country from Tuesday.
Residents have been told to "stay home" and to only travel for work, to buy groceries or for medical services. Those who violate the restrictions will be fined up to 135 euros, according to the country's interior minister Christophe Castaner.
French President Emmanuel Macron noted in a televised address on Monday: "Concretely, all trips between non-European countries and EU countries will be suspended. I know what I am asking of you is unprecedented but circumstances demand it."
Nearly 250,000 could die in the U.K.
British Prime Minister Boris Johnson said at a press conference on Monday that "drastic action" was needed as the U.K. approaches "the fast growth part of the upward curve."
Even if the peak of the spread is lowered, around 250,000 could die from the virus which was predicted to become a "catastrophic epidemic," according to a study by Imperial College London. While nearly 1,500 have tested positive, the government has warned there may be up to 50,000 people who are actually infected.
As part of the country's new strategy to combat the outbreak, the government introduced new guidance for social distancing amid the outbreak, including for households with possible infection.
"The new guidance will set out that individuals will still be asked to self-isolate for 7 days from the onset of COVID-19 symptoms but any individuals in the household will now be asked to self-isolate for 14 days from that moment as well.
"If other members of your household develop symptoms, however mild, at any time during the 14 days, they must not leave the home for 7 days from when symptoms started," the government said in a statement.
Other measures advised working from home as much as possible, avoiding all crowded areas, such as pubs, clubs, theatres or other social venues, and refraining from all "unnecessary" visits to friends and family, especially in care homes.
The graphic below, provided by Statista, illustrates the recovery curve compared to the infection curve of the virus.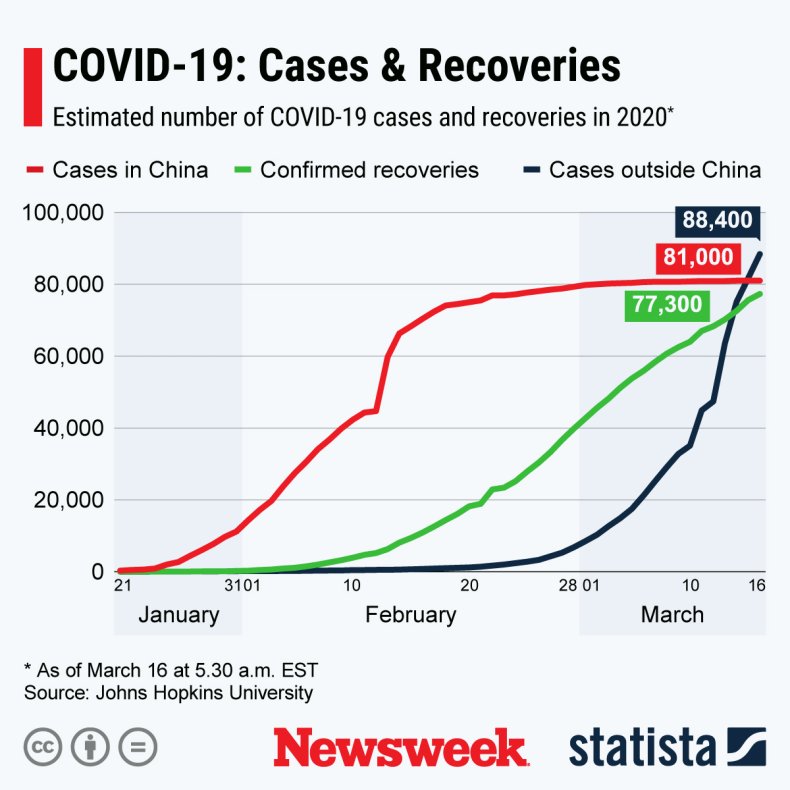 South Korea tightens border checks
The spread of the virus has also slowed down in South Korea, which has reported 84 new cases and two new deaths on Tuesday, according to the Korea Centers for Disease Control (KCDC), which marks its third consecutive day of having fewer than 100 new infections. The latest figure is a significant drop from the more than 500 daily new cases it reported in earlier weeks.
In a bid to prevent a spike in cases, South Korea is also introducing tighter border checks for all travelers from abroad from this Thursday.
South Korean vice health minister Kim Gang-lip said at a briefing: "We've assessed that there's a need for universal special entry procedures for all arrivals, given rapid increases in new cases not only in Europe but also in the United States and Asia in the wake of the pandemic."
The country's capital, Seoul, already requires travelers coming from China, Italy and Iran to sign onto a smartphone application to be tracked for symptoms including a fever.
Iran sees highest death toll in a day
Iran has the third most deaths outside China, with 129 new fatalities reported on Monday, bringing the total to at least 853 and total confirmed cases to nearly 15,000, according to the latest figures from Johns Hopkins University.
The country has urged residents to remain at home to help curb the spread. Iranian President Hassan Rouhani said, according to Reuters: "Based on the figures, we have passed the peak of the outbreak, but I still suggest people stay at home, and in case of urgency, observe all health protocols."
Several senior officials, politicians and members of religious groups in Iran have been infected, including two from a clerical body who have died, Reuters reports.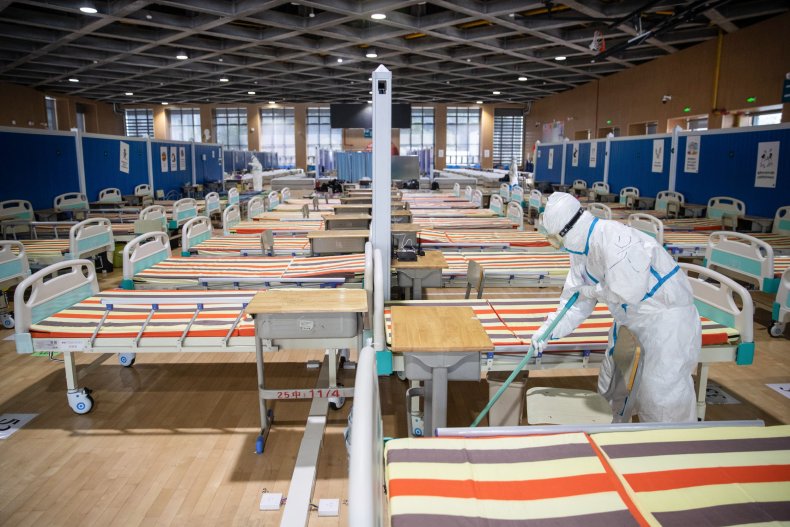 World Health Organization advice for avoiding spread of coronavirus disease (COVID-19)
Hygiene advice
Clean hands frequently with soap and water, or alcohol-based hand rub.
Wash hands after coughing or sneezing; when caring for the sick; before; during and after food preparation; before eating; after using the toilet; when hands are visibly dirty; and after handling animals or waste.
Maintain at least 1 meter (3 feet) distance from anyone who is coughing or sneezing.
Avoid touching your hands, nose and mouth. Do not spit in public.
Cover your mouth and nose with a tissue or bent elbow when coughing or sneezing. Discard the tissue immediately and clean your hands.
Medical advice
If you feel unwell (fever, cough, difficulty breathing) seek medical care early and call local health authorities in advance.
Stay up to date on COVID-19 developments issued by health authorities and follow their guidance.
Mask usage
Healthy individuals only need to wear a mask if taking care of a sick person.
Wear a mask if you are coughing or sneezing. Masks are effective when used in combination with frequent hand cleaning.
Do not touch the mask while wearing it. Clean hands if you touch the mask.
Learn how to properly put on, remove and dispose of masks. Clean hands after disposing of the mask.
Do not reuse single-use masks.