American Among Those Testing Positive for Coronavirus on Quarantined Cruise Ship
At least 10 people, including one from the U.S., have tested positive for the coronavirus after more than 3,700 people were quarantined aboard a Princess Cruises cruise ship in Japan. All passengers and crew members are required to remain on board for at least another 14 days from Wednesday, the cruise company confirmed to Newsweek.
A total of 2,666 guests and 1,045 staff members have been quarantined since Monday on the Diamond Princess off the coast of Yokohama, a port city just south of Tokyo, after an elderly passenger from Hong Kong tested positive for the coronavirus on February 1, six days after disembarking the ship.
The deadly virus, which was first identified in Wuhan in the Hubei province of China, has claimed the lives of at least 426 people, with 159 cases confirmed in 23 countries outside China, according to the latest report on Tuesday by the World Health Organization. The health group declared the virus a global public health emergency last week, with at least 20,630 cases confirmed globally so far.
Speaking to Newsweek, a spokesperson for Princess Cruises said: "The first phase of health screening of all guests and crew onboard Diamond Princess, by the Japanese Ministry of Health[, Labour and Welfare], has been completed. We were notified that amongst the samples that have completed testing, 10 people have tested positive for [the] coronavirus."
The infected passengers include "two Australian guests, three Japanese guests, three guests from Hong Kong, and one guest from the U.S., in addition to one Filipino crew member." Around half of the passengers are from Japan, the spokesperson confirmed.
"These 10 persons, who have been notified, will be taken ashore by Japanese Coast Guard watercraft and transported to local hospitals for care by shoreside Japanese medical professionals. It has been confirmed that the ship will remain under quarantine in Yokohama. The length of the quarantine will be at least 14 days as required by the Ministry of Health," the spokesperson said.
The 10 infected guests, aged between around 50 and 80, were not said to be showing any severe symptoms, Japanese Minister of Health, Labour and Welfare Katsunobu Kato said at a press conference.
A total of 276 people who had close contact with the previously infected passenger from Hong Kong were tested for the virus. The results for 31 of these tests have come back so far.
It has yet to be determined how many more people on the ship need to be tested and whether there are additional people who have tested positive for the coronavirus other than the 10 currently identified.
Princess Cruises has canceled its next two Diamond Princess cruises, departing Yokohama on February 4 and February 12. The company will begin notifying guests on Wednesday, the spokesperson said.
Passengers aboard the Diamond Princess will continue to be provided with complimentary internet and telephone access. "The ship plans to go out to sea to perform normal marine operations including, but not limited to, the production of freshwater and ballast operations before proceeding alongside in Yokohama where food, provisions, and other supplies will be brought on board," the spokesperson confirmed to Newsweek.
"Princess Cruises will continue to fully cooperate with and follow the instructions of global medical authorities and the Japanese government," the spokesperson added.
There have been at least 20 cases of the coronavirus confirmed in Japan so far, and 17 of these patients had traveled to Wuhan. Japan has currently banned the entry of any foreign nationals who have been to Hubei in the last two weeks.
On Tuesday, more than 1,800 passengers and crew members on the World Dream cruise ship from Dream Cruises were reported to be undergoing tests for the coronavirus after various crew members reported having a fever and other symptoms.
Authorities were reported to not be letting anyone disembark the ship without permission and it has yet to be determined how long the quarantine will be in effect.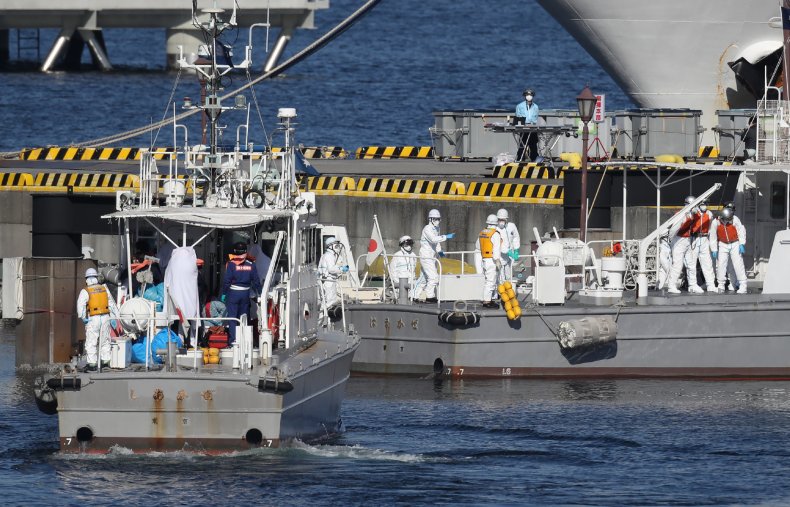 Around 90 percent of the passengers were said to be from Hong Kong and no one from mainland China was said to be on the ship, according to Hong Kong's Department of Health.
The cruise ship visited Taiwan's Keelung port and was denied entry to the port of Kaohsiung in Taiwan on Tuesday.
Last week, around 6,000 people were quarantined on a cruise ship in the Italian port of Civitavecchia, about 44 miles northwest of Rome, after two passengers were suspected of having the coronavirus.