Coronavirus Update, Map As Cases Pass 860,000, Record New Deaths in France, Spain and the U.K.
The coronavirus has spread to over 862,000 people in more than 180 countries and regions. More than 178,800 people have recovered, while more than 42,300 have died, according to the latest figures from Johns Hopkins University. Cases continue to soar in the U.S., the epicenter of the outbreak, where over 189,600 infections have been confirmed.
China, where the virus was first detected in the city of Wuhan, has seen nearly 90 percent of its nearly 83,000 infected population recover, while over 3,200 have died. More cases are reported outside China than within but the country has seen an increase in imported cases.
UK, France, Spain record highest daily death tolls
A record number of new deaths in a day were reported in the U.K., Spain and France.
Spain's health ministry confirmed the country saw an increase of 849 deaths on Tuesday. Its current death count stands at 8,464, as of Wednesday. The number of confirmed cases jumped by nearly 11 percent to 94,417 on Tuesday, following 9,222 new positive cases, the health ministry confirmed.
"It's true that today we have a slight increase in the number of cases," said Maria Jose Sierra, Spain's deputy health emergency chief. She noted Spain's general downward trend of new cases "is continuing," France24 reports.
France saw its death toll rise by 499 on Tuesday, bringing its total death count to 3,542, as of Wednesday, overtaking that of China's.
France's Director-General of Health, Jérôme Salomon, confirmed 5,565 people were in a serious condition and needing life support. The figure was up by 9 percent on Monday but the rate of increase was slightly slower than previous days, France24 reports.
The U.K. also reported a record 381 deaths in a day, which the Minister for the Cabinet Office, Michael Gove, described as "deeply shocking, disturbing, moving," at a press conference on Tuesday. The latest jump brings the death toll to 1,789.
The latest fatalities include the country's youngest reported death, that of a 13-year-old boy in London, King's College hospital confirmed in a statement. The boy reportedly had no underlying health conditions.
The medical director of National Health Service (NHS) England, Stephen Powis, also noted there had been a "bit of a plateau" in the number of positive cases, a sign that the latest mitigation efforts in the country may be working. But he warned the latest signs of a slowing spread were "only green shoots and we must not be complacent and we must not take our foot off the pedal," he said at the press conference.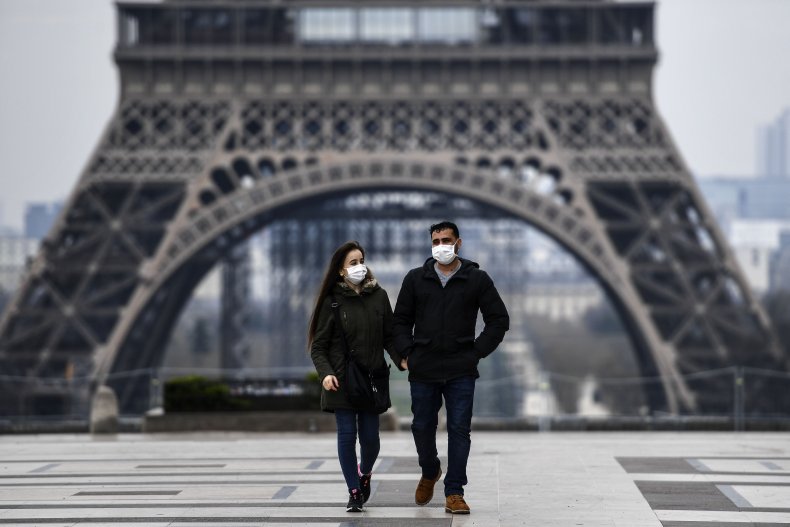 U.S. projects 100,000 to 240,000 deaths
Between 100,000 and 240,000 Americans are projected to die from the virus, even if current social distancing measures are maintained, as fatalities peak over the next two weeks, White House officials confirmed at a press briefing on Tuesday.
The figure was lower than the original projection of 1.5 million to 2.2 million deaths in the U.S., which would be the case if no mitigation measures were taken, according to Dr. Deborah Birx, a physician and medical expert on the COVID-19 virus task force led by Vice President Mike Pence.
The director of the National Institute of Allergy and Infectious Diseases (NIAID), Dr. Anthony Fauci, who is also a member of the COVID-19 task force, said: "As sobering a number as that is, we should be prepared for it."
"We have to brace ourselves. In the next several days to a week or so we are going to continue to see things go up. We can not be discouraged by that because the mitigation is actually working and will work," he noted at the press briefing.
Birx stressed the critical role social distancing practices will play especially in states where cases have yet to spike as they have in New York.
Fauci added: "This is a number that we need to anticipate, but we don't necessarily have to accept it as being inevitable," and urged Americans to step up their mitigation efforts.
"This is going to be one of the roughest two or three weeks we've ever had in our country," Trump said at the briefing. "I wanted as few as a number of people to die as possible. And that's all we're working on."
The graphic below, provided by Statista, illustrates the spread of COVID-19 across the U.S.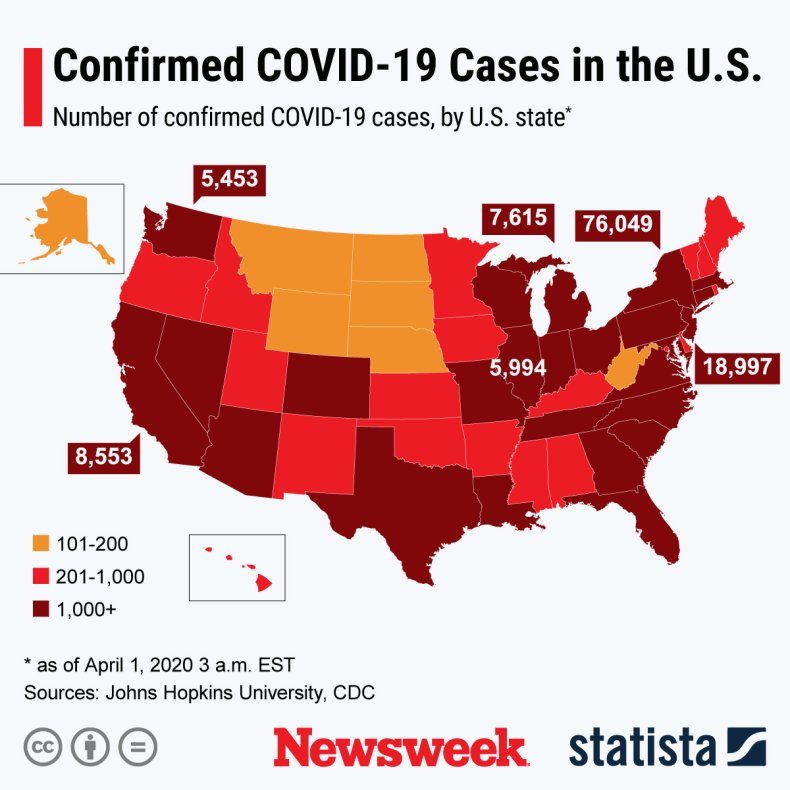 China accounts for asymptomatic cases, as imported infections rise
From Wednesday, China's National Health Commission (NHC) announced it would be releasing official data on the number of asymptomatic cases in the country in a bid to quell fears over the possibility of those showing no symptoms spreading the virus without realizing it.
Concerns were raised recently over the potential spread of infections through asymptomatic cases, which were previously considered low risk cases and not counted in official figures. Last week a woman in Henan province was infected after being in contact with a local doctor who was reported to be an asymptomatic case.
The NHC confirmed all asymptomatic patients would be quarantined for 14 days and they would not be released until they test negative on two tests 24 hours apart, as an added precautionary measure.
China reported at least 1,367 asymptomatic cases were under observation on Tuesday. The NHC also reported 36 new imported cases on Tuesday, bringing its total imported infections to 806, while one new domestic case was detected in the Guangdong province of southeast China, Reuters reports.
More than half of infected in South Korea have recovered
At least 5,567 patients in South Korea, more than half of its confirmed infected population of 9,887 people, have now recovered. South Korea has reported 165 deaths to date.
The outbreak devastated the country as it previously reported more than 500 new cases on a daily basis for an extended period, reaching 909 new cases back in February. But the spread has dramatically slowed down in the past few weeks and leveled off around early March.
The country's success in containing the spread was said to be a combination of robust testing procedures as well as aggressive contact tracing and quarantine measures.
South Korea's Foreign Minister, Kang Kyung-wha told the BBC: "In mid-January, our health authorities quickly conferred with the research institutions here."
"And then they shared that result with the pharmaceutical companies, who then produced the reagent [chemical] and the equipment needed for the testing."
"Testing is central because that leads to early detection. It minimizes further spread. That's the key behind our very low fatality rate."
Testing facilities in South Korea included drive-through test centres, which take minutes to complete and results are received within 24 hours, and transparent phone booths at some walk-in clinics where throat swabs are taken by health workers using thick gloves built into the walls of the booth.
The country also rigorously tracked down the contacts of infected patients, including the hundreds of members of a religious group who were infected after a woman who tested positive attended a church service at its facility in the city of Daegu, which became the country's epicenter of the outbreak.
The graphic below, provided by Statista, illustrates the spread of COVID-19 across the globe.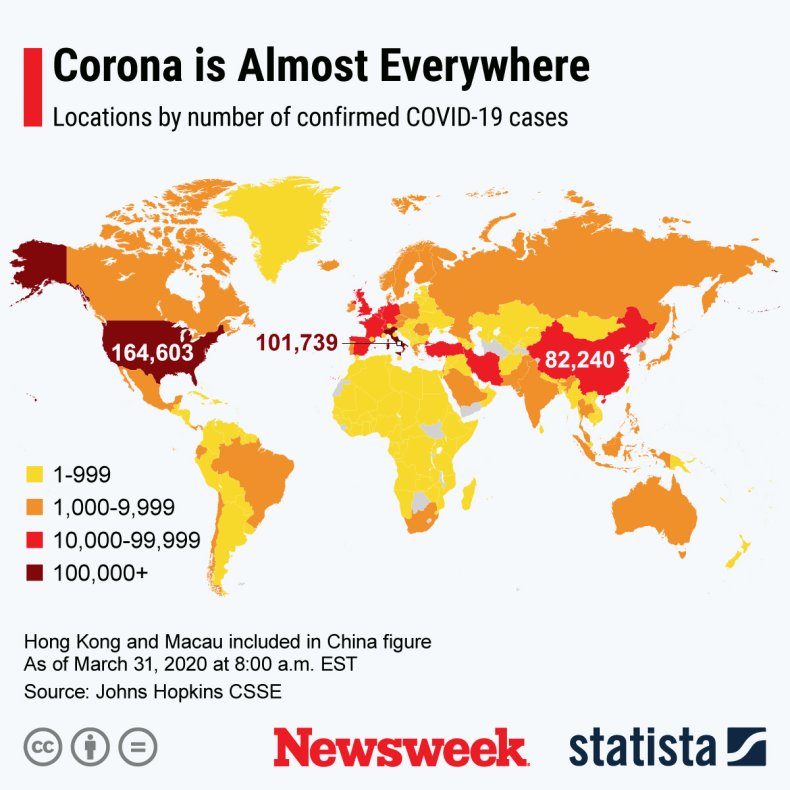 Data on COVID-19 cases is from Johns Hopkins University unless otherwise stated.
World Health Organization advice for avoiding spread of coronavirus disease (COVID-19)
Hygiene advice
Clean hands frequently with soap and water, or alcohol-based hand rub.
Wash hands after coughing or sneezing; when caring for the sick; before, during and after food preparation; before eating; after using the toilet; when hands are visibly dirty; and after handling animals or waste.
Maintain at least 1 meter (3 feet) distance from anyone who is coughing or sneezing.
Avoid touching your hands, nose and mouth. Do not spit in public.
Cover your mouth and nose with a tissue or bent elbow when coughing or sneezing. Discard the tissue immediately and clean your hands.
Medical advice
Avoid close contact with others if you have any symptoms.
Stay at home if you feel unwell, even with mild symptoms such as headache and runny nose, to avoid potential spread of the disease to medical facilities and other people.
If you develop serious symptoms (fever, cough, difficulty breathing) seek medical care early and contact local health authorities in advance.
Note any recent contact with others and travel details to provide to authorities who can trace and prevent spread of the disease.
Stay up to date on COVID-19 developments issued by health authorities and follow their guidance.
Mask and glove usage
Healthy individuals only need to wear a mask if taking care of a sick person.
Wear a mask if you are coughing or sneezing.
Masks are effective when used in combination with frequent hand cleaning.
Do not touch the mask while wearing it. Clean hands if you touch the mask.
Learn how to properly put on, remove and dispose of masks. Clean hands after disposing of the mask.
Do not reuse single-use masks.
Regularly washing bare hands is more effective against catching COVID-19 than wearing rubber gloves.
The COVID-19 virus can still be picked up on rubber gloves and transmitted by touching your face.