Coronavirus Update, Map as 126,000 Cases Confirmed, Death Toll Hits 4,600, Over 1,000 People Have Recovered in Italy
New cases of the COVID-19 virus continue to emerge across the globe, with now more than 126,000 people affected, including more than 1,300 in the U.S. Hollywood actor Tom Hanks and his wife Rita Wilson are among the latest infections. The death toll in the U.S. reached 38 on Wednesday, while Italy has seen more than 1,000 recoveries, as the country remains in lockdown.
First reported in China's Wuhan city in the Hubei province, the COVID-19 virus has spread to around 116 countries, with some 4,700 deaths reported around the world. The majority of the confirmed cases (more than 80,000) are still in China and more than 68,000 people globally have recovered from the infection, according to the latest figures from Johns Hopkins University.
The World Health Organization (WHO) officially declared the virus a pandemic on Wednesday, expressing it is "deeply concerned both by the alarming levels of spread and severity, and by the alarming levels of inaction," the WHO director-general, Dr. Tedros Adhanom Ghebreyesus, said at a press briefing.
The outbreak has spread to every country in the European Union (EU), with at least 17,430 cases reported in the EU as of Wednesday, according to the European Centre for Disease Prevention and Control (ECDC).
With cases climbing in Spain and France, President Donald Trump issued a suspension of all travel from Europe for the next 30 days "to keep new cases from entering our shores," he announced on Wednesday from the White House.
Ghebreyesus warned on Wednesday: "In the days and weeks ahead, we expect to see the number of cases, the number of deaths, and the number of affected countries climb even higher.
"We have never before seen a pandemic sparked by a coronavirus. This is the first pandemic caused by a coronavirus. And we have never before seen a pandemic that can be controlled, at the same time.
"Describing the situation as a pandemic does not change WHO's assessment of the threat posed by this virus. It doesn't change what WHO is doing, and it doesn't change what countries should do," he said.
The graphic below, provided by Statista, illustrates the spread of the COVID-19 virus across the world, as of March 12.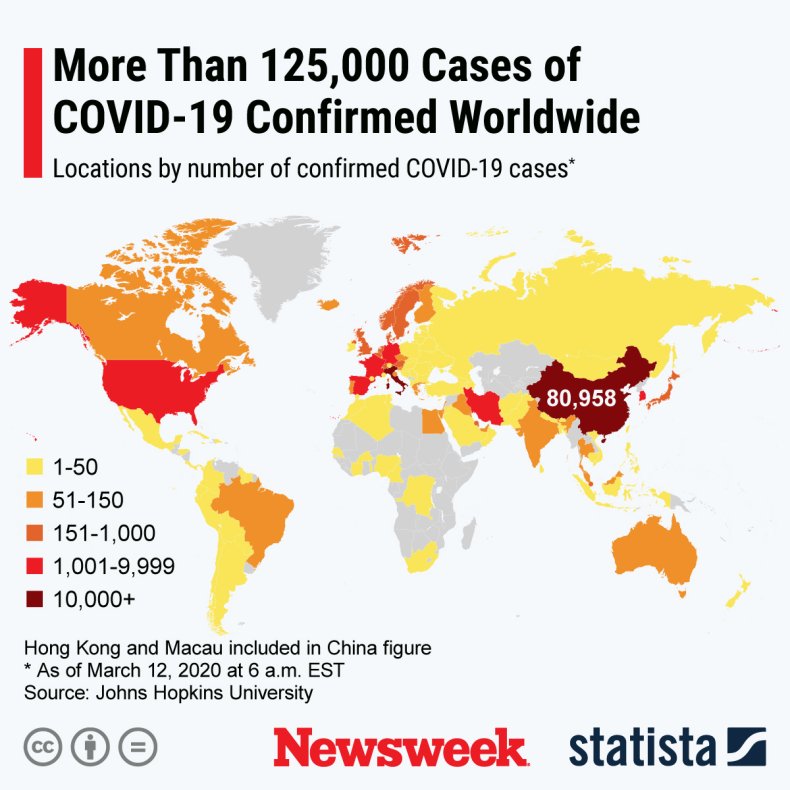 Americans advised to "reconsider travel abroad"
The U.S. State Department raised its global travel advisory to Level 3 on Wednesday, advising "U.S. citizens to reconsider travel abroad due to the global impact of COVID-19."
"Many areas throughout the world are now experiencing COVID-19 outbreaks and taking action that may limit traveler mobility, including quarantines and border restrictions. Even countries, jurisdictions, or areas where cases have not been reported may restrict travel without notice," the department said.
The latest advisory update follows Trump's ban on all travel from 26 European countries for 30 days as of this Friday.
Trump said in his announcement: "I am confident that by counting and continuing to take these tough measures, we will significantly reduce the threat to our citizens, and we will ultimately and expeditiously defeat this virus.
"The European Union failed to take the same precautions and restrict travel from China and other hotspots. As a result, a large number of new clusters in the United States were seeded by travelers from Europe," he added.
The White House also clarified: "The travel restriction applies to foreign nationals who have been in 26 European countries with open borders agreements, in the last 14 days. Those exempt from these restrictions, such as U.S. citizens, will be directed to limited airports where screening can take place."
The U.S. death toll climbed to 38 on Wednesday, with more fatalities in Washington and California, while Washington D.C. declared a state of emergency on Wednesday.
Italy sees more than 1,000 recoveries
While cases continue to soar in Italy, which has now reported more than 12,000 infections, the number of recoveries continues to rise above its death toll, with 1,045 recoveries versus around 800 deaths in the country, according to Johns Hopkins University.
Italian Prime Minister Giuseppe Conte issued new restrictions on Wednesday as the country remains in lockdown. All restaurants, bars and shops, apart from supermarkets, food stores and pharmacies, were ordered closed, while companies were told to close all departments that are not essential to production.
"We will only be able to see the effects of this great effort in a couple of weeks," Conte said.
Spain sees spike in cases, with death count over 50
Spain has so far reported 55 deaths, according to Johns Hopkins University.
Spain's equality minister, Irene Montero, has tested positive for the virus, and the country's second deputy prime minister, Pablo Iglesias, has been quarantined.
Madrid has shut all state-run museums, including Prado, the Reina Sofia and the Thyssen-Bornemisza, due to the outbreak, authorities confirmed.
The city is reportedly considering a lockdown, according to the president of the Madrid region, Isabel Diaz Ayuso, according to local Spanish television channel Tele 5, Al Jazeera reports.
Madrid's Santiago Bernabéu Stadium, the home of soccer team Real Madrid, has closed for tours.
The Catalan government has also reportedly banned visits to homes for the elderly and mental health centers, following instructions from the country's Department of Health, in a bid to maintain space for potential patients who may need to be isolated.
France to raise virus response to highest level
France has seen 48 confirmed deaths as of Thursday, according to the latest figures from Johns Hopkins University.
The country is expected to raise its virus response level to "Phase 3," the highest grade, while French President Emmanuel Macron is due to address the nation in a televised broadcast later today.
Macron previously stated "we mustn't give in to panic" in a televised address concerning the outbreak on Tuesday, critiquing Slovenia and Austria for shutting Italy from its borders.
Amid heightened concerns over the virus, the country has banned gatherings of more than 1,000 people in a bid to curb the spread.
But thousands wearing Smurf costumes and blue body paint gathered in the French town of Landerneau in northwest France for a reportedly record-breaking rally of around 3,500 people this week.
"We must not stop living...It was a chance to say that we are alive," Landerneau Mayor Patrick Leclerc told Agence-France-Presse.
Infections rise in Asia and Middle East
South Korea has around 7,800 cases, the majority of which (around 5,000) are still concentrated in the city of Daegu.
Japan has reported around 59 new infections but the country's plans for the 2020 Tokyo Olympics, which are scheduled to place this July, remain unchanged.
More cases have emerged in The Philippines, where President Rodrigo Duterte is expected to be tested for the virus on Thursday after he was exposed to cabinet members and senators who had been in contact with an infected individual.
The virus continues across the rest of Asia, with new cases emerging across the continent, including in India, Malaysia, Singapore, Vietnam and Hong Kong.
In the Middle East, Bahrain has reported 77 new cases, while Iran saw nearly 60 more deaths within a day, bringing its total death toll to at least 354, according to a report by the Association of Southeast Asian Nations (ASEAN).
Iran has now asked the International Monetary Fund for $5 billion in emergency funding, the country's foreign minister, Mohammad Javad Zarif, confirmed in a post on his official Twitter account.
"IMF's @KGeorgieva has stated that countries affected by #COVID19 will be supported via Rapid Financial Instrument. Our Central Bank requested access to this facility immediately," the minister wrote in the post.
"IMF/IMF Board should adhere to Fund's mandate, stand on right side of history & act responsibly," he added.
South Africa cases climb, most of Africa still unaffected
South Africa has seen a rise in cases, with the country reporting at least six more cases. More than 600 potential cases have been tested.
South Africa's health minister, Zweli Mkhize, announced there are 17 confirmed cases, and the latest cases include the country's first case of community transmission.
"A 32-year-old male who came into contact with a Chinese businessman. This is the first case of local transmission as all others have been by patients who had traveled abroad," the minister said.
"At this stage, all patients are in self-quarantine and have mild to moderate symptoms. They are also on symptomatic treatment," he added.
While Egypt saw a sharp rise in cases from around two to 59 cases last weekend, and Togo and Cameroon reported its first cases over last weekend, large parts of Africa still remain unaffected by the outbreak.
Latin America still relatively low in cases
There have only been around 100 infections reported across South America since the first case was reported in Brazil last month, followed by cases in a handful of other nations including Argentina, Peru and Colombia, according to Johns Hopkins University.
Guyana confirmed its first case on Wednesday, which also became its first death. The patient was a woman in her 50s who returned from a trip to the U.S., according to a statement from the country's president, David Granger.
Authorities are said to be tracing the woman's contacts to identify those at risk of infection. The country will continue to screen all travelers arriving from countries that have been heavily affected by the outbreak.
Cuba also saw ts first three cases on Wednesday. The patients are Italian tourists who arrived in the country on Monday, according to state news television.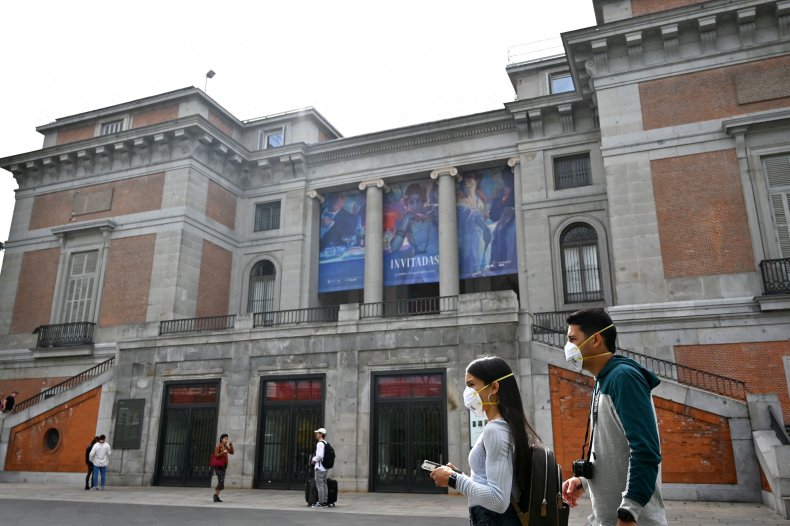 World Health Organization advice for avoiding spread of coronavirus disease (COVID-19)
Hygiene advice
Clean hands frequently with soap and water, or alcohol-based hand rub.
Wash hands after coughing or sneezing; when caring for the sick; before; during and after food preparation; before eating; after using the toilet; when hands are visibly dirty; and after handling animals or waste.
Maintain at least 1 meter (3 feet) distance from anyone who is coughing or sneezing.
Avoid touching your hands, nose and mouth. Do not spit in public.
Cover your mouth and nose with a tissue or bent elbow when coughing or sneezing. Discard the tissue immediately and clean your hands.
Medical advice
If you feel unwell (fever, cough, difficulty breathing) seek medical care early and call local health authorities in advance.
Stay up to date on COVID-19 developments issued by health authorities and follow their guidance.
Mask usage
Healthy individuals only need to wear a mask if taking care of a sick person.
Wear a mask if you are coughing or sneezing.
Masks are effective when used in combination with frequent hand cleaning.
Do not touch the mask while wearing it. Clean hands if you touch the mask.
Learn how to properly put on, remove and dispose of masks. Clean hands after disposing of mask.
Do not reuse single-use masks.