The coronavirus pandemic continues, with confirmed cases now surpassing 222,000 globally—including around 9,000 deaths. Over 84,100 people have recovered from infection so far, according to the latest figures from Johns Hopkins University.
More cases have emerged in the U.S., where the death toll has climbed past 150, while Italy saw nearly 500 new deaths and the Sub-Saharan region of Africa reported its first fatality.
The virus was first detected in China's Wuhan city of the Hubei province and the country claims it has been largely contained, reporting no new domestic cases for the first time since the outbreak. China has over 81,000 cases, with more than 3,100 deaths and nearly 70,000 recoveries. More cases have now reported outside China than within.
U.S. death toll at 152, cases surpass 9,400
Washington now reports 68 deaths (up from 55 on Wednesday)
California has 16 deaths.
Florida now eight deaths.
Louisiana has seven deaths.
New Jersey has five deaths.
Texas and Oregon each have three deaths.
Connecticut, Missouri, Michigan, Pennsylvania have each reported their first deaths.
Indiana, Colorado and Virginia each previously reported two deaths.
Illinois, Nevada, Kentucky, South Carolina, Oregon, Kansas, South Dakota and Georgia each previously reported a single death.
Washington has seen at least 13 new deaths in a day, bringing its total confirmed cases to around 1,190. Nearly half of the cases (562) are in King County, while 310 are in Snohomish County, according to figures from the state's department of health.
With the number of deaths and cases rising in the state, Governor Jay Inslee said: "We're taking extreme measures to protect the health and safety of our state. Today [Wednesday], I'm announcing a new set of policies to reduce the impact on Washingtonians."
One of the measures includes a 30-day statewide moratorium on evictions. "No person should be put out of their home because they can't pay rent during the COVID-19 outbreak," he said.
The governor also called on all public utility companies in the state to "suspend shut-offs, waive late fees for out-of-work customers, expand bill assistance for economically impacted customers," amid the outbreak.
Meanwhile, three of seven infected members of a New Jersey family have died, including two on Wednesday and one last Friday, The New York Times reports.
The eldest of the deceased was a woman in her 70s, who was a mother to 11 children and had 27 grandchildren. She died just hours after her son passed away and nearly five days following the death of her eldest daughter, who was in her 50s. Nineteen other family members have been tested for the virus and quarantined in their homes.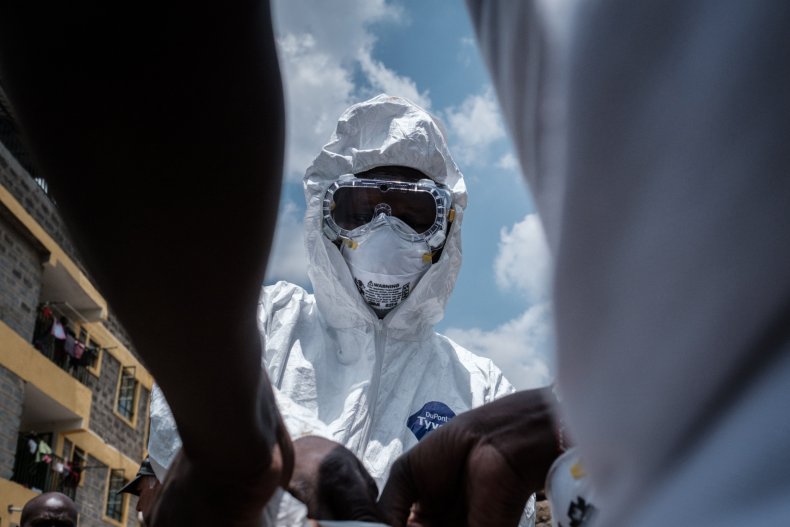 U.K. considering London lockdown, all schools to be closed
The death toll in the U.K. reached 103.
The total confirmed cases reached nearly 2,650.
U.K. Prime Minister Boris Johnson said the government will "rule nothing out" when it comes to "bringing forward further and faster measures where that is necessary," at a press briefing Wednesday.
All schools in the U.K. will be closed beginning this Friday and school exams will not be held his summer.
Up to 40 London Underground stations will be closed from Thursday.
Night Tube services to be shut down from Friday.
The virus is spreading faster in London than any other part of the country, with more than 900 cases and 34 deaths reported in the capital, according to the latest government figures.
Concerns have been raised that many residents in London may not be following the latest advised measures to help mitigate the risk of further widespread transmission.
The planned transport service reduction aims to help slow the spread and "enable London's critical workers to make essential journeys," Transport for London (TfL) said in a statement Thursday.
From this Friday, there will be no service on the Waterloo & City line and "until further notice, on Friday and Saturday nights there will be no all-night 'Night Tube' service or the all-night 'Night Overground' service that currently runs on the East London line," TfL stated.
"This is to ensure the resilience of the regular Tube and Overground services. Late services on both the Tube and Overground will continue to run for essential journeys.
"London buses will operate fewer services, but TfL's extensive night bus network will continue to provide critical workers with a reliable night option on Friday and Saturday nights and throughout the week," it added.
The graphic below, provided by Statista, illustrates the spread of the COVID-19 virus across the world.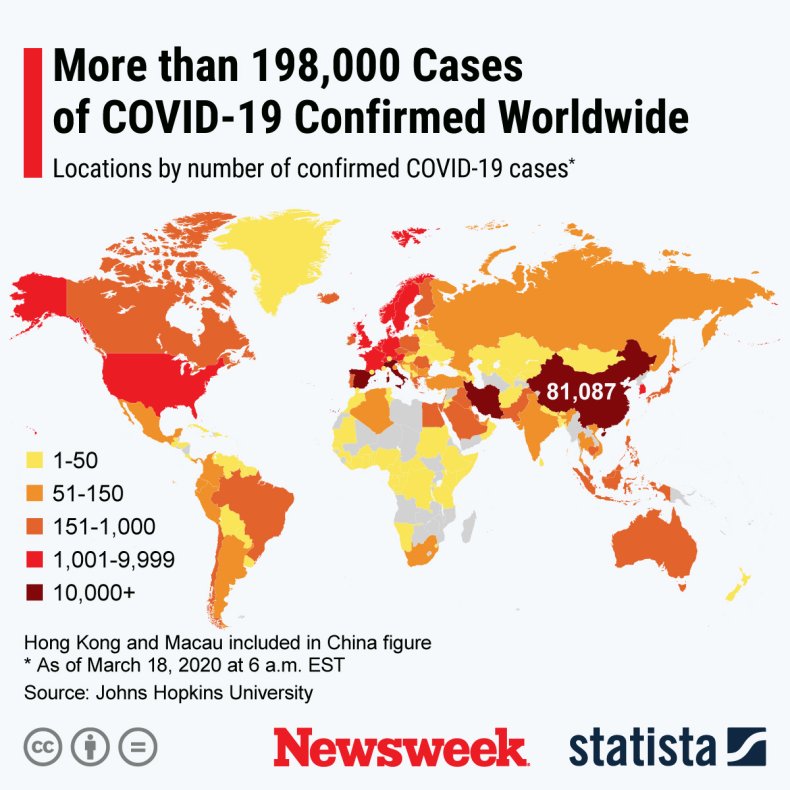 China downplays potential second wave of spread, as it sees record cases
For the first time since the outbreak, Wuhan reported no new domestic cases, according to figures released by China's National Health Commission.
The data reported Beijing had 21 imported cases on Wednesday, which were mostly travelers from Spain and Britain.
The country reported a record figure of 34 new imported cases across mainland China.
The Guangdong province in southeast China reported nine new imported infections, while the city of Shanghai reported two new cases from abroad.
The total number of imported cases is at 189, according to the country's health commission.
The growing number of imported cases has raised concerns over the possibility of a second wave of cases in China.
The director of Australia's Institute for Molecular Bioscience at the University of Queensland, Ian Henderson, explains. "[What] remains possible is that as controls around isolation are relaxed in China, with a population that is still susceptible, then the virus may resurge if it has not been eradicated elsewhere."
While medical authorities in China are conscious of the rise in imported cases, they claim the country's robust containment measures are capable of dealing with any potential outbreaks within weeks.
The deputy director of the Department of Infectious Diseases at the Peking Union Medical College Hospital, Cao Wei, said at a briefing earlier this week: "For me, a second outbreak [of coronavirus], a domestic outbreak in China, wouldn't be a great concern."
Gao Zhengliang, vice-director of the China Cell Biology Institute, told the Youth Daily newspaper China has completed "99 out of 100 steps" required to tackle the virus, but warned that if global infections spiraled out of control, "the costs and sacrifices China has made will be downgraded."
The graphic below, provided by Statista, illustrates the recovery curve compared to the infection curve of the virus.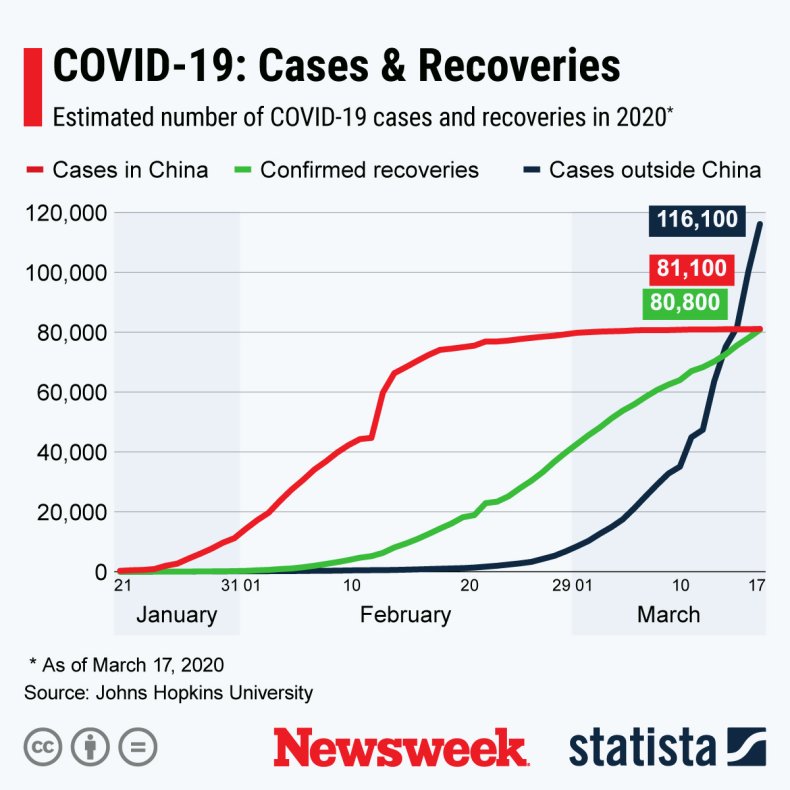 Italy sees record new deaths and cases
475 new fatalities were reported on Wednesday, its highest one-day increase.
The death count is at 2,978 as of Thursday.
Around 4,207 new cases were reported on Wednesday, the highest daily increase reported by any country since the outbreak, Reuters reports.
The total number of confirmed cases in Italy has now surpassed 35,700.
Hospitals in Italy are reported to be at breaking point as the country battles an overwhelming number of patients. An appeal has been made for retired doctors and other medical workers to return to work in the Lombardy region, which is among the worst-hit areas in the country.
"I make a heartfelt appeal to all the doctors, nurses and medical personnel who have retired in the last two years...to help us in this emergency," Lombardy's regional governor, Attilio Fontana, said at a news conference.
The country has been in full lockdown mode from early March and the government is also considering a ban on outdoor exercises in order to further reduce the risk of transmission.
"I believe that in the coming hours we will have to consider the possibility of a complete ban on outdoor activities," Italy's Sports Minister Vincenzo Spadafora told Italy's RAI radio station.
"If the call to stay at home is not heeded, we will be forced to impose an absolute ban, "Spadafora said.
More than one million people were reported to have been stopped by police over the last week and nearly 43,000 were reported to have violated the rules around the lockdown measures, the country's interior ministry said.
WHO says Africa needs to "wake up" as Sub-Saharan Africa see first death
Burkina Faso reported the first virus-related death in Africa's Sub-Saharan region. The country now has at least 33 confirmed cases.
Zambia reported its first two confirmed cases, while South Africa saw around 31 new cases. France24 reports.
There reportedly more than 600 cases in Africa, according to AFP.
16 deaths have been n African have been fatal: six in Egypt, six in Algeria, two in Morocco, one in Sudan and one in Burkina Faso.
"Africa should wake up" and "prepare for the worst," warned the director-general of the World Health Organization (WHO), Dr. Tedros Adhanom Ghebreyesus.
The first death in Burkina Faso was that of a female politician in her 60s, Rose-Marie Compaore, who was a diabetic.
The two cases in Zambia are a couple who returned to the capital city of Lusaka following a 10-day holiday in France.
South Africa is the worst-hit nation in Sub-Saharan Africa, which saw its total cases rise by more than a third, bringing it to 116 as of Thursday.
The Sub-Saharan region is said to have around 233 infections, according to Ghebreyesus, who warned the actual figure is likely to be greater due to undetected cases.
"Africa should wake up," Ghebreyesus said at a press briefing in Geneva, noting that "in other countries we have seen how the virus actually accelerates after a certain tipping point."
Data on COVID-19 cases is from Johns Hopkins University unless otherwise stated.
World Health Organization advice for avoiding spread of coronavirus disease (COVID-19)
Hygiene advice
Clean hands frequently with soap and water, or alcohol-based hand rub.
Wash hands after coughing or sneezing; when caring for the sick; before; during and after food preparation; before eating; after using the toilet; when hands are visibly dirty; and after handling animals or waste.
Maintain at least 1 meter (3 feet) distance from anyone who is coughing or sneezing.
Avoid touching your hands, nose and mouth. Do not spit in public.
Cover your mouth and nose with a tissue or bent elbow when coughing or sneezing. Discard the tissue immediately and clean your hands.
Medical advice
If you feel unwell (fever, cough, difficulty breathing) seek medical care early and call local health authorities in advance.
Stay up to date on COVID-19 developments issued by health authorities and follow their guidance.
Mask usage
Healthy individuals only need to wear a mask if taking care of a sick person.
Wear a mask if you are coughing or sneezing. Masks are effective when used in combination with frequent hand cleaning.
Do not touch the mask while wearing it. Clean hands if you touch the mask.
Learn how to properly put on, remove and dispose of masks. Clean hands after disposing of the mask.
Do not reuse single-use masks.