Coronavirus Update, Map As Italy Death Toll Nearly Doubles China's, Markets Rally on U.S. Stimulus Package
The novel coronavirus has infected over 425,000 people across 170 countries. Nearly 110,000 have recovered from infection, while over 18,000 have died from the virus, according to the latest figures from Johns Hopkins University.
Four new countries have reported their first cases, including one in Southeast Asia and three in the Americas, according to the latest report on Tuesday from the World Health Organization (WHO).
More cases of the virus, which was first reported in Wuhan, a city in China's Hubei province, have been reported outside China than within. The country has more than 81,600 cases, with around 3,200 fatalities and nearly 73,000 recoveries.
China, which from today has lifted outbound travel restrictions in Hubei, claims the outbreak has been mostly contained. It has reported only a handful of domestic cases in the past few days, but imported cases continue to rise. The country imposed tighter precautionary measures at the airport in Beijing, its largest air traffic hub. From today, the capital is requiring all travelers to be tested for the virus.
U.S. stimulus package agreement see Asia markets rise
Asian markets rallied as the U.S. government reached an agreement on a $2 trillion stimulus package, which is expected to include $500 billion in direct payments and $500 billion in liquidity assistance, to help Americans cope with the economic fallout of the outbreak.
The Dow Jones Industrial Average soared 11.37 percent on Tuesday, its biggest one-day percentage gain since 1933.
Morgan Stanley Capital International's (MSCI) broadest index of Asia-Pacific shares outside Japan rose 1.7 percent, and South Korean shares jumped 3.5 percent, while Japan's Nikkei surged 4.8 percent and Australian shares also rose 3.4 percent.
MSCI's gauge of stocks across the globe rose 8.39 percent, the largest gain in a day since the 2008 global financial crisis. It gained another 0.8 percent in Asia on Wednesday.
"Companies will see their revenues sink and indebted firms will have trouble securing cash, so governments are making the right responses," Akira Takei, senior fund manager at Asset Management One, told Reuters.
Italy deaths double those of China
Following a slight decline in fatalities over the past few days, the total number of deaths in Italy doubled that of China on Wednesday. Italy reported around 6,820 deaths, while China has nearly 3,200. Italy remains the worst-hit nation outside China, with over 69,100 positive cases and more deaths than any other country.
Angelo Borrelli, the head of Italy's civil protection agency, estimates the actual total number of cases is 10 times greater than the current reported figure. Many cases are likely to have gone unreported with virus testing limited to those in need of hospital care.
Borelli told Italy's La Repubblica newspaper: "A ratio of one certified case out of every 10 is credible," noting that as many as 640,000 people may have been infected.
The country has been in lockdown mode since early March and all non-essential businesses have been ordered to remain closed until April 3, while all residents are required to remain home. A decree was issued on Tuesday giving the government the power to extend the lockdown to July 31 if needed. However, Italian Prime Minister Giuseppe Conte is hoping to loosen restrictions "well before then."
Conte on Tuesday also announced a hike in fines for those violating the lockdown measures. Those leaving their homes for non-essential reasons now face fines between €400 to €3,000 ($432 to $3,247), as opposed to just €206, Conte confirmed in a televised address.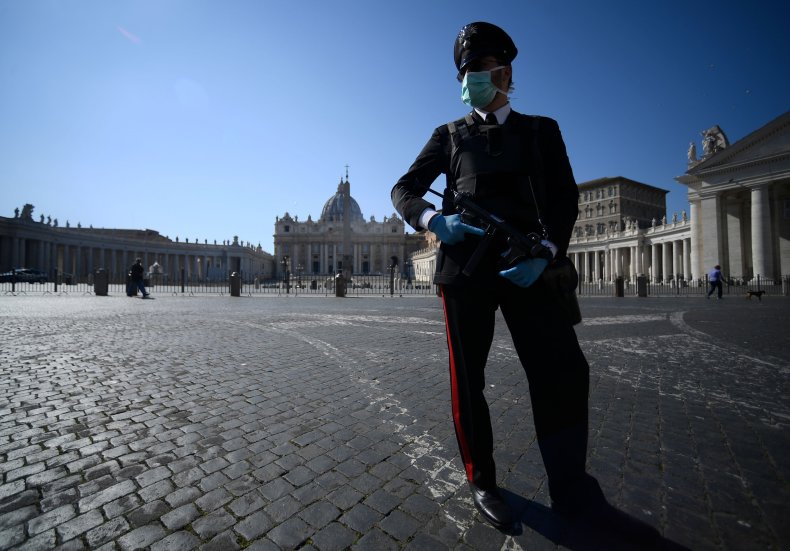 India begins world's largest lockdown
India, home to 1.3 billion people, begins its 21-day lockdown on Wednesday. "To save India and every Indian, there will be a total ban on venturing out," Indian Prime Minister Narendra Modi said in a televised address on Tuesday.
He added: "All steps have been taken by [the] central and state government to ensure supply of essential items."
"All commercial and private establishments," as well as various government offices, places of worship, entertainment venues and schools are closed. Essential services, such as grocery stores, food delivery services, hospitals and other medical establishments, will remain open, the country's Ministry of Health and Family Welfare announced in a statement.
The country has 562 cases and 10 deaths as of Wednesday. Cases have been growing quickly and have the potential to "spread like wildfire," Modi warned.
There is no evidence of local transmission, according to officials, but the country has reportedly done relatively limited virus testing.
The graphic below, provided by Statista, illustrates the recovery curve compared to the infection curve of the virus.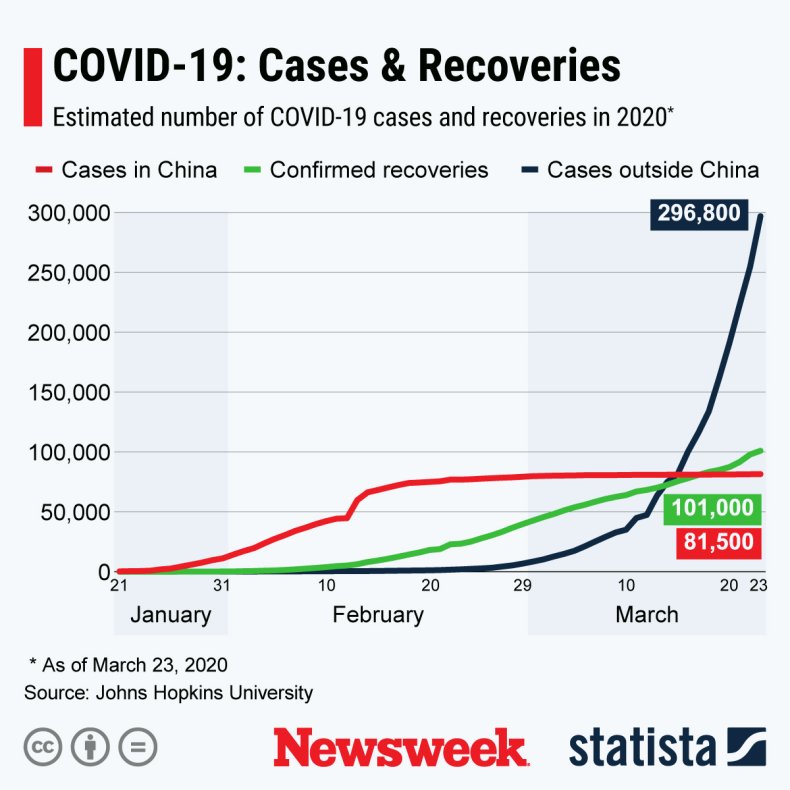 U.K. sees biggest daily spike in deaths
Following strict lockdown measures imposed in the U.K. this week, the country saw its highest death toll in a day, reporting 87 new deaths. This brings its total death count to 422.
At least 21 of the latest new fatalities were reported to be at the London North West University Healthcare NHS (National Health Service) Trust. Around 386 people have died in England, aged from 33 to 103, according to NHS England. The 33-year-old is reportedly the youngest person in the U.K. to die from the virus. There are at least 8,022 positive cases in the U.K., as of Tuesday, the official U.K. government website reports.
Scotland has reported 584 cases, including 16 deaths, according to the Scottish government website. Northern Ireland reported five deaths (as of Tuesday) and at least 148 cases (as of Monday), according to its department of health.
There have so far been 16 coronavirus deaths in Scotland, 17 in Wales and three in Northern Ireland.
Russia facing "serious situation" with rising cases
Moscow's mayor, Sergei Sobyanin, warned Russian President Vladimir Putin at a meeting on Tuesday that "a serious situation is unfolding," in Russia, with the actual number of cases far surpassing the officially reported figures.
The country has 495 confirmed cases, with one reported death. But "in reality, there are significantly more sick people," Sobyanin said, adding that cases were rapidly increasing and testing for the virus is scarce.
Residents returning from overseas were said to be self-isolating at home or in holiday cottages in the countryside, and not being tested. On Tuesday, the government ordered nightclubs, cinemas and children's entertainment centers to be closed in a bid to slow the spread of the virus.
"Entry to Russia for foreign citizens and stateless persons is restricted until 1 May," and "flights from Russia to EU countries, Switzerland, Norway, UK, USA and UAE are canceled, except for some regular flights to the capitals passing through Sheremetyevo International Airport (Terminal F). Charter flights transporting Russian and EU, USA and UAE citizens home are allowed," the mayor's office confirmed.
Data on COVID-19 cases from Johns Hopkins University unless otherwise stated.
The graphic below, provided by Statista, illustrates the spread of the COVID-19 virus across the world.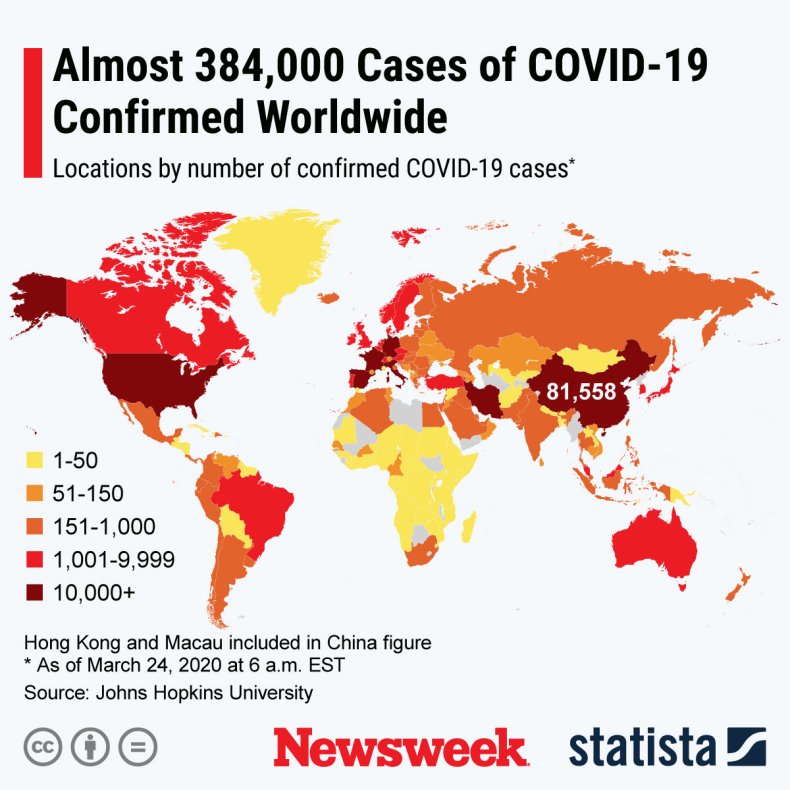 World Health Organization advice for avoiding spread of coronavirus disease (COVID-19)
Hygiene advice
Clean hands frequently with soap and water, or alcohol-based hand rub.
Wash hands after coughing or sneezing; when caring for the sick; before; during and after food preparation; before eating; after using the toilet; when hands are visibly dirty; and after handling animals or waste.
Maintain at least 1 meter (3 feet) distance from anyone who is coughing or sneezing.Avoid touching your hands, nose and mouth. Do not spit in public.
Cover your mouth and nose with a tissue or bent elbow when coughing or sneezing. Discard the tissue immediately and clean your hands.
Medical advice
If you feel unwell (fever, cough, difficulty breathing) seek medical care early and call local health authorities in advance.
Stay up to date on COVID-19 developments issued by health authorities and follow their guidance.
Mask usage
Healthy individuals only need to wear a mask if taking care of a sick person.
Wear a mask if you are coughing or sneezing. Masks are effective when used in combination with frequent hand cleaning.
Do not touch the mask while wearing it. Clean hands if you touch the mask.
Learn how to properly put on, remove and dispose of masks. Clean hands after disposing of the mask.
Do not reuse single-use masks.