Coronavirus Update, Map as Death Toll Hits 3,110, Over 90,000 Infections Reported in More Than 70 Countries
The COVID-19 coronavirus disease spread appears to be slowing down in China, where it was first identified, but has been continuing across the globe, with four more deaths in the U.S. within the last day, bringing the country's death toll up to six.
The deadly virus, which was first identified in China, has now affected more than 91,000 people, 80,151 of whom are in China, including 2,834 deaths. The global death toll is now at 3,118, according to the latest figures from Johns Hopkins University.
Armenia, Luxembourg and the Czech Republic are among the latest countries to have reported first cases in past couple of days, according to the latest report by the World Health Organization (WHO).
With the death toll nearly doubling in Italy in a day to 52 and the number of cases at nearly 5,000 in South Korea, which has been the worst hit country outside China, the situation has now reached "unchartered territory", the WHO warns.
But more than 130 countries have yet to report any cases of the virus, while others have not reported a case for more than 14 days, and "we can push this virus back," the WHO said on Monday.
WHO yet to declare virus pandemic
While WHO officials "appreciate that people are debating whether this is a pandemic or not," the health body has yet to declare it as such.
"We are monitoring the situation every moment of every day, and analyzing the data," WHO director-general Tedros Adhanom said in a statement on Monday.
"I have said it before and I'll say it again: WHO will not hesitate to describe this as a pandemic if that's what the evidence suggests.
"Korea's situation also underlines that this a unique virus with unique features. This virus is not influenza. We are in unchartered territory. We have never before seen a respiratory pathogen that is capable of community transmission, but which can also be contained with the right measures," he added.
He added that containment of the virus is "feasible and must remain the top priority for all countries."
"WHO will continue to provide evidence-based guidance to help countries and individuals to assess and manage their risk, and make decisions. There is no one-size fits all approach. Different countries are in different scenarios," he said.
Global companies take precautionary measures
Several countries and large companies around the world, including the U.S., have heightened their efforts to prevent a further outbreak in their area, from the suspension of flights to travel bans which prohibit the entry of travelers from the worst hit countries.
Twitter has recommended that its nearly 5,000 employees work from home in a bid to "lower the probability of the spread of the COVID-19 coronavirus for us," the company announced on its official blog on Monday.
It is also mandatory for all staff based in Hong Kong, Japan and South Korea to work from home due to government restrictions in their respective countries.
All of Google's 8,000 employees based in Dublin, the company's European headquarters, have been told to work from home after an employee in the Zurich office was infected last week, Business Insider reports.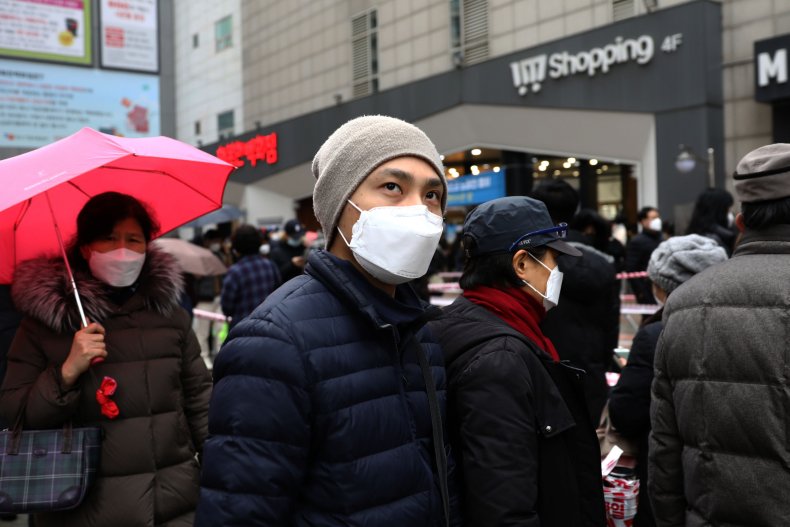 Google has shut down its Zurich office while employees are prohibited from traveling to Iran and Italy and the restriction will be expanded to Japan and South Korea from March. It's already banned its employees from traveling to China.
Amazon has also already restricted its employees from traveling to and from China in January and the company told its nearly 789,000 employees to cease all non-essential travel both within and outside the U.S. Despite these efforts, two of its employees in Milan were infected last Friday, according to Business Insider.
The graphic below, provided by Statista, illustrates the spread of the COVID-19 virus in the U.S. as of March 3.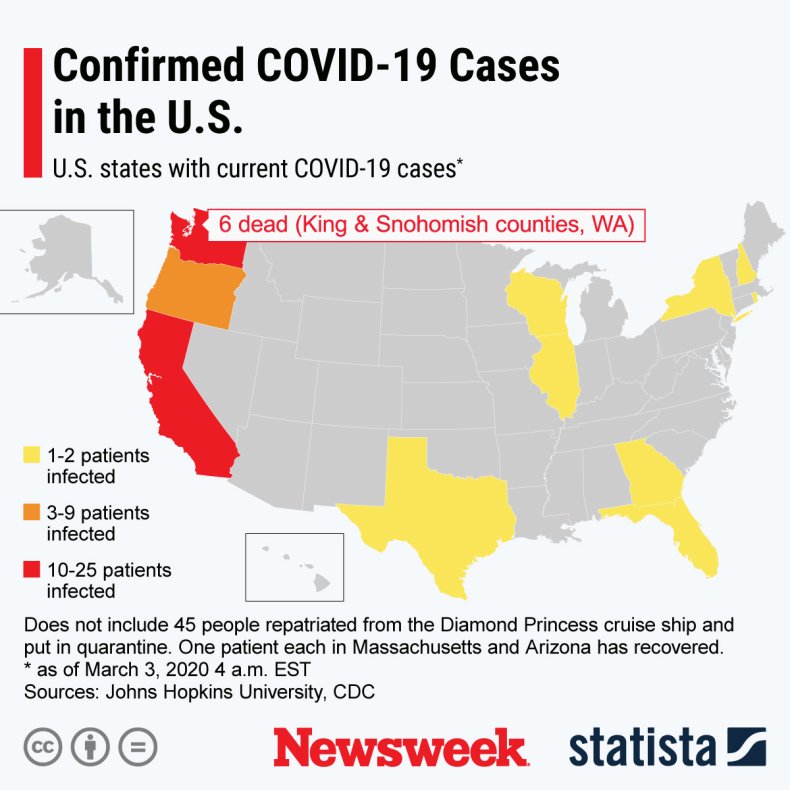 Four more deaths in the U.S.
The total number of cases in the U.S. has jumped to at least 105, up from about 89 yesterday. According to the latest figures from the U.S. Centers for Disease Control and Prevention (CDC), at 45 of the cases are passengers from the Diamond Princess. The Princess Cruises ship was quarantined at sea in Japan for two weeks after a passenger from Hong Kong was infected. All U.S. citizens from the ship who were diagnosed were taken to a hospital in the surrounding areas of a military base in California.
Four more people in Washington state have died after contracting the virus and King County has declared a state of emergency. The new deaths include a woman and a man in their 70s who had underlying conditions and were living at LifeCare, a nursing facility which had several confirmed cases and one previous death, Dr. Jeff Duchin, the health officer for Washington's department of public health, confirmed, ABC News reports.
The other two deaths include a woman in her 80s and a person from the neighboring Snohomish County, the state's health officials confirmed.
On Monday, the state of Georgia also reported its first two cases in Fulton County. The two infected patients live in the same household and one of them is a man who recently returned from a trip to Italy, the state's governor Brian Kemp announced at a press conference.
Both were reported to have mild symptoms and have been quarantined at home along with their relatives to minimize the spread of the virus, according to a statement from the state's department of public health, CBS News reports.
Oregon confirmed its third "presumptive case," which is a case that's been tested positive by a public health lab and is pending confirmation from CDC testing, while two more men tested positive in California's Santa Clara County, the county's public health department confirmed.
South Korea declares "war" on the virus
South Korea has reported the highest number of cases outside China, with now at least 4,812 cases in the country, 28 deaths and 600 new cases within the last day.
The majority of the cases in South Korea have been concentrated in Daegu, which has reported nearly 3,601 cases, according to the Korea Centers for Disease Control.
Most cases have been linked to a religious group known as the Shincheonji, Church of Jesus, the Temple of the Tabernacle of the Testimony (SCJ), which is known for hosting services in large masses with people sitting in close proximity to each other for long periods. Several members of the secretive cult were reported to have been infected by an infected member attended a service at a SCJ venue in Daegu earlier this month.
The leader of the group, Lee Man-hee, issued an official apology to the public, bowing down to cameras at a press conference on Monday, after authorities in Seoul accused him of failing to cooperate in containing the outbreak, AFP reports.
City officials have asked prosecutors to file charges of homicide against Lee and 11 other leaders of the cult, alleging they submitted false lists of their members to authorities who were looking to use the list to track other possibly affected individuals and monitor the spread of the virus.
Speaking at a cabinet meeting in Seoul on Tuesday, South Korean president Moon Jae-in declared "war" on the virus, noting the outbreak in South Korea has entered a "critical phase," AFP reports.
"The crisis in Daegu and North Gyeongsang province reached its peak and the whole country has entered a war against the infectious disease," he said at the meeting.
The president said the government will be devoting $25 billion towards fighting the outbreak and all government agencies were placed on a 24-hour emergency mode. He also ordered more hospital beds and face masks to be available to accommodate the growing number of cases in the country.
Several large events, including the Seoul leg of BTS's Map of the Soul concert tour, have been canceled amid fears over the outbreak.
Death toll nearly doubles in Italy, while Pope tests negative for the virus
The ECDC (European Centre for Disease Prevention and Control) raised its virus risk level to "moderate to "high," EU President Ursula von der Leyen said at a press conference in Brussels on Monday.
Europe's greatest outbreak continues in Italy, with the death toll now at 52, up from 34 on Monday. There are currently around 2,036 cases confirmed in the country.
Around 100,000 people are under quarantine, CNN reports, with at least 11 towns in the northern regions of Lombardy and Veneto in lockdown. A few cases have also been reported in the south of the country including in Tuscany and Sicily.
Pope Francis, who this weekend canceled his attendance for a Lent retreat for the first time during his papacy due to a cold, has tested negative for the COVID-19 virus, according to Italy's Il Messaggero newspaper.
The Pope was seen coughing and blowing his nose during mass on Ash Wednesday last week. He also canceled two other attendances last week, including one at the Apostilic Palace where he would have delivered a speech and greeted crowds.
He was reported to be continuing to work from his residence at the Vatican's Santa Marta hotel and also receiving guests in private, the Associated Press reports.
France remains in "epidemic" stage
France is reporting the second highest number of cases in Europe, with at least 191 cases and three deaths so far.
The country remains in the second "epidemic" stage, with 12 of the country's 18 regions now affected, the head of the country's health service, Jérôme Salomon, said at a press conference Monday evening, according to Le Parisien.
Most of the cases have been in the Oise département in the northern region of Hauts-de-France. But clusters of cases were also reported in parts of Brittany and the Auvergne-Rhône-Alpes region, while the greater Paris region of Île-de-France has more than 30 cases, The Local.fr reports.
Large public gatherings of more than 5,000 people in enclosed spaces have already been banned and around 120 schools in parts of the country, including in Paris, have now been closed in a bid to prevent the spread of the virus, France24 reports.
French President Emmanuel Macron has also canceled several events and appearances this week due to the outbreak.
The Louvre museum was closed from Sunday as a precautionary measure but it is unknown when it will reopen.
Germany also confirmed at least 28 new cases on Monday, raising its total count to at least 165, according to the latest figures from Johns Hopkins University. Cases in Spain also rose from around 81 on Monday to 120 by Tuesday.