Coronavirus Update: Map Shows More Than 100,000 Cases Confirmed Globally, Infections Spread to Nearly 100 Countries
The COVID-19 virus outbreak continues across the globe, with South Korea, Italy, Iran, Germany, and France still among the worst-hit countries outside China, where the virus was first detected.
The U.S. saw three more deaths, including in Washington state and Florida (marking the first fatality on the country's east coast), as well as the first cases from the Federal Bureau of Investigation (FBI) and the U.S. military in Italy.
The virus, which was first reported in China's Wuhan city in the Hubei province, has spread to at least 102,188 people globally, around 80,651 of whom are in China, and nearly 58,000 patients around the world have recovered from the virus, according to the latest figures from Johns Hopkins University.
Malta also reported its first case, while a cruise ship in Egypt carrying around 150 tourists, including Americans, reported several positive cases. First cases have also emerged in South Africa, Serbia, and Cameroon in the past couple of days, according to the latest World Health Organization (WHO) report released on Friday.
Several major events have been cancelled amid fears over the spread of the virus, with the latest being Southwest by Southwest in Texas, while 2020 Tokyo Olympics are scheduled to resume as normal.
The outbreak was reported to be slowing down in China and around 119 countries have not reported any cases of the virus, the WHO noted earlier this week, while large parts of Africa, Central and South America, remain unaffected, according to Johns Hopkins University.
Many countries are seeing continued cases, such as in South Korea, which continues to report around 500 new patients a day. Iran, which has recently fallen behind Italy for having the highest death toll outside China, reported the death of two senior government officials who contracted the virus.
U.S. death climbs to 17
Florida reported its first two deaths while Washington state announced its 14th death in Kirkland, bringing the country's total death toll to 17, including one death in California earlier this week.
Two residents in Florida, including one in Lee County and another in Santa Rosa County, have died after contracting the virus, bringing the state's total number of cases to 12, the state's department of health reported.
Both patients were in their 70s and the infections were linked to trips overseas, while the patient who died in Santa Rosa County had underlying health conditions, according to state governor Ron DeSantis, who noted the risk to the general public in Florida remains low, Florida's News4JAX reported.
Another death was reported at Washington state's EvergreenHealth Medical Center in the city of Kirkland of King County, marking the state's 15th death and the 12th at EvergreenHealth, The Mercury News reported.
There are currently at least 79 confirmed cases across Washington state, the majority (58) of which are in King County, where at least six patients who have died were elderly residents of the LifeCare nursing home in Kirkland, the state's department of health reported.
Hawaii also reported its first patient, who is a passenger who went on a cruise to Mexico in February aboard the Grand Princess cruise ship, state governor David Ige confirmed at a news conference, NBC News reported.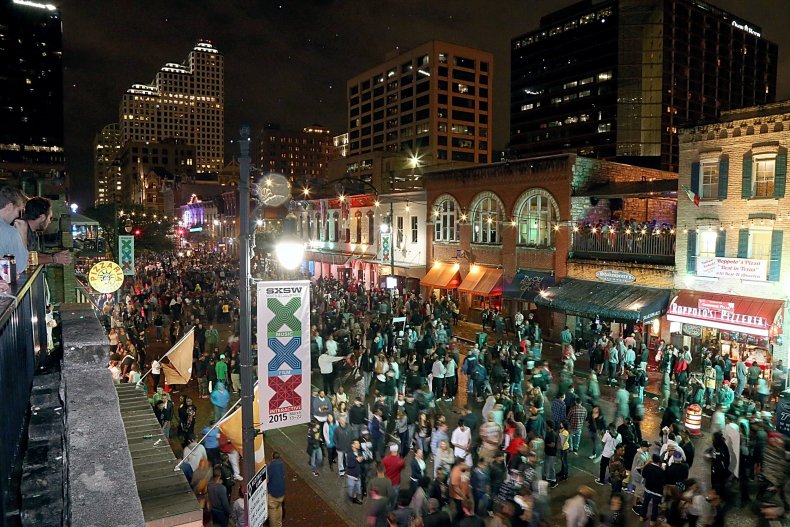 The Princess Cruises ship has been held off the coast of San Francisco while other passengers are being screened following the death of a California resident who was also journeyed on the ship on a cruise from San Francisco to Mexico last month.
The FBI reported its first case of the virus from an employee at its San Francisco division, the bureau confirmed in a statement, CBS SF Bay Area reported.
"At this time, we assess our operations have not been negatively impacted by COVID-19 and we will continue steadfast in our mission to protect the American people and uphold the Constitution," the FBI said in statement.
The U.S. has at least 338 cases, up from around 233 cases reported on Friday, according to Johns Hopkins. At least 46 of the total cases were passengers on the Diamond Princess, another cruise ship from Princess Cruises, which was quarantined in Japan last month after a passenger tested positive in Hong Kong, according to the latest figures from the U.S. Centers for Disease Control and Prevention (CDC). All infected American evacuees were treated at a hospital near the Travel Air Force Base in Fairfield, California.
The graphic below, provided by Statista, illustrates the spread of the COVID-19 virus across the world as of March 6.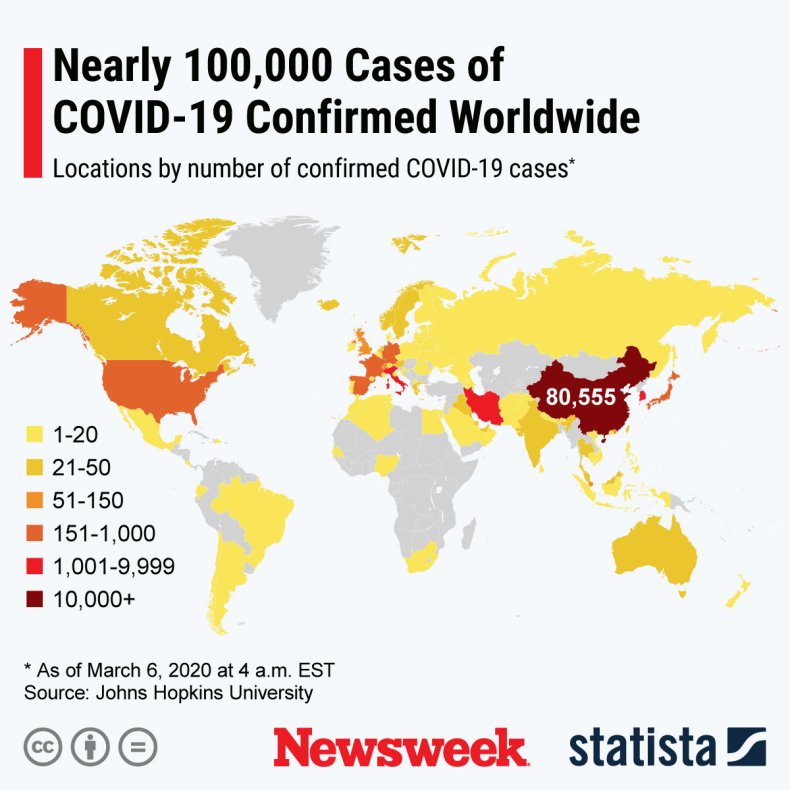 U.S. soldier tests positive in Italy
A member of the U.S. Navy has been infected in the city of Naples, a Navy official confirmed to Fox News.
The latest patient mark the first case from the U.S. military in Italy, which has had the largest outbreak in Europe so far, with at least 4,636 cases reported, according to Johns Hopkins University.
It is the second case among the nearly 75,000 military service members deployed in various countries around the world, Fox News reported. The first U.S. soldier to test positive was at a military base near the city of Daegu in South Korea, which currently has the highest number of cases outside China, USFK (United States Forces Korea) reported last month.
"USFK remains at risk level "high" peninsula-wide and is implementing all appropriate control measures to help mitigate the spread of COVID-19 as a prudent measure to protect the force," the United States Forces Korea said in a statement on Friday, after reporting its seventh infection among USFK-related staff members.
SXSW cancelled, while Olympic torch relay remains on schedule
South by Southwest (SXSW), the annual festival hosted in Austin and scheduled to take place from March 13 - 22 was cancelled amid fears of the ongoing virus outbreak, the festival announced on its website.
"We are devastated to share this news with you. 'The show must go on' is in our DNA, and this is the first time in 34 years that the March event will not take place. We are now working through the ramifications of this unprecedented situation," the festival said in a statement.
"We are exploring options to reschedule the event and are working to provide a virtual SXSW online experience as soon as possible for 2020 participants," it added.
The 2020 Tokyo Olympics will resume as scheduled this July and the Olympic torch relay will officially kick off on March 26. But the torch arrival ceremony in Japan on March 20 will be held on a downsized scale, the Associated Press reports.
Olympic organizing committee president Yoshiro Mori confirmed that 140 children will no longer be sent to Greece to give the flame a send off on March 19, as originally planned.
The Olympic torch will be lit on March 12 in Greece and then be flown to Miyagi in northern Japan to an air self-defense base on March 20.
The four-month relay will begin the Fukushima prefecture, located about 250 kilometers (150 miles) outside Tokyo, and end in Tokyo's national stadium on July 24.
Cruise ship on lockdown in Egypt
A Nile cruise ship has been placed under quarantine in Luxor, Egypt, after 12 people tested positive for the virus. The infections were diagnosed after a Taiwanese-American tourist aboard the vessel tested positive upon returning to her home in Taiwan in February, the Associated Press reported.
The newly infected patients are asymptomatic cases, meaning none of them showed any signs of being ill, the WHO and Egypt's health ministry confirmed in a statement on Friday, according to Reuters.
The cruise ship was traveling the Nile river from Aswan to Luxor. It arrived in Luxor on Thursday and passed tourist sites such as the Kom Ombo temple and Edfu.
WHO epidemiologist Maria van Kerkhove said, "We do not believe that is a major driver of transmission," at a news briefing in Geneva on Thursday, Reuters reported.
"If we look at the actual epidemics and how these epidemics are unfolding, if they were a major driver of transmission it would have caused much larger numbers of cases," she added.
The 12 patients will be taken to an isolation facility, while all others who have been in contact with the infected individuals will be quarantined for 14 days, the ministry confirmed.
Egypt now has 15 confirmed cases, according to the figures from Johns Hopkins University.
The Philippines raises virus risk level
The Philippines has seen its first case of "local transmission," where an infected person has no known connection to the virus either through travel history or contact with another infected person.
The infected patient is a Filipino man in his 60s who had not traveled abroad recently. His 59-year-old wife has also been infected, bringing the country's total confirmed cases to six. The country's department of health has raised its virus alert level and advised the president to declare a state of emergency across the nation, The Philippines Department of Health (DOH) confirmed.
"The Department of Health (DOH) confirmed that the previously-reported 5th case of Coronavirus Disease 2019 (COVID-19) is the first case of local transmission in the country after verification with the Bureau of Immigration showed that the patient had no recent travel history," the department said in a statement.
"In light of the confirmation of localized transmission in the country and in anticipation of possible sustained community transmission, DOH has raised the COVID-19 Alert System to Code Red sublevel 1. DOH is quick to clarify that this is a preemptive call to ensure that national and local governments and public and private health care providers can prepare for possible increase in suspected and confirmed cases.
"With Code Red, the DOH has recommended to the Office of the President for the declaration of a State of Public Health Emergency which will facilitate mobilization of resources, ease processes, including procurement of critical logistics and supplies, and intensifying reporting," the department stated.
"The DOH is currently exhausting all its efforts to identify others who may have come in contact with the confirmed cases to ensure that this localized transmission does not progress to community spread," the country's health secretary Francisco T. Duque III said in the statement.
Iranian member of parliament dies after infection
A newly elected female member of the Iranian parliament, Fatemeh Rahbar, died after contracting the virus on Friday, Iran's Tasnim News Agency reported.
Rahbar, a representative for residents in Tehran, was reportedly in critical condition and was connected to an oxygen machine before she died. She was the first known female politician to die from the virus in Iran, CNN reported.
"Unfortunately, in the last 24 hours, 17 patients died and the death toll rose to 124," a spokesperson for Iran's health ministry, Kianoush Jahanpour, said on Friday.
Iran's Fars News Agency also reported the death of another infected Iranian official, former MP Hossein Sheikholeslam, who was a member of the seventh Iranian parliament and previously a former advisor to the country's foreign minister.
World Health Organization advice for avoiding spread of coronavirus disease (COVID-19)
Hygiene advice
Wash hands frequently with soap and water, or alcohol-based hand rub.
Wash hands: after coughing or sneezing; when caring for the sick; before; during and after food preparation; before eating; after using the toilet; when hands are visibly dirty; and after handling animals or waste.
Maintain at least one meter (three feet) distance from anyone who is coughing or sneezing.
Avoid touching your hands, nose and mouth. Do not spit in public.
Cover your mouth and nose with a tissue or bent elbow when coughing or sneezing. Discard the tissue immediately and clean your hands.
Medical advice
If you feel unwell (fever, cough, difficulty breathing) seek medical care early and call local health authorities in advance.
Stay up to date on COVID-19 developments issued by health authorities and follow their guidance.
Mask usage
Healthy individuals only need to wear a mask if taking care of a sick person.
Wear a mask if you are coughing or sneezing.
Masks are effective when used in combination with frequent hand cleaning.
Do not touch the mask while wearing it. Clean hands if you touch the mask.
Learn how to properly put on, remove and dispose of masks. Clean hands after disposing of mask.
Do not reuse single-use masks.