Coronavirus Update, Map as Death Toll Passes 3,000, Outbreak Spreads to Over 60 Countries
Confirmed COVID-19 virus cases continue to rise across the globe, with Thailand and Australia reporting their first deaths, while the Dominican Republic, Indonesia, Jordan and Tunisia reported their first cases. Australia also reported its first case of community spread, where a patient with no known link to the virus is infected.
The total death toll has reached 3,048 globally and the virus has spread to more than 60 countries, according to the latest figures from Johns Hopkins University.
New cases have also been reported in Ecuador, Monaco, Ireland, Qatar and Azerbaijan, according to the latest report on March 1 by the World Health Organization.
The map below, provided by Statista, shows the number of coronavirus cases confirmed worldwide as of March 2.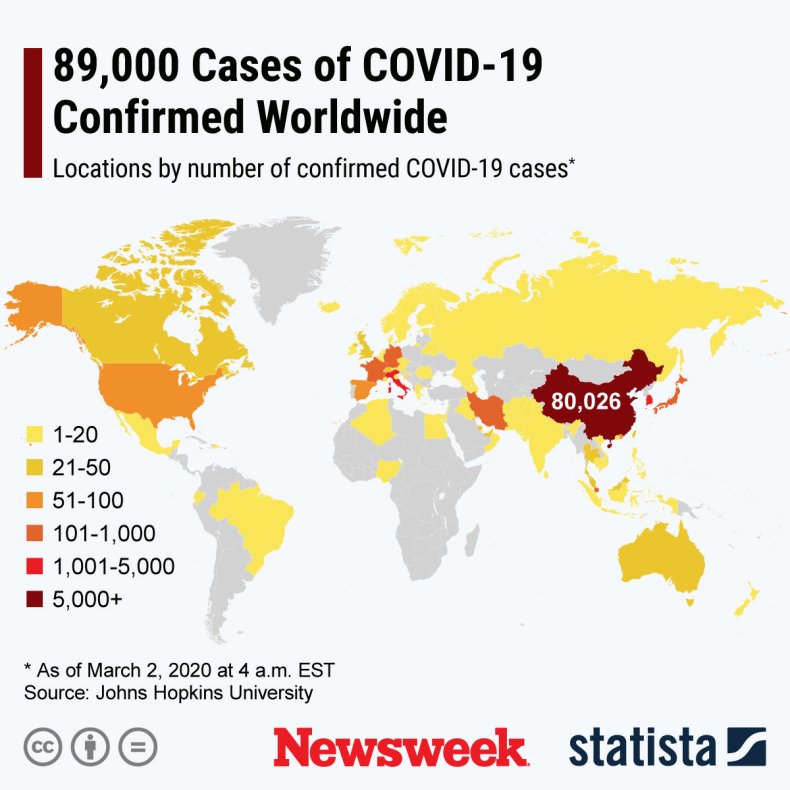 The deadly virus, which was first reported in Wuhan city in the Hubei province of China, has affected more than 89,000 people globally, at least 80,026 of whom have been reported in China, according to Johns Hopkins University.
The number of new cases reported outside China has nearly doubled compared to the number of new infections within China, which reported 579 new cases, while 1,160 were reported outside the country, according to the latest WHO report.
The U.S. this weekend saw the death of two infected people in Washington state, bringing the total number of cases to at least 86 in the country. The number of those infected in South Korea, which has seen the highest number of cases outside China, has nearly doubled since Friday, with more than 4,000 cases reported.
The death toll in Iran, which has the greatest number of deaths outside China, has more than doubled since Friday, with 54 deaths reported as of Monday, up from 26 last Friday, according to the latest figures from Johns Hopkins University.
The European Union has now raised its risk level to "high", following the rapid spread in Italy, which has seen the greatest outbreak in Europe, with its total number of cases now at 1,694, up from 655 on Friday.
The recent spike in cases in various pockets of the world has caused waves of fear, with several countries introducing precautionary measures and travel bans in a bid to help prevent the spread of the virus.
Cases rising again in China
The latest WHO report also noted that the number of cases in China's Hubei province has increased for two consecutive days, after a recent period of decline. "WHO is monitoring the situation and working to understand its possible significance," the WHO states on its website.
"The outbreaks reported so far have occurred primarily within clusters of cases exposed through close-contacts, within families or special gathering events. COVID-19 is primarily transmitted through droplets from, and close contact with, infected individuals," the WHO said in its latest statement on Saturday.
"Control measures that focus on prevention, particularly through regular hand washing and cough hygiene, and on active surveillance for the early detection and isolation of cases, the rapid identification and close monitoring of persons in contacts with cases, and the rapid access to clinical care, particularly for severe cases, are effective to contain most outbreaks of COVID-19," the health body advised.
"Travel measures that significantly interfere with international traffic may only be justified at the beginning of an outbreak, as they may allow countries to gain time, even if only a few days, to rapidly implement effective preparedness measures.
"Such restrictions must be based on a careful risk assessment, be proportionate to the public health risk, be short in duration, and be reconsidered regularly as the situation evolves," it added.
U.S. suspends Milan flights following first coronavirus deaths
At least five new cases were reported in California, bringing the total number of cases to at least 40. According to the CDC, at least 44 cases are reported to be passengers from the Diamond Princess cruise ship which was quarantined in Japan for two weeks after a passenger from Hong Kong was diagnosed. Any American evacuees from the ship were sent to a hospital in the areas surrounding the Travis Air Force Base in Fairfield, California.
The recent deaths in Washington has seen the state declare a state of emergency, while Florida also declared a state of emergency after its first two cases were reported.
The governor of Florida, Ron DeSantis, has declared a public health emergency in the state following the two reported cases.
New York also saw its first case after a woman in her 30s returned from a trip to Iran. But New York State governor Andrew Cuomo noted in a statement: "There is no reason for undue anxiety -- the general risk remains low in New York. We are diligently managing this situation and will continue to provide information as it becomes available."
An additional case was reported in Illinois as well as in Oregon, while Rhode Island reported two cases which were linked to a trip to Italy.
Delta Air Lines this weekend announced it would be temporarily suspending flights to Milan from New York City.
"On March 1, we announced a temporary suspension of our daily flight between New York—John F. Kennedy International Airport (JFK) and Milan Malpensa Airport (MXP) effective following Monday, March 2 on our east-bound flight from the U.S. to Milan, and Tuesday, March 3 on west-bound service departing Milan for the U.S. Service to and from Milan will resume starting on May 1 and May 2, respectively," the airline said in a statement.
The airline last week also announced it would be reducing services between the U.S. and South Korea, while several other U.S. airlines have already announced their temporary suspension of flights to China.
The recent deaths in Washington and new cases in various states has spread panic across the country, with major retailers including Costco, Target, Walmart and Home Depot seeing shortages in masks, water, toilet paper and hand sanitizers as customers scramble to stock up on supplies.
The American Red Cross issued a statement on Thursday advising residents on ways to "be ready for any emergency" and "prepare in case this new coronavirus risk level increases in the U.S."
"Have a supply of food staples and household supplies like laundry detergent and bathroom items, and diapers if you have small children," the organization said.
Speaking to Newsweek, a resident of Seattle, Jessica Seu, said: "It's like Armageddon here. It's a bit crazy here. All the stores are out of sanitizers and [disinfectant] wipes and alcohol solution. Costco is out of toilet paper and paper towels. Schools are sending emails about possible closures if things get worse.
"I stocked up my fridge and freezer so I don't have to go out much. [My] kids do have school and after school activities almost every day and I'm concerned about that. Just praying for the best," she said.
Several other residents in Washington have shared images and messages on social media noting the depletion of supplies at retailers including Target and Walmart, in addition to Costco.
Australia and Thailand see first deaths
Australia saw its first death from the virus and currently reports at least 29 confirmed cases, as of March 2, the country's department of health reports.
The patient was a 78-year-old man from Perth who was on the Diamond Princess cruise ship, the Sydney Morning Herald reports. At least nine others of the cases in Australia were reported to be passengers from the Diamond Princess, according to the country's department of health.
The country also reported its first case of a community spread, where an infected person has reported no known connection to the virus.
The country has since banned the entry of travelers from Iran due to its high number of deaths from the virus. New Zealand has also introduced a ban on travelers from Iran on February 28 in a bid to prevent the spread of the virus.
Thailand also saw its first death of a patient who had contracted the virus, the country's department of disease control.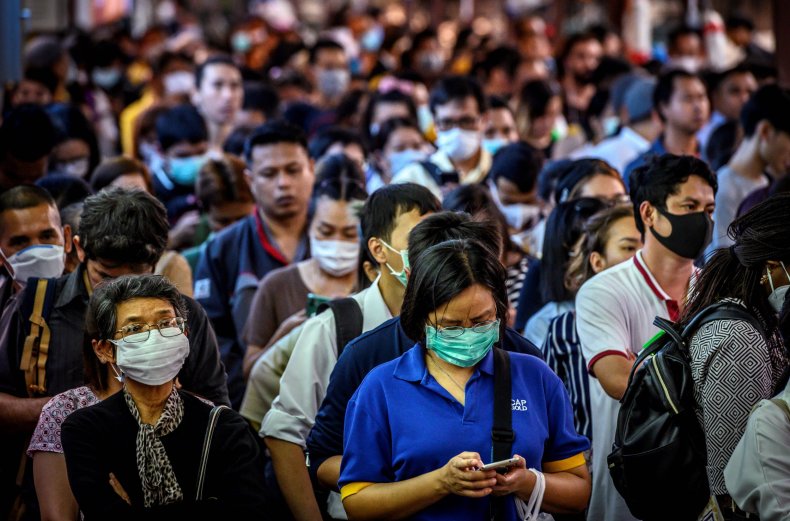 The patient was reported to be a 35-year-old male retail worker who also had dengue fever, the director-general of the country's department of disease control, Suwannachai Wattanayingcharoenchai, said at a briefing on Sunday, the Bangkok Post reports.
The individual was reported to have died after multiple organ failure while being treated at the Bamrasnardura Infectious Diseases Institute
Another patient was reported to be in serious condition and being monitored at the institute, according to the department, which also warned any locals who may have contracted the virus to contact public health officials, the Bangkok Post reports
The country has seen 43 confirmed cases so far, according to the latest figures from Johns Hopkins University.
Europe raises coronavirus risk level
Italy has seen its death toll rise to 34 and now nearly a 100,000 people have been quarantined, CNN reports, with at least 11 towns in the Lombardy and Veneto regions on lockdown, while cases have also been reported in the south of the country.
With cases continuing to soar in Italy, the European Union has now raised its virus risk level from "moderate" to "high".
"The ECDC [European Centre for Disease Prevention and Control] has announced today that the risk level has risen from moderate to high for people in the European Union. In other words, the virus continues to spread," EU president Ursula von der Leyen said at a press conference in Brussels on Monday.
More cases were also reported across Europe, including in France, which saw two more deaths, with a total of 130 confirmed cases so far.
The French government has yet to order any mandatory closures but it has banned all public gatherings of 5,000 or more people in confined spaces, including the Paris Half Marathon, which was scheduled for Sunday.
The Louvre museum in Paris, which is also currently hosting Paris Fashion Week, was closed on Sunday.
At a COBRA (Cabinet Office Briefing Rooms) meeting with government officials, British prime minister Boris Johnson was reported to have said the outbreak of the virus in the U.K., where at least 36 cases have been confirmed, was "likely" to become "more significant."
"We have also agreed a plan so that if and when it starts to spread, as I'm afraid it looks likely it will, we are in a position to take the steps necessary to contain the spread of the disease as far as we can, and to protect the most vulnerable," he said, The Independentreports.
Elsewhere in Europe, Iceland, Portugal and Andorra also reported new cases, Al Jazeera reports, while the European headquarters of Nike in the Netherlands was closed after an employee was reported to have been infected. It will remain closed through Tuesday, CNBC reports.
The graphic below, provided by Statista, illustrates the spread of the COVID-19 virus in the U.S. as of March 2.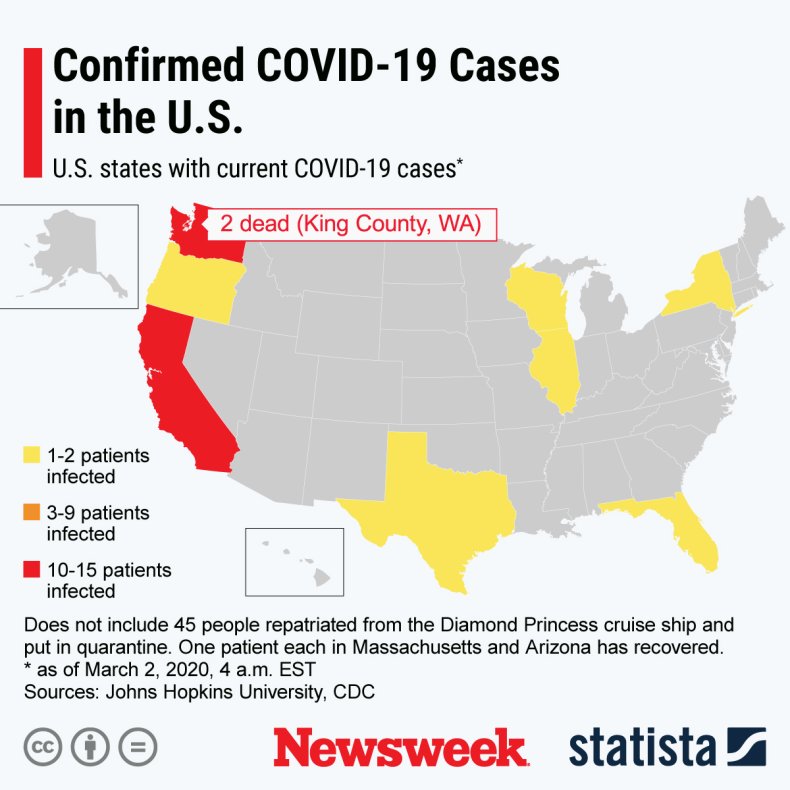 Coronavirus Update, Map as Death Toll Passes 3,000, Outbreak Spreads to Over 60 Countries | News