Coronavirus Update, Map as 'Encouraging Signs' in Europe, Italy Infection Rate Slows, World Health Organization Says
The COVID-19 virus has spread to more than 492,000 people in nearly 175 countries, as of Thursday. While nearly 120,000 people have recovered from infection, the virus has killed more than 22,100 people across the globe, according to the latest figures from Johns Hopkins University.
Europe remains the epicenter of the pandemic, with Italy and Spain being the worst-hit, but the U.S. may be on track to overtake Italy. The country saw an increase of nearly 200 deaths and 20,000 cases on Wednesday, up to 69,200 currently.
More cases of the virus, which was first reported in Wuhan, a city in China's Hubei province, are now reported outside China than within. China has more than 81,700 cases, with nearly 73,000 recoveries and around 3,200 deaths reported. The country claims the outbreak has been largely contained, having reported no recent domestic cases.
WHO sees "encouraging signs" in Europe as Italy's infection rate dips
The World Health Organization (WHO) says it has seen "encouraging signs" in Italy, which has the highest number of cases outside China and most deaths worldwide. The country reported a lower rate of infection on Thursday but warned it was too soon to say whether Italy had seen the worst of the outbreak.
"While the situation remains very serious, we are starting to see some encouraging signs," the WHO regional director for Europe, Hans Kluge, said at a press conference on Thursday, Agence-France-Presse reports.
"Italy, which has the highest number of cases in the region, has just seen a slightly lower rate of increase, though it is still too early to say that the pandemic is peaking in that country," he added.
He also warned governments to be aware of the "new reality" created by the pandemic and prepare for the long term impact. "This is not going to be a sprint, this is going to be a marathon," he said.
Italy saw 683 new deaths on Wednesday, the country's civil protection agency confirmed, raising its death toll to 7,503. The country now reports more than 74,300 cases.
Spain, which has the third highest number of cases outside China, recorded 655 deaths in a day, the country's health ministry confirmed on Thursday. The latest increase saw its death toll surpass that of China, bringing it to 4,089.
To date, over 220,000 cases have been reported on the continent, along with 11,987 deaths, WHO Europe confirms. Around six out of every 10 cases and seven out of 10 deaths have been reported in Europe, AFP reports.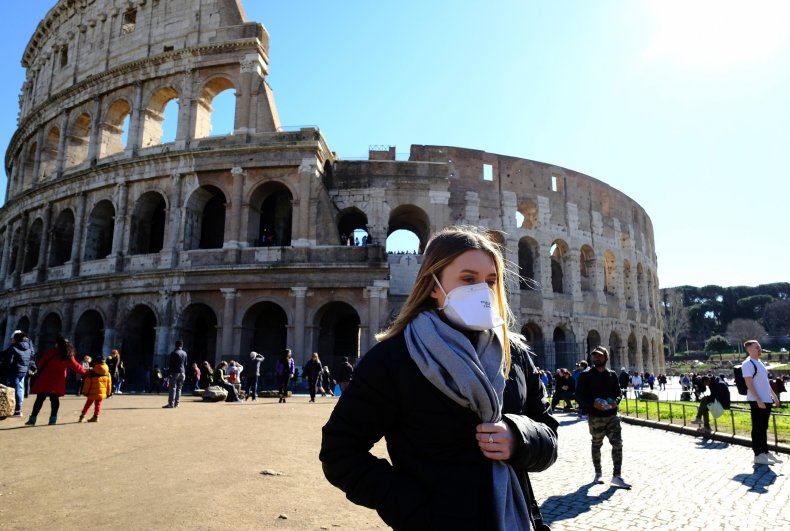 U.S. death toll surpasses 1,000
The virus has been gaining ground in the U.S., which saw a nearly 25 percent increase in deaths over 24 hours. The country saw its death toll jump from over 800 to more than a thousand on Wednesday.
As of Thursday, the country reported at least 1,041 deaths, with the majority of the deaths being reported in New York, Washington state, California, while fatalities also spiked in Louisiana, New Jersey and Georgia.
New York continues to report the most fatalities, with 280 deaths in New York City alone and 98 others in the rest of the state.
Dr. Deborah Birx, a physician and health expert on the COVID-19 task force led by Vice President Mike Pence, warned that "everybody who was in New York should be self-quarantining for the next 14 days to ensure that the virus doesn't spread to others, no matter where they have gone, whether it's Florida, North Carolina, or out to far, far reaches of Long Island," at a White House press briefing on Tuesday.
With more than nearly 70,000 confirmed cases to date, the U.S. is poised to follow a similar trajectory of growth in cases as Italy, which currently has the most cases outside China.
The graphic below, provided by Statista, illustrates the number of confirmed COVID-19 cases in a selection of states.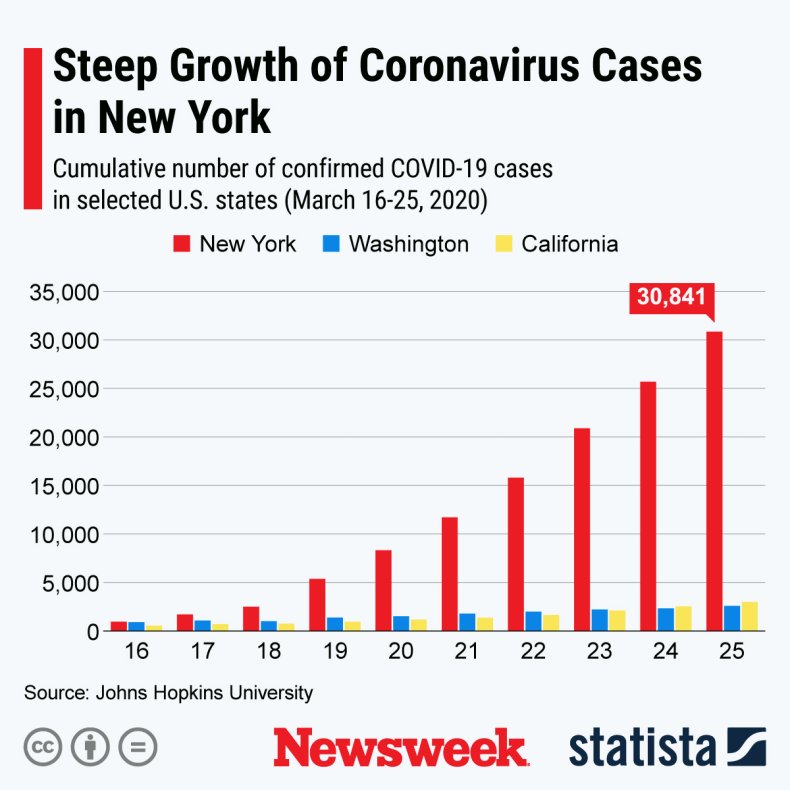 Iran sees record number of cases in 24 hours, while deaths have reportedly declined
At least 157 new deaths were reported in the last 24 hours, taking Iran's total fatalities to 2,234 the country's health ministry confirmed on Thursday. A record number of new cases—2,389—was reported over the same period. The latest increase was a significant jump in new cases from around five days ago, when the daily increases were said to be below 900, The Guardian reports.
On Tuesday, Iranian President Hassan Rouhani claimed the country's death toll was declining, based on a reported decline in hospital check-ins.
Rouhani said at a meeting with the National Task Force for Fighting the Coronavirus: "Among the topics discussed was a report according to which it was evident that hospital check-ins in provinces had declined and that the death toll was declining, both of which are important to us."
However, on March 24, a spokesperson for Iran's health ministry, Kianoush Jahanpour, told Iranian state news agency IRNA that 122 people had died from the virus in the previous 24 hours.
The country currently reports just over 29,400 confirmed cases, including 2,234 deaths, as of Thursday. Iran has also seen the highest number of recoveries outside China, with over 10,400 people having recovered from infection.
On Thursday, Iran announced an intercity travel ban, a day after the government warned the country may potentially see a surge of cases, a country official said at a televised news conference, Reuters reports.
The plans were announced after the country saw several residents ignore the government's warnings asking them to remain at home and to cancel any trips planned around Persian New Year celebrations, which began on March 20.
"Those who have travelled for the Iranian New Year holidays should immediately return to their cities without making any stops in other cities on their way back home," a member of Iran's national headquarters for fighting the coronavirus, Hossein Zolfaghari, said.
While no country lockdowns have been imposed, on Wednesday Rouhani said in a televised address to the cabinet that the country needs to "strengthen the measures we have taken."
"We need to step up those measures. It may create problems for people's travel plans and require that people return home early. It could stop the next wave of journeys. People have to realise that these are difficult decisions that are being taken to protect people's lives. But we have no choice, because the lives of Iranians are important to us," he said.
The graphic below, provided by Statista, illustrates the recovery curve compared to the infection curve of the virus.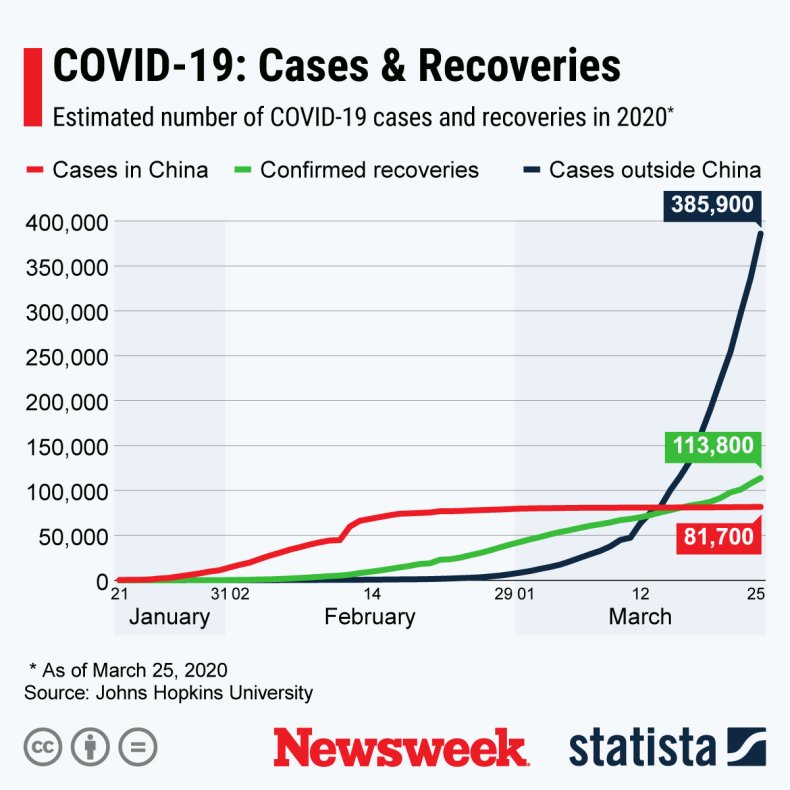 New Zealand begins month-long mandatory country lockdown
New Zealand, home to around five million people, is the latest country to impose a countrywide lockdown in a bid to prevent a further outbreak of virus. Those who defy the rules of the lockdown will face "serious consequences" including major fines and even prison time, Reuters reports.
The mandatory month-long lockdown followed a declaration of a national state of emergency on Wednesday made by New Zealand Prime Minister Jacinda Ardern.
Schools, offices, restaurants, bars, places of worship and playgrounds have been closed while those providing essential services were allowed to go to work.
Residents are permitted to go for a walk or a run near their homes or drive to buy groceries. But everyone is required to keep a six feet distance from each other, the prime minister noted.
New Zealand Police Commissioner Mike Bush told New Zealand's TVNZ station: "There were people driving around, flouting these rules, claiming that they had no knowledge about this. For those people, if they are seen again ... there will be a consequence of those actions."
New Zealand has reported 283 cases to date, including 78 new cases as of Thursday morning, the country's ministry of health confirms. Around 27 people have recovered from the infection so far.
The graphic below, provided by Statista, illustrates the spread of the COVID-19 virus across the world.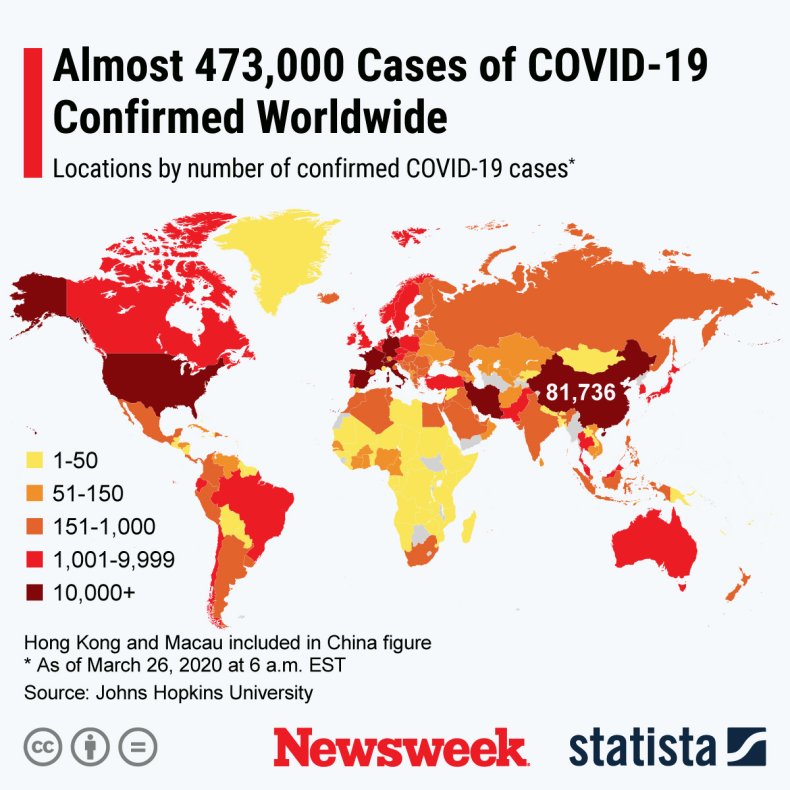 Data on COVID-19 cases from Johns Hopkins University unless otherwise stated.
World Health Organization advice for avoiding spread of coronavirus disease (COVID-19)
Hygiene advice
Clean hands frequently with soap and water, or alcohol-based hand rub.
Wash hands after coughing or sneezing; when caring for the sick; before, during and after food preparation; before eating; after using the toilet; when hands are visibly dirty; and after handling animals or waste.
Maintain at least 1 meter (3 feet) distance from anyone who is coughing or sneezing.
Avoid touching your hands, nose and mouth. Do not spit in public.
Cover your mouth and nose with a tissue or bent elbow when coughing or sneezing. Discard the tissue immediately and clean your hands.
Medical advice
Avoid close contact with others if you have any symptoms.
Stay at home if you feel unwell, even with mild symptoms such as headache and runny nose, to avoid potential spread of the disease to medical facilities and other people.
If you develop serious symptoms (fever, cough, difficulty breathing) seek medical care early and contact local health authorities in advance.
Note any recent contact with others and travel details to provide to authorities who can trace and prevent spread of the disease.
Stay up to date on COVID-19 developments issued by health authorities and follow their guidance.
Mask and glove usage
Healthy individuals only need to wear a mask if taking care of a sick person.
Wear a mask if you are coughing or sneezing.
Masks are effective when used in combination with frequent hand cleaning.
Do not touch the mask while wearing it. Clean hands if you touch the mask.
Learn how to properly put on, remove and dispose of masks. Clean hands after disposing of the mask.
Do not reuse single-use masks.
Regularly washing bare hands is more effective against catching COVID-19 than wearing rubber gloves.
The COVID-19 virus can still be picked up on rubber gloves and transmitted by touching your face.