Coronavirus Update, Map as Global Deaths Top 8,200, Number of Infections Soar Past 200,000, Over 82,000 Have Recovered
Global cases of the new coronavirus have surpassed 204,000, with over 8,200 deaths, while more than 82,000 have recovered from infection, according to the latest figures from Johns Hopkins University. The U.S., European nations, Japan and China have introduced strict travel restrictions, bans and border checks to help curtail the spread
The virus, which was first detected in China's Wuhan city of the Hubei province, has been gaining ground across the globe, with more cases now reported outside China than within. China experienced over 81,000 cases with over 3,200 death and almost 70,00 recoveries. The country is now claiming to have largely contained the outbreak.
New cases have emerged in at least eight countries, territories and areas within Africa, the Eastern Mediterranean, the Americas region and the Western Pacific, according to the Wednesday report from the World Health Organization (WHO).
U.S. death toll surpasses 100
The death count in the U.S. has reached 114, with confirmed cases over 6,500.
The virus has spread to all 50 states, with West Virginia confirming its first infection, while 14 tests are pending, according to the West Virginia Department of Health and Human Services.
More deaths have been reported in Washington state (55), which continues to report the highest number of confirmed cases and deaths. Total cases surpassed 1,000, according to the state's department of health.
New fatalities have also been confirmed in New York (total now at 16), California (now at 13), Florida (now at 7) as well as in Indiana, Texas, Virginia and Colorado, each of which has now seen two deaths.
Nevada, Kentucky, South Carolina, Oregon, Kansas, South Dakota and Georgia have each previously reported a death.
Precautionary measures to help mitigate the spread of the virus continue across the country, including in Nevada, which is among the latest states to shut down all of its casinos, bars and restaurants, Nevada Governor Steve Sisolak announced in a press conference on Tuesday.
"I have spoken with Nevada's top medical experts to get their assessment of our current situation and most responsible next steps. They have advised that the most effective course of action is to direct all Nevadans to stay home and for all nonessential businesses to close to the public for 30 days," he said.
The governor declared a state of emergency across Nevada last week. The state has at least 16 confirmed cases, according to the latest report from the U.S. Centers for Disease Control and Prevention (CDC).
Orange County in California issued an order banning "all public and private gatherings of any number of people, including at places of work, occurring outside a single household or living unit," according to a statement from the county's health department.
Those who violate the new regulation will be "subject to fine, imprisonment, or both," the statement notes.
France, Spain on lockdown, Germany raises virus threat level
Around 70,900 cases and nearly 3,300 deaths have been confirmed across the Europe Union/European Economic Area (EU/EEA) and the U.K., according to the latest report by the European Centre for Disease Prevention and Control (ECDC).
France now reports nearly 7,700 cases and at least 148 deaths, while Spain has more than 11,800 people confirmed as infected.
Germany raised its virus threat level to "high" on Tuesday, as cases passed 10,000.
Confirmed cases in Italy, which continues to report the most outside China, have passed 31,500, with the death toll passing 2,500.
Spain reported 182 new fatalities overnight on Tuesday, bringing its total death count to 491 that day, its government reported. The country's latest death toll is near 600 on Wednesday.
The proposed EU travel ban, which would restrict all non-EU nationals from visiting the 26 countries of the EU as well as Iceland, Liechtenstein, Norway and Switzerland for 30 days, was agreed by EU leaders in a video conference on Tuesday. It now remains to be rolled out by member states. The U.K. and Ireland have also been invited to introduce the ban.
President of the European Commission Ursula von der Leyen, said at a press conference on Tuesday: "They [EU member states] said they will immediately do that [implement the EU travel ban]. This is good, so that we have a unanimous and united approach [where] the external borders are concerned."
Around 47 million people in Spain have been placed on a partial lockdown since Saturday and the military have been deployed to enforce the lockdown in Madrid. Stricter border checks are in place at its borders with Portugal and France, Reuters reports.
France's 15-day lockdown to help curb the spread of the virus continues. The strict measures require all residents to stay home and traveling outside is only permitted under certain circumstances, such as for essential work that can't be postponed or completed at home, shopping for supplies and family emergencies. All residents are required to carry a signed form (an attestation) outlining where they are headed and why, France24 reports.
Germany raised its virus threat level, the country's disease control and prevention agency, The Robert Koch Institute (RKI), confirmed. The country now reports more than 10,000 cases and 27 deaths, as of Wednesday. Stricter border control and warnings against non-essential travel abroad are among the precautionary measures introduced to help mitigate the spread.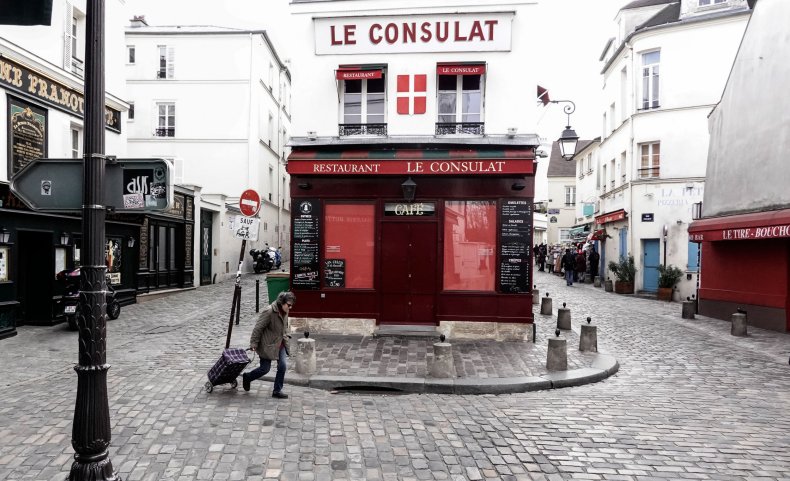 China and Japan impose travel restrictions
Most cases in Asia are still within China, which reports just over 81,000 cases, over 3,200 deaths, and 69,700 recoveries.
Beijing, the Chinese capital, has reportedly seen 11 new imported cases, bringing its total imported cases to 54.
Japan is requiring travelers from nearly 38 countries to be quarantined for 14 days. The country has around 880 cases, with 29 deaths and 144 recoveries.
Beijing, China's largest international air traffic hub, is planning to direct flights bound for Beijing Capital International Airport (BCIA) to airports in other cities including North China's Tianjin municipality, Shijiazhuang in North China's Hebei province, and Taiyuan in North China's Shanxi Province, Global Times reports.
Last week, Beijing also began requiring all travelers from countries heavily affected by the virus to be quarantined for 14 days. The BCIA last week also set up a designated area to deal with international passengers and already received 20,718 people across 112 flights, Global Times reports.
Air China, China Southern and China Eastern are reportedly looking to suspend all international flights following the growing number of imported cases.
The outbreak in Japan has yet to reach its peak, according to a study of 680 confirmed cases reported by local governments to Japan's health, labor and welfare ministry. Cases continue to emerge in the Aichi and Hyogo prefectures of Honshu Island.
The island of Hokkaido has the highest number of domestic cases, 152, while the Japanese capital Tokyo saw 12 new cases, the highest the city has recorded in a day. The rate of new cases remained at 20 to 30 per day between late February and early March, Kyodo News reports.
More than 20 cases were reported to have been linked to trips abroad and the country has introduced new restrictions in a bid to reduce the number of imported cases.
The country is requiring travelers from 38 countries, including the 26 EU nations, Britain, Ireland as well as Egypt and Iran, to be quarantined for 14 days, Japan's Prime Minister Shinzo Abe said Wednesday during a meeting with government officials. The latest measure will be in effect Thursday.
Visas already issued to people from the countries within the ban will be invalidated from Saturday to the end of April. The country is also looking to ban the entry of visitors from parts of Spain, Switzerland, Italy and Iceland.
The graphic below, provided by Statista, illustrates the recovery curve compared to the infection curve of the virus.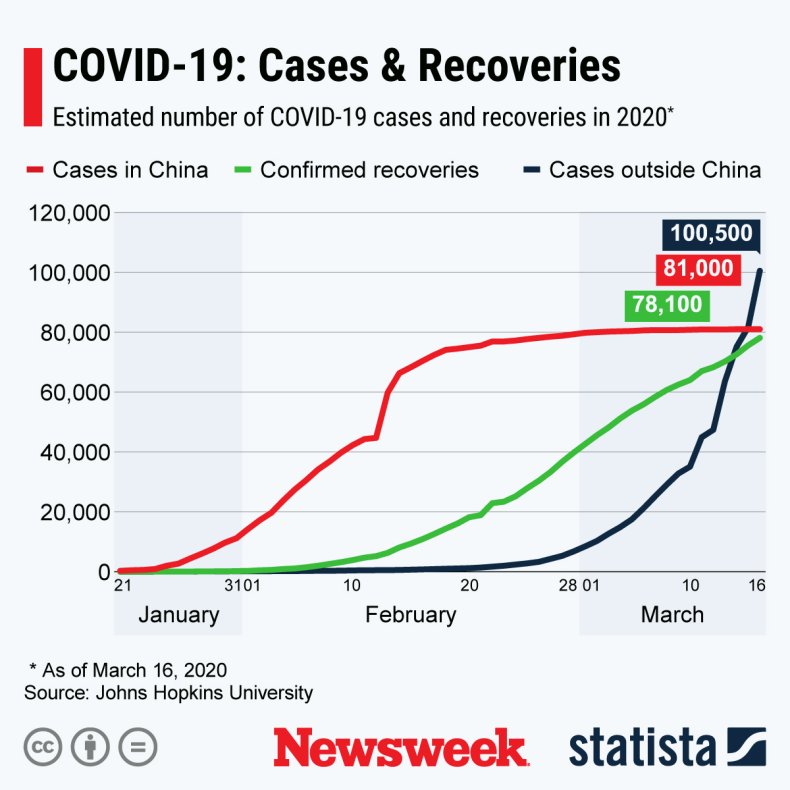 Australia declares emergency
Australia reports 454 confirmed cases and five deaths, as of Wednesday, according to Australia's department of health.
Australian Prime Minister Scott Morrison has declared a "human biosecurity emergency" and bans "non-essential" gatherings of more than 100 people.
The outbreak could last six months or longer.
Australia has seen a sharp rise in cases from a little less than a week ago when there were around 100 cases. Nearly half of its cases (210) are in New South Wales, 94 are in Victoria, and 78 are in Queensland according to Australia's department of health.
Around 228 of its cases were reported to have been imported from the U.S., U.K. Italy and Iran, while around 130 cases are under investigation, the department reports.
The prime minister's emergency declaration gives the government the power to impose lockdowns across city regions as well as mandatory curfews and quarantines, as part of its efforts to curb the spread of the virus.
The country also raised its travel warning to Level 4, telling citizens "Do not travel" to any country in the world.
"This is a once-in-100 year type event, we haven't seen this sort of thing in Australia since the end of the first World War, but together we are of course up to this challenge," Morrison said at a press conference on Wednesday. He warned the epidemic could last "at least six months" or much longer.
The graphic below, provided by Statista, illustrates the spread of the COVID-19 virus across the world.
Data on COVID-19 cases is from Johns Hopkins University unless otherwise stated.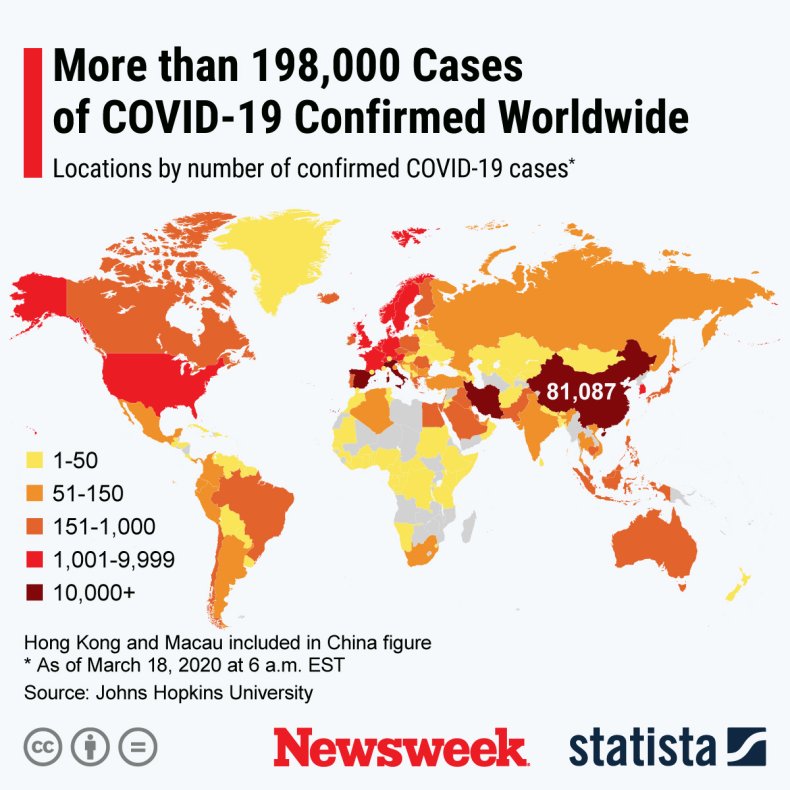 World Health Organization advice for avoiding spread of coronavirus disease (COVID-19)
Hygiene advice
Clean hands frequently with soap and water, or alcohol-based hand rub.
Wash hands after coughing or sneezing; when caring for the sick; before; during and after food preparation; before eating; after using the toilet; when hands are visibly dirty; and after handling animals or waste.
Maintain at least 1 meter (3 feet) distance from anyone who is coughing or sneezing.
Avoid touching your hands, nose and mouth. Do not spit in public.
Cover your mouth and nose with a tissue or bent elbow when coughing or sneezing. Discard the tissue immediately and clean your hands.
Medical advice
If you feel unwell (fever, cough, difficulty breathing) seek medical care early and call local health authorities in advance.
Stay up to date on COVID-19 developments issued by health authorities and follow their guidance.
Mask usage
Healthy individuals only need to wear a mask if taking care of a sick person.
Wear a mask if you are coughing or sneezing. Masks are effective when used in combination with frequent hand cleaning.
Do not touch the mask while wearing it. Clean hands if you touch the mask.
Learn how to properly put on, remove and dispose of masks. Clean hands after disposing of the mask.
Do not reuse single-use masks.