Coronavirus Update, Map With Nearly 128,000 Cases, Death Toll Near 4,700, South Korea Sees More Recoveries Than New Cases
The COVID-19 virus outbreak continues across the world, with around 128,000 confirmed cases, while more than 68,000 have recovered from the infection. Hundreds in South Korea, which has had the lowest number of new cases in three weeks.
The death in the U.S. has climbed to 41, with new deaths in Kansas and Georgia, while more cases continue to emerge in different parts of the world, including more cases in Africa.
First reported in China's Wuhan city of the Hubei province, the virus has spread to nearly 116 countries and claimed the lives of more than 4,700 people, according to the latest figures from Johns Hopkins University.
French Polynesia, Turkey, Honduras, and Côted'Ivoire are among the regions that have reported first cases in the past couple of days, according to the latest report by the World Health Organization (WHO) on Thursday.
President Donald Trump's travel ban, which is in effect from Friday at midnight, has thrown passengers in Europe and the U.S. stock market into chaos, which suffered its worst losses in more than 30 years.
The Dow Jones Industrial Average dropped by 10 percent (the worst drop in its history and its worst performance since the market crash in 1987), while the Nasdaq and the S&P 500 both fell by nine percent, NBC News reported.
Cases outside China increase by nearly 13 times
WHO director-general, Dr. Tedros Adhanom Ghebreyesus, said on Thursday at a briefing, "In the past two weeks, the number of cases reported outside China has increased almost 13-fold, and the number of affected countries has almost tripled."
"Let me be clear: describing this as a pandemic does not mean that countries should give up. The idea that countries should shift from containment to mitigation is wrong and dangerous.
"On the contrary, we have to double down. This is a controllable pandemic. Countries that decide to give up on fundamental public health measures may end up with a larger problem, and a heavier burden on the health system that requires more severe measures to control," Ghebreyesus said.
U.S. death toll hits 41
The country has seen around 1,600 confirmed cases with 41 deaths, according to the latest figures from Johns Hopkins University.
The latest fatalities include the first death in Georgia, which was that of a man in his late 60s who had underlying health conditions, WSBTV reports.
A man in his 70s who lived at a long-term care facility died at a hospital in Kansas City, marking the state's first death. He was believed to have contracted the virus from a person at the care facility, KCUR reports.
The majority of deaths in the U.S. continue to be in Washington state, which has now reported 31 deaths and also has the highest number of cases in the country, reporting at least 366 cases, according to the latest report by the U.S. Centers for Disease Control and Prevention (CDC).
California previously confirmed four deaths, while Florida has two and New Jersey as well as South Dakota also each reported a death earlier this week.
The virus has spread to 42 states as well as Washington D.C., while Alaska, Alabama, Wyoming, North Dakota, West Virginia, and Maine are among the states that have yet to report any cases, according to the latest report by the U.S. Centers for Disease Control and Prevention (CDC).
New York City also declared a state of emergency on Thursday, as city mayor Bill de Blasio predicts there could be 1,000 confirmed cases by next week, the Associated Press (AP) reported. while all gatherings of more than 500 have been banned across New York state in a bid to limit the spread of the virus.
The graphic below, provided by Statista, illustrates the spread of the COVID-19 virus across the world, as of March 13.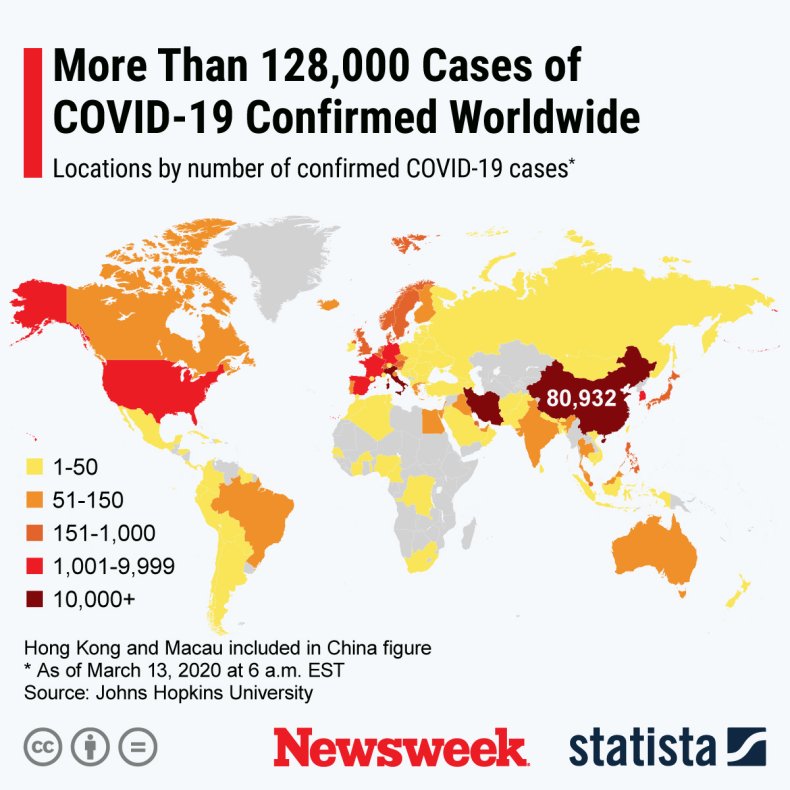 Canadian prime minister quarantined as wife tests positive
The wife of Canada's Prime Minister Justin Trudeau, Sophie Gregoire Trudeau, tested positive for the virus, the prime minister's office confirmed in a statement, Canada's CBC reported.
"She [Sophie Gregoire Trudeau] is feeling well, is taking all the recommended precautions and her symptoms remain mild," the statement confirmed.
"Although I'm experiencing uncomfortable symptoms of the virus, I will be back on my feet soon," she said in a statement.
The prime minister, who "is in good health with no symptoms" and has not been tested. He will not be tested because he has no symptoms, the statement confirmed, but will be in quarantine for 14 days.
Canada has at least 217 confirmed cases, as of Friday, according to Johns Hopkins University. The majority of the cases have been in the provinces of Ontario, which has at least 59 infections, and British Columbia, which has at least 46 cases. Alberta has reported 19 cases while Quebec has had 13 infections, according to the latest report by Canada's department of health.
The country's health minister, Patty Hajdu, on Wednesday confirmed that some health experts believe the virus could infect around 30 to 70 per cent of the population, CBC reported.
South Korea sees more recoveries than new cases
With more than 7,800 confirmed cases, South Korea now trails behind Italy and Iran among the countries with the highest number of infections outside China. The country has seen more people recover from the virus than be reported as new infections. It has confirmed more than 300 recoveries, while 110 new cases were reported on Friday, according to the Korea Centers for Disease Control (KCD).
The majority of the cases continue to concentrate around Daegu, which has the nearly 6,000 cases so far, while the capital city of Seoul saw a recent cluster of cases and has seen around 290 infections so far.
"The number of Shincheonji Daegu Church-related confirmed cases is showing a decline as KCDC's investigation on the group comes to a close. However, as new cases are continuing to emerge in small clusters from businesses, churches, Internet cafes, and medical facilities, KCDC stressed the need for stronger prevention measures especially with public spaces and facilities used by many people," the KCDC confirmed in a report on Friday.
"Epidemiological links have been found for 79.8% of the total cases; 20.2% are either under investigation or sporadic cases," it added.
Up to 10,000 cases yet to be reported in U.K.
In a televised address British Prime Minister Boris Johnson warned "It [the virus] is going to spread further and I must level with you, I must level with the British public, many more families are going to lose loved ones before their time."
There have been nearly 600 cases confirmed, with around 491 in England, 60 in Scotland, 20 in Northern Ireland and 25 in Wales, according to BBC News. Two new fatalities have seen the death toll reach 10, as of Friday.
The latest deaths included one woman in her 60s and an 89-year-old patient, both of whom had underlying health issues. Both were treated at a hospital in London. The city also confirmed its first positive case by a London Underground train operator on Thursday.
There may be between 5,000 and 10,000 infected across the country, according to the U.K. government's chief scientific adviser, Sir Patrick Vallance, BBC News reported.
The latest situation does not warrant the closure of schools, the prime minister said. "The scientific advice is that this [the closure of schools] could do more harm than good at this time - but of course we are keeping this under review and this again may change as the disease spreads."
But schools are advised to cancel trips abroad, while anyone aged over 70 and those with underlying health conditions are told to avoid going on cruises.
With more than 29,700 people tested in the country so far, the number of cases is expected to "rise sharply," the prime minister warned.
Travel chaos as Trump's European ban gets underway
Trump's announcement on Wednesday has seen confused Americans abroad scrambling to airports to catch their flights back home before the new regulation, which bans Europeans from European Union (EU) countries from traveling to the U.S. for the next 30 days, kicks in today at midnight.
Following the initial televised announcement made by Trump, The White House later clarified that "the restriction applies to foreign nationals who have been in the Schengen Area, 26 countries in Europe with open borders agreements, in the last 14 days."
Americans flying from Europe will be directed to a selection of airports where they will undergo screening, The White House confirmed in its statement. It has yet to be revealed to which airports U.S. citizens traveling from Europe will be sent for screening.
But many Americans abroad, some of who were mid-transit at an airport in Europe, were thrown into chaos nonetheless. They scrambled to book their return flights by this Friday, fearing they would have difficulty entering the country after then.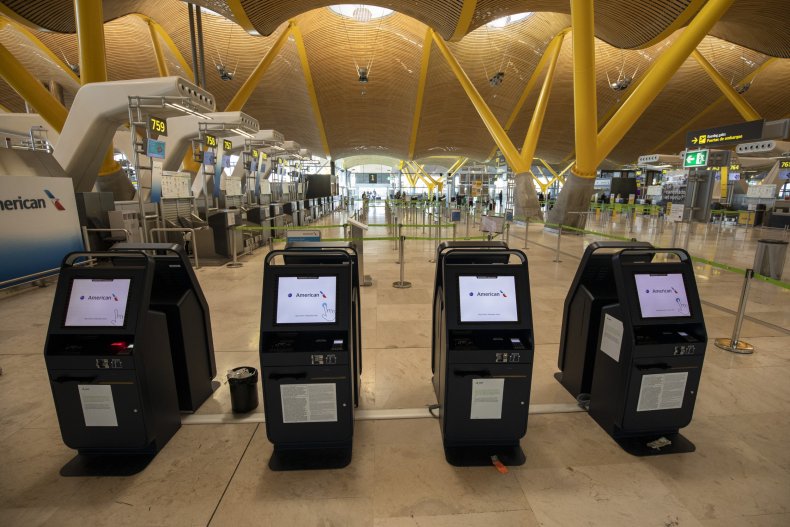 One American traveler was reported to have spent as much as $20,000 on an economy flight booking online, according to a Delta Air Lines check-in desk agent at Charles De Gaulle airport in Paris, The New York Times reporter Mike McIntire said in a post on his official Twitter account. He later reported in an essay for The New York Times that he spent $5,000 on two one-way tickets back to New York.
"I see Americans crying at the airport right now worried about their jobs and coming home," Muhammad Alameldin, 24, told NBC News from the airport in Barcelona in Spain.
"My flight was canceled, and I've been in line for over three hours waiting to transfer or get a voucher for my flight," he said. "No one has heard or seen anything thus far. It's a failure in U.S. policy and shows that the president doesn't know how to take care of Americans abroad," he added.
Africa sees more cases, including third death
The continent, which had reported very few to no cases of the virus, has been seeing a few more infections in different countries, including Kenya, Ethiopia, Ghana and Gabon, which have all reported their first cases, as of Friday.
The latest patient in Kenya was reported to be a woman who traveled from the U.S. via London, The East African reported, while the patient in Ethiopia was said to be a Japanese citizen, according to Reuters.
Algeria marked its first death by a patient who contracted the virus, bringing the total deaths in Africa to three, with Morocco and Egypt each previously reporting a fatality, Africa News reported.
South Africa confirmed more cases, with its total now up to 16, while Tunisia also reported six cases and the Democratic Republic of Congo reported two. Senegal reported its first case of community spread, where the infected individual has no known connection to the virus, either by contact with another infected person or travel history, Africa News reported.
World Health Organization advice for avoiding spread of coronavirus disease (COVID-19)
Hygiene advice
Clean hands frequently with soap and water, or alcohol-based hand rub.
Wash hands after coughing or sneezing; when caring for the sick; before; during and after food preparation; before eating; after using the toilet; when hands are visibly dirty; and after handling animals or waste.
Maintain at least 1 meter (3 feet) distance from anyone who is coughing or sneezing.
Avoid touching your hands, nose and mouth. Do not spit in public.
Cover your mouth and nose with a tissue or bent elbow when coughing or sneezing. Discard the tissue immediately and clean your hands.
Medical advice
If you feel unwell (fever, cough, difficulty breathing) seek medical care early and call local health authorities in advance.
Stay up to date on COVID-19 developments issued by health authorities and follow their guidance.
Mask usage
Healthy individuals only need to wear a mask if taking care of a sick person.
Wear a mask if you are coughing or sneezing.
Masks are effective when used in combination with frequent hand cleaning.
Do not touch the mask while wearing it. Clean hands if you touch the mask.
Learn how to properly put on, remove and dispose of masks. Clean hands after disposing of mask.
Do not reuse single-use masks.